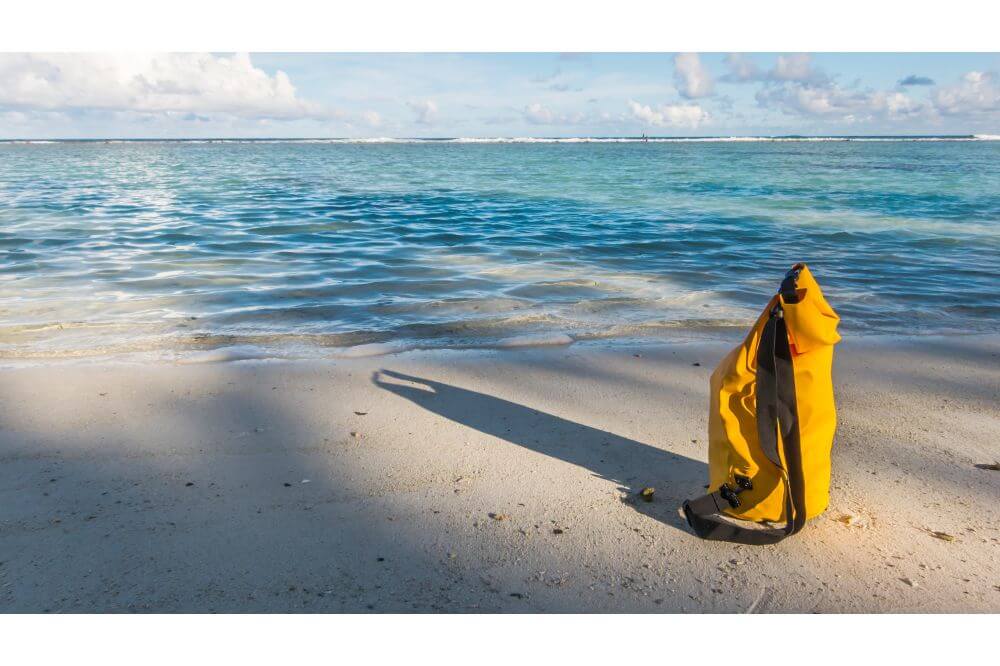 These days with the advent of modern technology, an avid traveler without a dry bag is something unheard of. If you like to consider yourself a nature explorer, a traveler, or even an adventurer, you might want to invest in Adventure Lion Premium Waterproof Dry Bag
 to make sure that your possessions remain moisture free and are completely safe from the wrath of nature, no matter how harsh. The Adventure Lion Premium Waterproof Dry Bag is a premium dry bag made especially but not exclusively for kayak lovers, rafters, and divers – if you dabble in water, this dry bag is the right choice for you.
With a lot of options on the market, it might get confusing even for a professional traveler to choose from so many. What sets apart the Adventure Lion Premium Waterproof Dry Bag is the fact that you cannot go wrong with this – the company gives you a 100% money-back guarantee if you're dissatisfied with the product and also provides you with a lifetime warranty! So use it however you might, as ruggedly you want to, because if a company is confident enough to provide you with a lifetime warranty, in our books, it means you can trust their products completely!
Go on ahead and pick up an Adventure Lion Premium Waterproof dry bag today.
Is this what you want? Want the best deal? Buy now!
FEATURES
MATERIALS
This dry bag is made with top-notch material like pure grade .5mm thick 500D (Denier Density) waterproof polymer. This material happens to be the most waterproof material known to man. While these bags are sturdy and waterproof, they are also remarkably pliant, flexible, and soft to the touch – even in frigid weather conditions, meaning you can carry these around and fit them in nooks and crannies without a lot of fuss.
The Adventure Lion Premium Waterproof Dry Bag
uses a high-frequency bonding technique that ensures that not even a minuscule amount of moisture can permeate these dry bags. All the stress points of the bags like seams are doubly reinforced to give you a 100% dry, dry bag.
These dry bags have the roll-top closure method which is proven to be the most effective at keeping out moisture. This means- the bag is folded over itself many times to create a waterproof barrier.
SIZING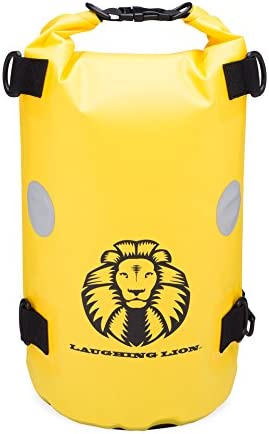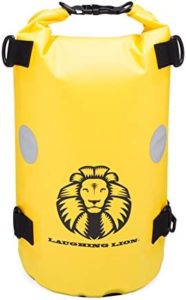 The bag comes in 4 different sizes – 5L, 10L, 20L, and 30L. The smallest variant the 5L can hold small items such as your cell phone, a bottle of water, and maybe a few snacks.
The 10L bag will suffice if you are planning to go on a one-day trip as it will comfortably hold your clothing, toiletries, snacks, and even a DSLR camera
.
The 20L bag is more than sufficient if you're packing for two for a weekend trip, holding various clothing items, a sleeping bag, and toiletries.
A30L will hold and protect all your possessions if you're planning an extended weekend trip, or even a week trip if you like to travel light. It will comfortably hold a sleeping bag, clothes, your travel gear as well as a couple of more things.
The larger variants of the Adventure Lion Premium Waterproof Dry Bag
 come with an adjustable shoulder strap which makes it super easy to carry around without the inconvenience of having to lug it around or drag it. It is made to carry heavy stuff with ease.  It also comes with a grab handle which allows you to move it around easily if you want to take a break from carrying it on your shoulders.
EASE OF USE
These dry bags are waterproof, as opposed to weather resistant, which can often be misleading when you are buying a dry bag. A waterproof dry bag means that the water cannot get in and that there is no seepage through the material of the dry bag as well. Whereas weather resistance only makes your dry bag resistant to the entry of moisture through rain or elements, and these bags are often only made of nylon or silnylon which are less durable than the waterproof variants which are made of vinyl.
For instance, if you are going trekking or for a walk in the woods, a weather-resistant bag should be enough, whereas if you are going for a ride on your boat, or rafting down the river, you should use a waterproof dry bag such as the Adventure Lion Premium Waterproof Dry Bag.
These Adventure Lion Premium Waterproof Dry Bags
 are multi-purpose. Seal drinks with ice in your dry bag, and use it as a temporary cooler. Don't want to carry around excess baggage? Don't worry, just roll up your dry bag and use it as a pillow. If you're on a longer trip and don't want to give fitness a break without carrying extra weight, just fill up your dry bag with water and use it as a makeshift dumbbell. Just be sure to thoroughly and securely roll down the top to prevent spillage.
These dry bags come with a free lifetime warranty so if you're unhappy if your purchase or face any issues with your dry bag whatsoever, you can call up the Adventure Lion helpline and they will help sort your problem immediately!
CONCLUSION
The Adventure Lion Premium Waterproof Dry Bag
is a product that is of stellar quality and builds, along with being incredibly easy to handle. It is a dry bag that you cannot go wrong with! This dry bag manages to keep all your belongings completely safe and dry even if it is happened to be submerged under water for a few moments.
Well, if you want a dry bag that is sturdy, durable, and heavy-duty then this bag is the Adventure Lion Premium Waterproof Dry Bag for you. Apart from this, this bag is lightweight as well as sleek – so that you don't add excess baggage to your trips, and you don't cramp your style as well!
The Adventure Lion is a well-known brand that promises to deliver quality. Go for it without a second thought!
SPECS
Name: Adventure Lion Premium Waterproof Dry Bag
Material: 500DD Vinyl
Color: Green
Sizes: 5L, 10L, 20L, 30L