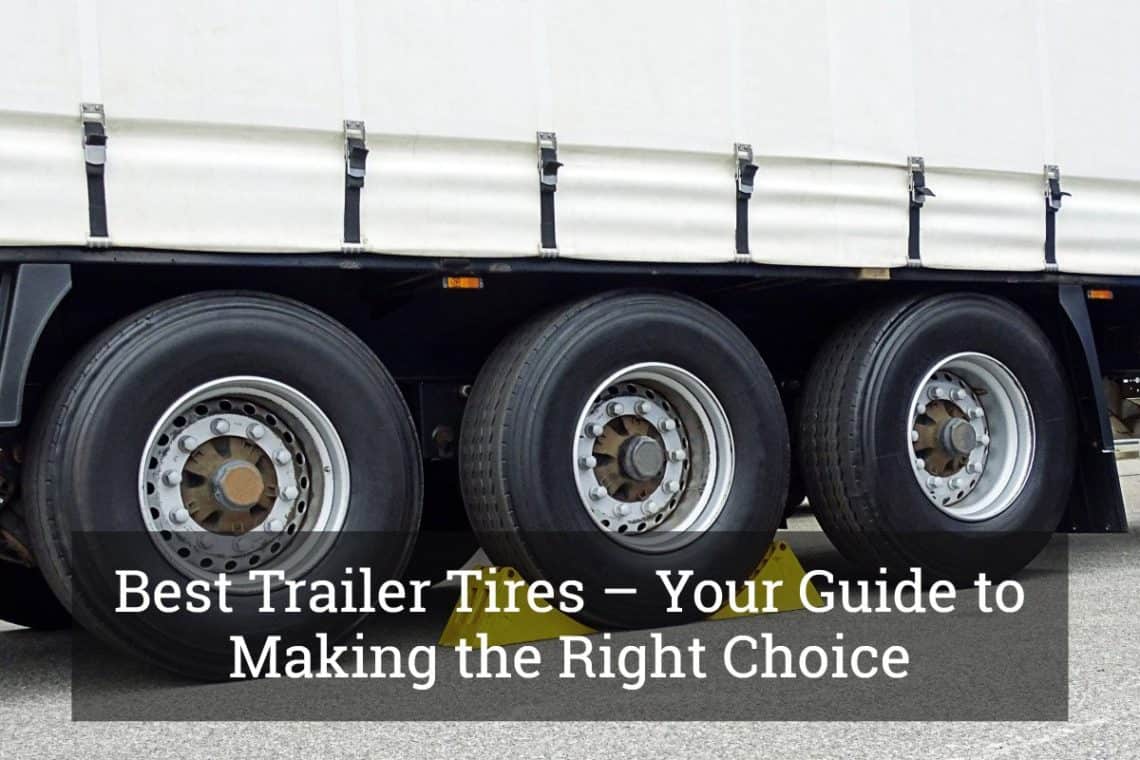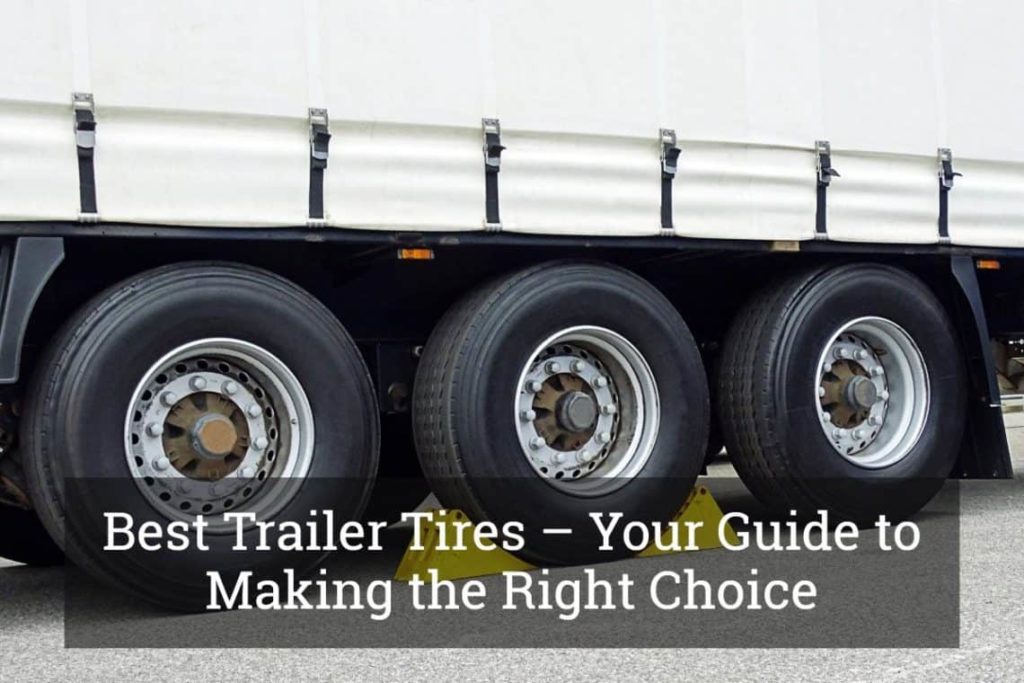 When you travel using a trailer, you don't have time to waste. Are you going on vacation with your family? Are you driving to your next client's house? More than anything, you need to get down the road safely, with your cargo and passengers in perfect condition. No matter how well you drive and how you are on the way, you can't succeed if you have a bad tire. From boat trailers to recreational vehicles, the quality of your tires makes all of the difference in getting where you are going. Focus on the essential features of a trailer tire and know you are getting a safe product with any one of these best trailer tire purchases.
BEST TRAILER TIRES
| | | | |
| --- | --- | --- | --- |
| 1 | Carlisle Radial Trail HD Trailer Radial Tire | 2,150 | 65 |
| 2 | 15″ White Spoke Trailer Wheel with Bias | 1,820 | 65 |
| 3 | Trailer King ST Radial Trailer Tire | 1,820 | 65 |
| 4 | Goodyear Marathon Radial Tire | 2,530 | 65 |
| 5 | Maxxis M8008 ST Radial Trailer Tire | 2,800 | 80 |
Know what you want? Buy your trailer tires here now!
TOP-RATED TRAILER TIRES
EDITOR'S CHOICE – CARLISLE RADIAL TRAIL HD TRAILER RADIAL TIRE 205/75R15 107M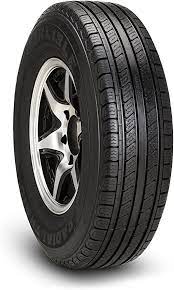 In a size commonly used in boat, utility, cargo, and towable trailers, this tire just might be the best option out there. The Carlisle Radial Trail HD Trailer Radial Tire is made to be compatible with brands like River Pro, Yamaha, Tahoe, Crestliner, Alumacraft, Sea Ray, and Smoker Craft. The tire tread is built for years of superior towing life with your trailer.
The maximum capacity of the tires is 2,150 pounds. Made by Carlisle, the brand is known among tires and wheels for getting the job done. The company makes specialty tires and wheels for everything from wheelbarrows to ATVs to industrial equipment. Get a good tire for your camper or trailer with this competitively priced option made with a wear pattern to reduce road noise in your car.
Pros:
Easy mounting and balancing
Minimizes in-vehicle road noise
Available in 15 different sizes
Applications for vehicles of all types for business use
Smooth-rolling when on the road
Cons:
Does not come with a wheel
Steel belts showing for some users
---
15'' WHITE SPOKE TRAILER WHEEL WITH BIAS ST205/75D15 TIRE MOUNTED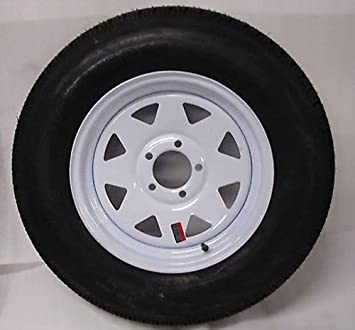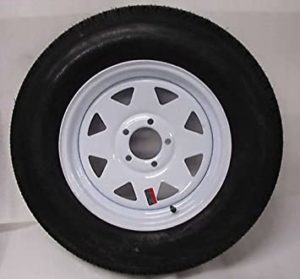 For trailer tire purchases requiring a tire and wheel, this is a great selection of boat or utility trailers! Wheels and tires at one mean you don't have to pay for mounting of the tires either. Users love the 15'' White Spoke Trailer Wheel sold by Wheels Express because it merely gets the job done. When it comes to trailer tires, why do you need frills? In the words of one user, this tire "will work well as a spare on a utility trailer" also. This ST tire is rated at 1820 pounds, and it comes in a spoke-style wheel. If this sizing does not suit your vehicle, sticking with this same tire in a different size would come with the same recommendation.
Pros:
Tires and rims in one package
Easier installation when wheels are replaceable
Rated for up to 1820 lbs.
Suitable for utility trailers of all types
Cons:
No name-brand option doesn't appeal to all
Some users report it makes a better spare tire than primary
---
TRAILER KING ST RADIAL TRAILER TIRE 205/75R15 107L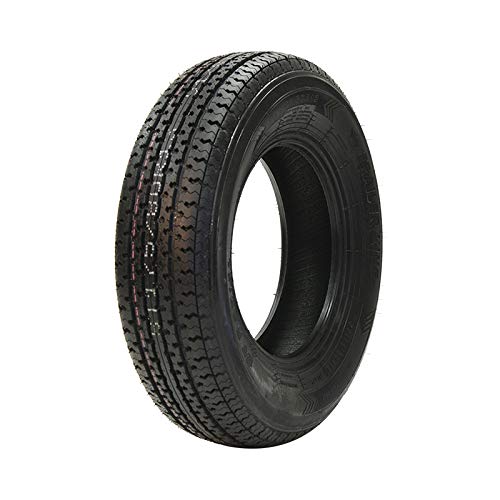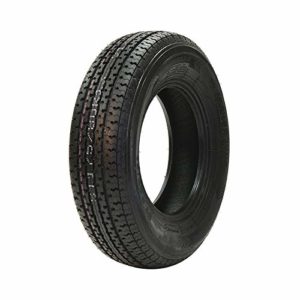 If you want a snazzy-looking trailer tire that gets you to and from your outdoor office every single day, the Trailer King ST Radial Trailer Tire. The tread of the tire keeps your trailer on the road with consistent stability and tracking on the pavement. The tire comes with a five-year limited warranty through the manufacturer with purchase. The Trailer King brand is known for its nylon overlay construction which provides strength and durability if you are in a place with high heat (known for damaging rubber). All of these features give a longer tread life and a better tire for your trailer.
Pros:
Exceeds the latest market requirements
The tread is deep to reduce heat build-up
Approved for speeds up to 81 miles per hour, more than many tires
Superior manufacturer's warranty compared to other brands
Cons:
Too large for some wheel wells
Does not come with a rim or wheel
---
GOODYEAR MARATHON RADIAL TIRE 225/75R15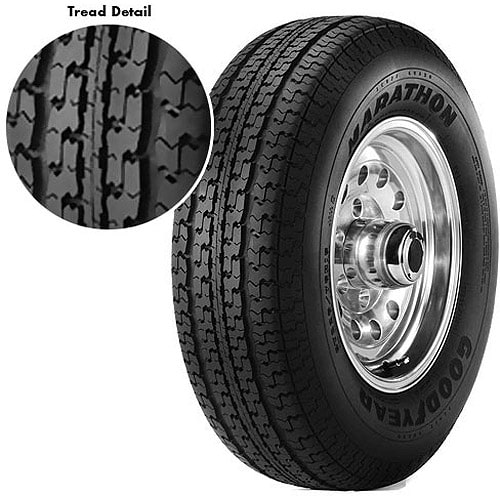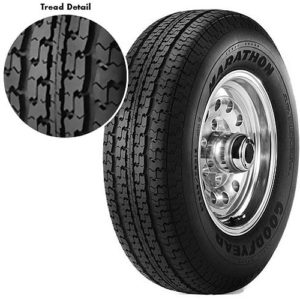 Available in load ratings to meet your needs, the Goodyear Marathon Radial Tire is available to suit your trailer. The Marathon Radial is a special purpose tire specifically designed for use with travel trailers, pop-up campers, boat trailers, and even fifth-wheels. For people committed to a name-brand purchase, you just can't go wrong with Goodyear. Don't know how to install it? There are certified installers across the country able to work with your trailer tires. After a survey conducted by Goodyear, it was found that this tire does well with wet performance, dry performance, and comfort.
Pros:
Made for highway driving and stability
Backed by a warranty from one of the top brands in the industry
Available in five sizes and widths
Connect with their list of certified installers for assessment and install
Higher load rating than stock tires
Cons:
Rated for 75mph, lower than some tires
Higher price point than other trailer options
---
MAXXIS M8008 ST RADIAL TRAILER TIRE 225/75R15 BSW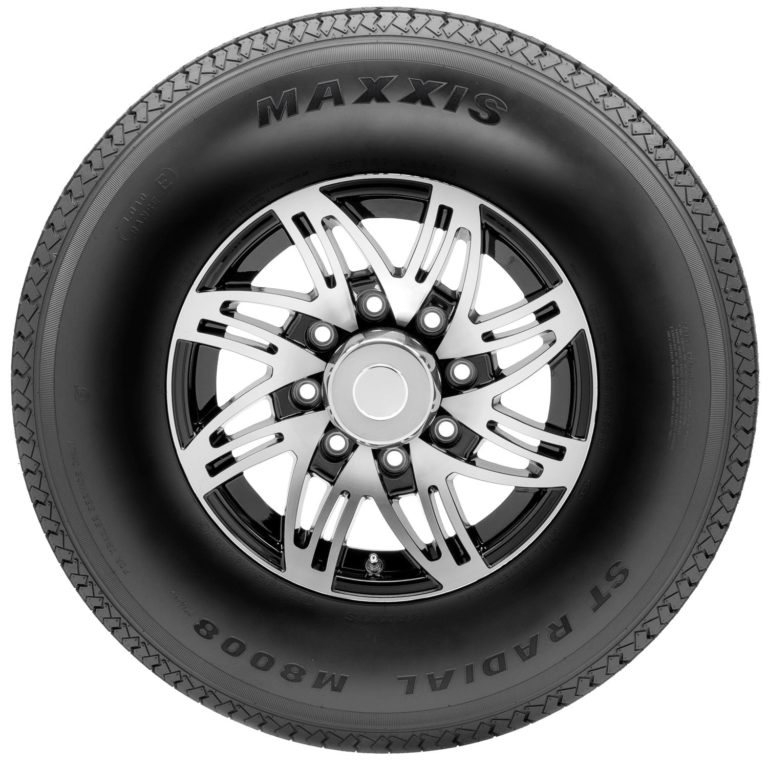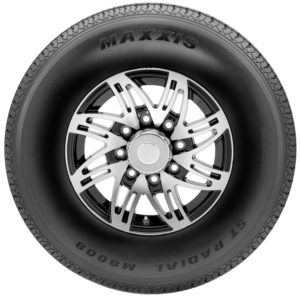 With a double-steel belted construction for additional strength, the Maxxis M8008 ST Radial Trailer Tire is made for work. The tire gets you where you are going with a smooth ride, a long tread life, and a good handling performance. The tread design of this best trailer tire improves fuel economy. Maxxis has implemented a compound on the treads to help fuel economy and keep the tires on the road for longer. As you handle your trailer on the road, it drives smoothly and well. This tire is available in nine sizes for containers for all purposes.
Pros:
Double steel-belted construction for long-term use
Drives smoothly on the road
Rated at 10-ply which indicates superior shock absorption
Some users report driving over 20,000 miles
Cons:
More expensive than other tire options on the market
Radial treads don't suit all users
---
TRAILER TIRES BUYERS GUIDE
A tire isn't just a tire, is it? No one guides you when it comes to buying a trailer tire, even though this part keeps your boat on track, your horse safe in his trailer, or your cargo securely in place. Do you know what to look for with your car's tires? You need to know what to look for when it comes to trailer tires and know if it is time for replacement as well.
Be an informed consumer and make the right buying decisions for your next set of trailer tires. These tires need to be replaced more regularly with a lifespan of three to five years in length. For example, Goodyear's weather cracking warranty is four years on trailer tires. Some of the applications for trailers are:
Construction trailer
Travel Trailer
Custom pop-up campers
Livestock trailer
Boat trailer
Motorcycle trailer
Utility trailer
No matter where you are going on your new tires, be sure you are selecting the right option for your use. According to the National Highway Safety Administration, an average of 20,000 people need medical attention annually because of utility trailers being towed by passenger vehicles. Our recommendations for the best trailer tires are all based on consideration for general usage. If you have a very specialized need, refer to an expert for your specific situation.
HOW ARE TRAILER TIRES DIFFERENT THAN PASSENGER VEHICLE TIRES?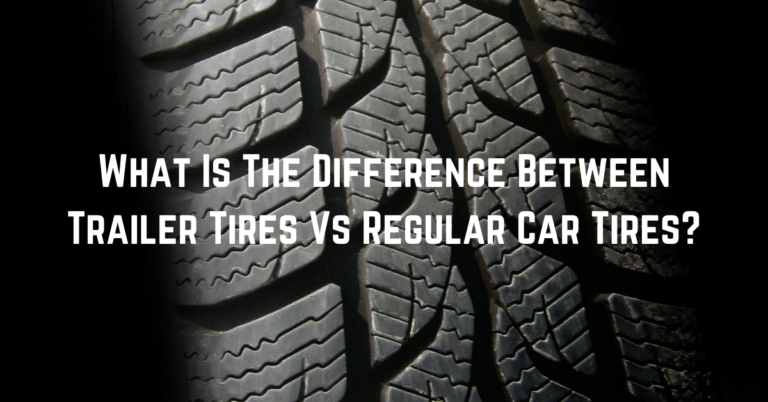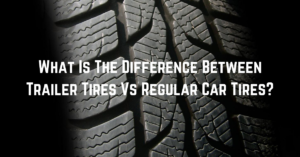 Maintaining a trailer is an entirely different experience than a passenger vehicle, including the part you might replace the most – trailer tires. Trailer tires just aren't like car tires. They aren't responsible for any feature of steering. No power goes transmitted from the engine to the trailer (unlike car tires). Remember, your trailer tire doesn't connect to the suspension of an advanced vehicle.
Trailer tires have harder sidewalls and are made from heavy-duty materials. They need to be more robust than passenger vehicle tires because loose sidewalls cause swaying and move the trailer's center of gravity. There are tires not designed for trailers that fit some sizes. Remember, special trailer (ST) tires are made from heavy-duty materials so they can withstand more than car tires. For example, you could put a passenger radial tire on a travel trailer. This might function and appear to be doing well, but the sidewalls are not as stiff, would cause trailer sway problems, and impacts the center of gravity for your trailer.
FEATURES TO LOOK FOR WITH TRAILER TIRES
Imagine you are in the store purchasing your new tires. Don't buy until you review all of the features of your trailer tires. The essential aspects to look at are traction, size and weight, tread type or design, and even the brand of the tire. These are engineered differently than the tires you get on your vehicle because traction requirements are much higher. Your trailer tires are connected to a clunky, stiff suspension and may not connect to brakes. Look no further than these features for your trailer tires:
Traction is essential in the design of the tires. Friction helps your tires accelerate your vehicle down the road and keeps your wheels on the pavement when you turn the corner or hit the brakes. Know your towing weight so you can make the right purchases.
Size and Weight. Always buy tires that support the weight of your trailer completely loaded. It might be catastrophic if you ignore sizes and weights. Know the load your trailer can carry or the maximum weight the axles can support. Carrying capacity gets printed on the tire, so you know it's correct. Sizing is about tire size and rim diameter.
Type of Tire. The tire you should purchase is an ST or special trailer tire suited to your requirements. STs can hold a more significant load capacity.
Tread Type or Design. Tires come in radial or bias ply for both passenger vehicles and trailers. Bias tiles have tough and stiff sidewalls, but radial tires are better for tread wear. Unlike passenger vehicles, the problem with trailer tires wearing out isn't about trends but oxidation so radial isn't the most obvious choice.
Brand of Tire. You might be a proponent of sticking with brand-name tires for your automobile purchases. The same is true for trailer tires. Name-brand tires tend to be better than off-brand options. The quality of branded tires is consistent, warranties tend to be more comprehensive, and you have coverage from the seller and manufacturer of the tire.
Speed Rating. Every tire with an ST designation comes with a speed rating. You should not exceed the speed rating for the vehicle when you are on the road. Know your average speeds before purchasing for your safety and that of other drivers.
WHAT ARE THE NUMBERS ON UTILITY TIRES?
If you want to know about your tire, read the sidewall. This is where all of the pertinent information about the tire sits. The listing on the sidewall includes seven relevant pieces of information: Application type, section width, aspect ratio, internal construction, and wheel diameter.
For example, a tire might say ST205/75D15. The metric is ST, meaning use the tire for boats or utility trailers. The 205 is the width of the tire from the outer to the inner wall. In this case, the aspect ratio of the tire is 75 which means the height of the tire is 75% of 205. The D of the tire example indicates the tire is biased ply (R stands for radial). The final number is 15 which gives your wheel diameter.
TIRE REPLACEMENT GUIDELINES
According to Goodyear, the tire replacement guidelines for trailer tires are not straightforward because "there are many conditions that dictate a tire's lifespan." You are in the market for tire replacement if you notice issues with sidewall weathering more than tread depth. It is time for a replacement if you see: cracks that are deep in the tires, visible internal components of the tire, or changes in casing quality like weather cracking.
If your tread depth gets lower than 6/32'' might require replacement. Goodyear states that "weather cracking is common in…tires from all manufacturers." No matter how diligent you are about the maintenance of your tires, you will need to purchase new ones. You can extend the lifetime of your tires by following best practices:
Storing your vehicle properly
Rotating your tires every year
Not leaving your trailer loaded without use for more than six months at a time
Consistent use in warmer climates
Use more frequently for a more extended lifetime
Limit direct exposure to sunlight or air
TAKING CARE OF YOUR TIRES
Just like you worry about the tires on your car, your trailer needs maintenance as well. A small issue with a tire can cause a big problem. Before you take your trailer out, be sure to run through looking at the tread, the inflation, and the condition of the rubber. The tread of your tires should not have obvious problems. You need new tires if you are looking at less than 2/32 of an inch. If you haven't pulled your trailer out in a while, check the pressure in your tires. When it sits idle, you lose up to three PSI each month. Regular checks of the rubber treads decrease your chance of blowouts on the road. Some users prefer to install trailer tires like clockwork every three to five-year periods. If you worry about taking care of your tires, make sure you are safe on the road with the best trailer tires.
OUR FINAL PICK FOR BEST TRAILER TIRES
Stay safe when you are on the road with a replacement of trailer tires for your work or play. It is better to err on the side of caution with your tires than to risk an accident. Use our buying guide to make a purchase, or just buy one of the top options on the list. Although your purchase may be restricted by size, our final recommendation and vote for the best trailer tires on the market is Carlisle Radial Trail HD Trailer Radial Tire.