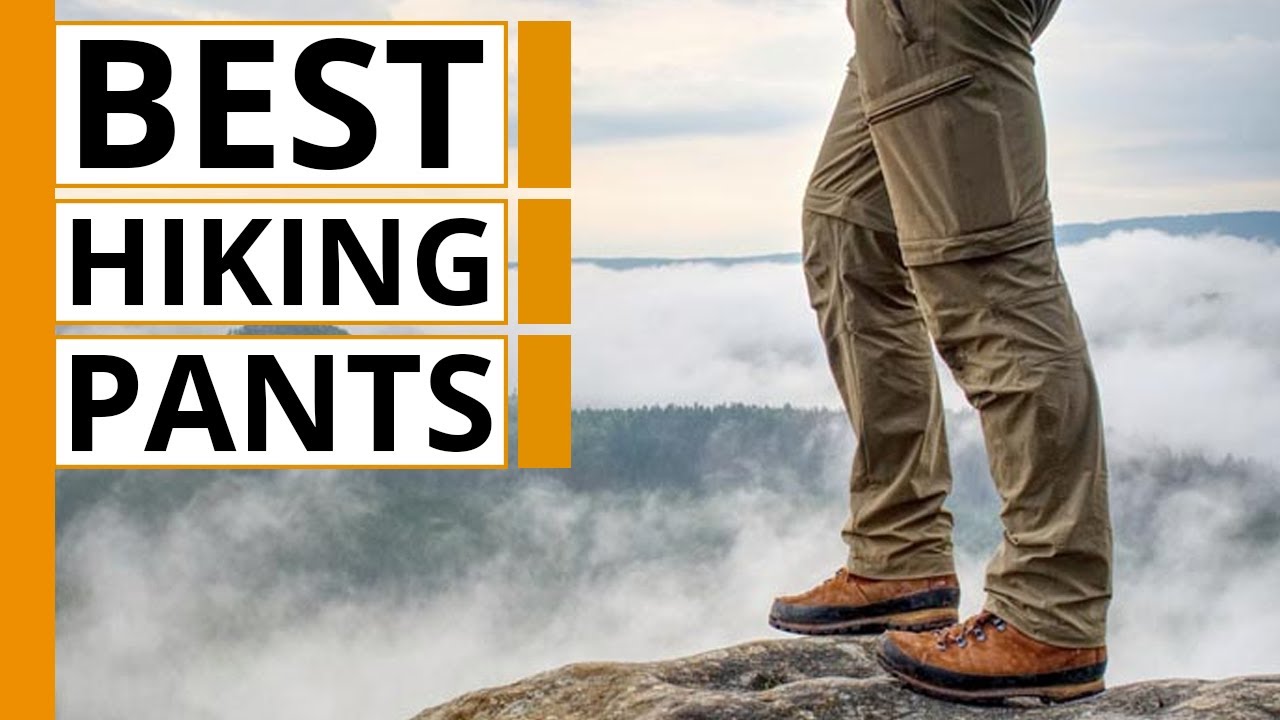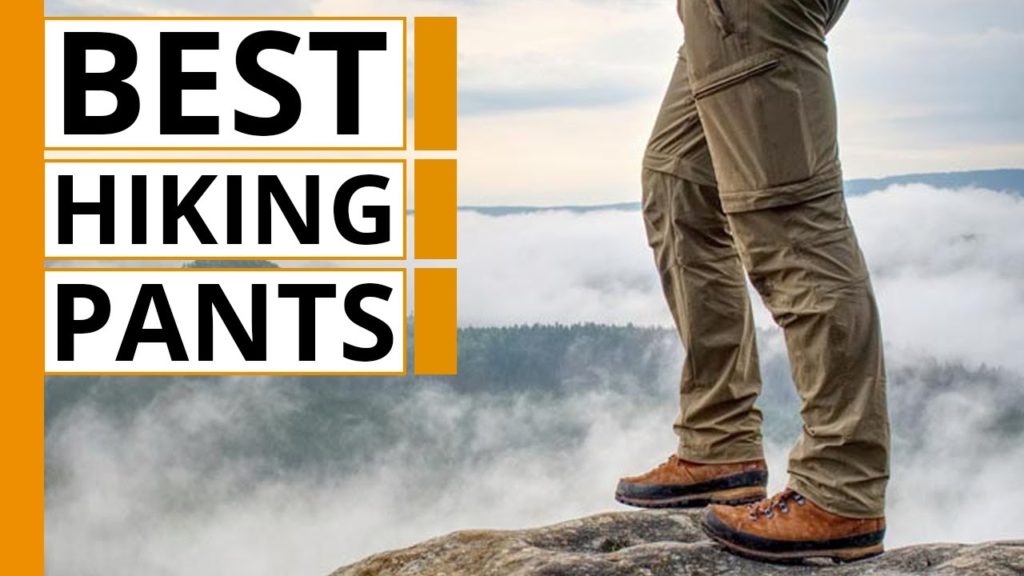 Hiking is one of the best ways to enjoy the outdoors. There are endless places to explore when you strap on a backpack and head out into the wilderness. When you are preparing to go on a hike, even an afternoon hike at a local trail, it's essential to have the right equipment to ensure your hike is safe and enjoyable. You'll want to be sure to invest in a high-quality pair of hiking pants to ensure you are protected from the elements, and that you remain cool and comfortable during your hike. We've rounded up the best hiking pants to help you decide which pair is right for you.
BEST HIKING PANTS
Rank
Model
Material
Waterproof

1

Helikon-Tex Outback Line, Outdoor Tactical Pants

93% Nylon / 7% Spandex

Moisture-wicking

2

Huntvp Men's Lightweight WR Hiking Pants

Nylon / Cotton Blend

Water-resistant

3

FREE SOLDIER Men's Tactical Pants

50% Cotton / 50% Nylon

Waterproof

4

HARD LAND Men's Waterproof Tactical Pants 

 

65% Polyester / 35% Cotton Twill

Waterproof

5

TBMPOY Men's Quick-dry Waterproof Hiking Pants

85% Polyamide / 15% Spandex

Moisture-wicking
Know what you want? Buy your hiking pants here now!
TOP-RATED HIKING PANTS
Helikon-Tex Outback Line, Outdoor Tactical Pants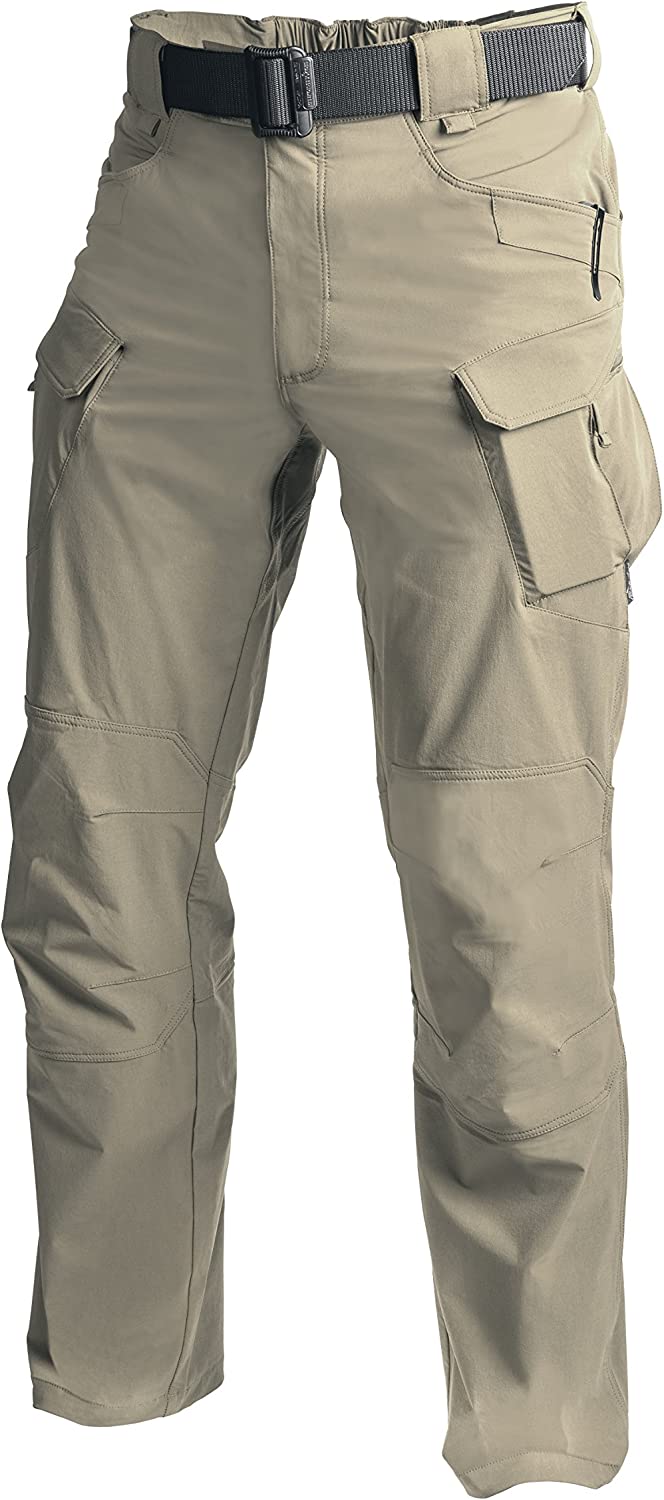 Made from 93% nylon and 7% spandex, these pants are designed to breathe and move with you. The elastic-like fabric makes it easy to enjoy the outdoors, and the breathable material keeps you cool and comfortable. These pants are ideal for hiking because of their slim fit so that excess material doesn't get caught around your waist as you move.
There is a 2-inch adjustable band in the waist for when you need to add layers and make room in your pants for those layers, but they still sit nicely against your body to keep you comfortable. There are 2 large front pockets sewn into these pants that are great for everything from your map to food to a knife.
The lay-flat design means that you won't be carrying the added weight on your sides, making it easier to lift your legs for steep hikes. There is the added fabric to the knee area to prevent wear and tear on your journeys. Available in several colors including green, black, khaki, brown, gray, and more, there is a color for everyone and every need. These pants aren't waterproof, but they do work to wick the moisture away when they get wet, so you aren't being weighed down by excess water on your pants.
Pros:
Teflon coated materials

Patented design

Adjustable waist

Form-fitting

Lightweight
Cons:
These hiking pants by Huntvp offer style and flexibility in the military-inspired pants. The pants provide a great deal of durability and strength for the avid hiker. The build and construction of these pants feature high-quality zippers and high-density metal alloy buttons that will stand the test of time. Made from a durable, ripstop cotton blend, these pants will keep you feeling dry with water-resistant treatment and design. The elastic stretch waistband ensures the pants stay put while hiking and it provides a great deal of comfort while on the move.
The elastic waistband design also helps to reduce friction when carrying a backpack for added comfort on the trail. These pants are available up to size XL, but be sure to measure before you buy because they are made a little smaller than some other pants. The form-fitting design will keep your pants from shifting while you hike. These are excellent options for any hiker at any level. They are also great for camping, fishing, and layering in the winter months.
Pros:
Water-resistant

Nylon/cotton blend

High-quality construction

Great design

Form-fitting

Elastic waistband for stretch and comfort.
Cons:
Made smaller than other pants so be sure to measure before buying.
Huntvp Men's Lightweight WR Hiking Pants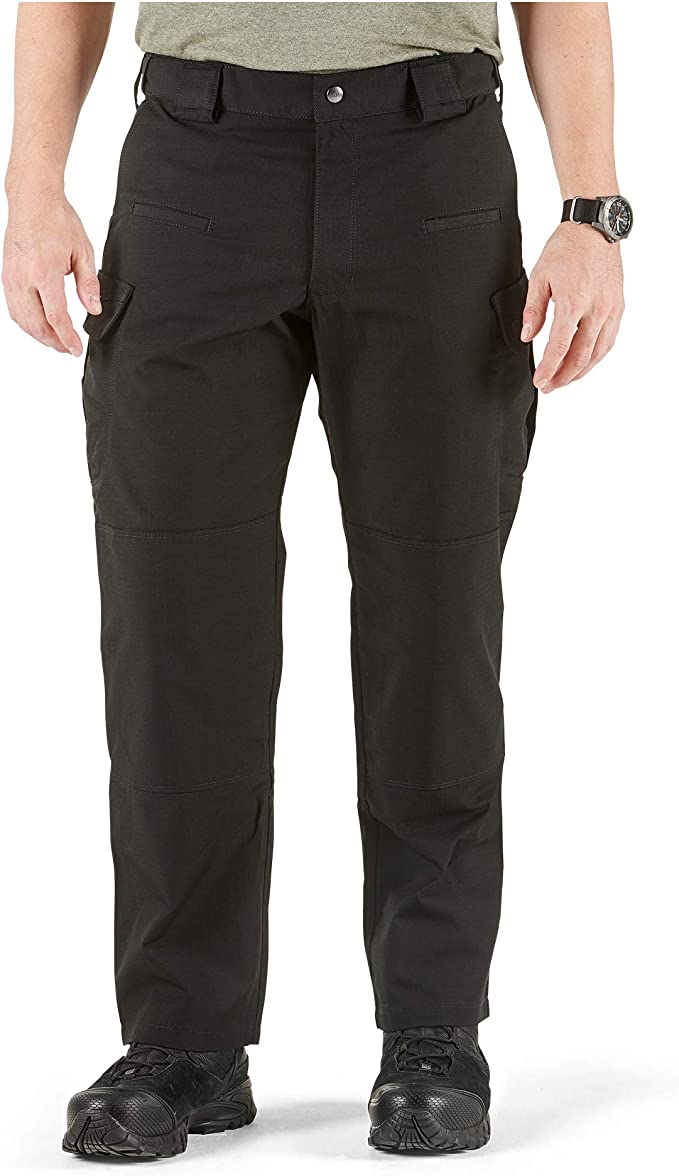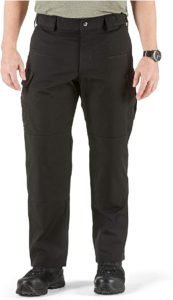 Huntvp is a new brand that offers high-quality tactical pants. Let's talk about the details of this product. The adjustable waistband and zippered front pockets allow you to get a perfect, comfortable fit, and the high-strength and high-density metal alloy snap button and zipper ensure that everything stays in place even during the toughest situations.
These military-grade tactical pants are designed for a rugged lifestyle. Made for comfort and utility, these pants offer a fully breathable stretch fabric that's fast drying and quick wicking to keep you cool in the heat. They come with different pockets to securely store your gear. Plus, the included holster clip will hold your favorite weapon on the side of your pants while you're in the forest or on another adventurous ride.
Pros:
Multiple pockets

Teflon finish

Mechanical stretch

Gusseted construction

Self-adjusting tunnel waistband

YKK zippers and Prym snaps
Cons:
FREE SOLDIER Men's Tactical Pants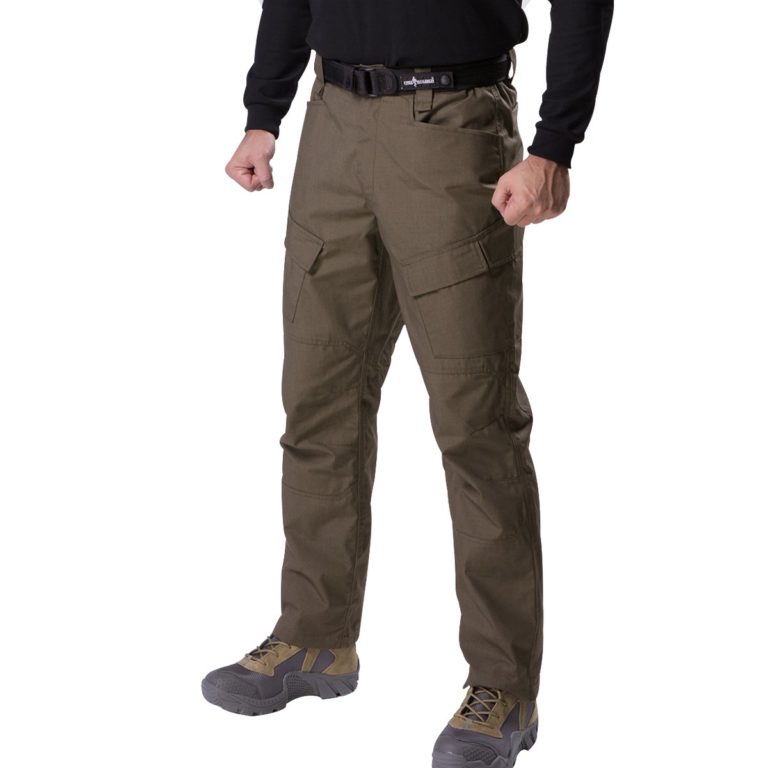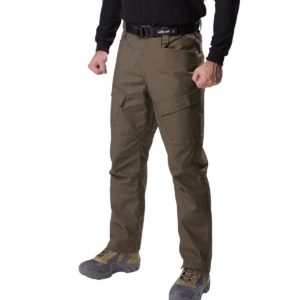 If you are in the market for a pair of high-tech hiking pants, the Free Soldier tactical pants might be right for you. This 50/50 cotton/nylon blend features heavy-duty zippers, a number of deep pockets, and hanging clips on the side of the pants for all of your tools and gear that you want to grab in an instant. The pants are scratch-resistant, waterproof, tear-resistant, oil resistant, and great for four seasons of wearability. They are also coated with Teflon and offer a great deal of breathability and comfort.
The pockets are big enough to carry large items such as flashlights or other large tools. They are perfect for hiking, but you'll get a lot of use out of them on the construction site, while camping or hunting, and they are great for everyday wear as well. With stylish 3D tailoring, these pants look cool, and the attention to detail means you'll have these pants for years to come. The pants come in several colors including green, black, brown, and camouflage. Great for serious hikers with a lot of equipment to carry.
Pros:
Durable design and build

High-quality materials

Waterproof, oilproof, and scratch resistant

Great for four seasons of wear

Made from lightweight material to keep you cool

Loads of storage pockets and MOLLE system for hooking tools on the pants
Cons:
We can't find anything wrong with these pants – they are great!
HARD LAND Waterproof Ripstop Cargo Pants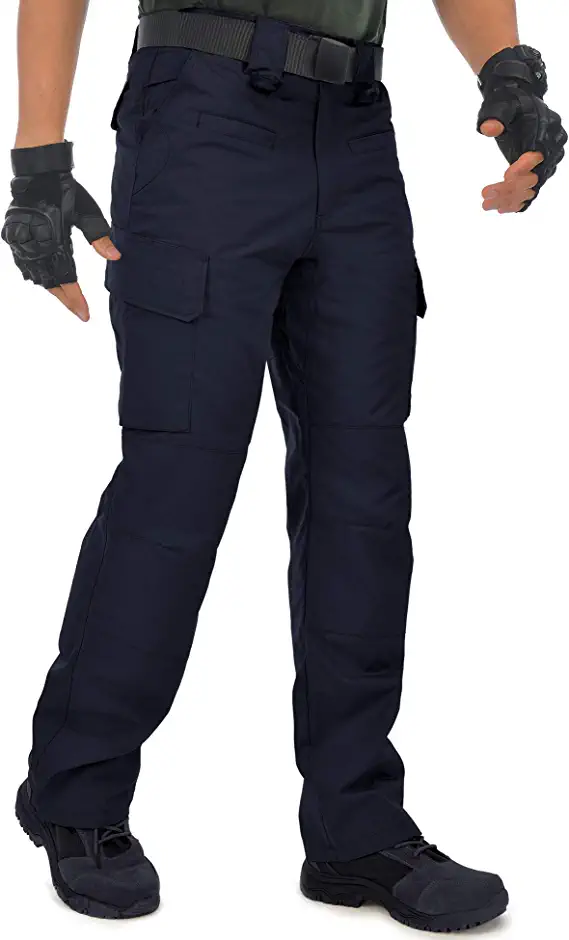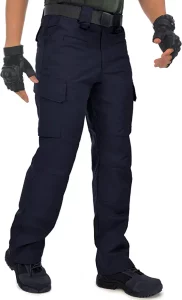 These tactical hiking pants from Hard Land are waterproof and weather resistant. They are great for all kinds of weather use. They won't fade, shrink or even wrinkle so they are great for everyday wear in addition to your jaunts in the woods. You can also get yourself a pair of these hiking pants for camping, fishing, and hunting. Made from a polyester and cotton blend, they'll keep you warm in the cold weather and cool in the warmer weather.
The zippers are made from high-quality materials, and there are multiple pockets and D-rings for your gadgets and tools. The belt loops are oversized to support the weight of a tool belt or large tools while working or hiking. The waistband sits flat, which will help keep you comfortable when you are carrying a large backpack. There is a place for all your tools, snacks, and even magazines in these great hiking pants. Available in navy blue, black, or green, and up to size 46 waist, you can be sure that these pants will stand the test of time.
Pros:
Good range of sizes for all body types

Waterproof

Weather resistant

Polyester/cotton blend

Available in 3 colors and a variety of sizes
Cons:
Could use more deep pockets
TBMPOY Men's Outdoor Quick-dry Hiking Mountain Pants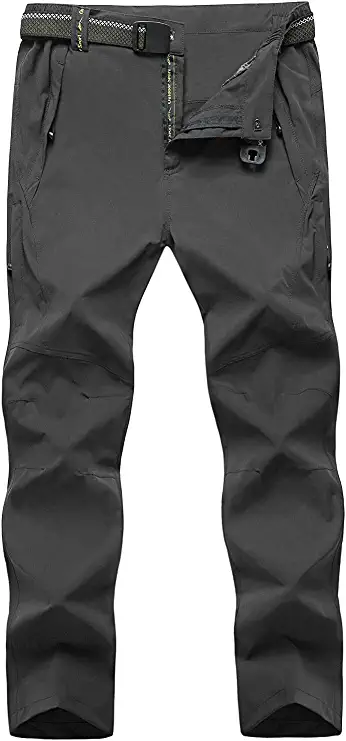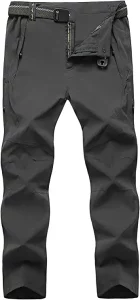 If you are looking for a rugged and reliable pair of hiking pants check out the TBMPOY Outdoor Mountain Pants. They are made of 85% Polyamide and 15% spandex giving you lots of flexibility and durability. There are multiple pockets: two at the knees, one back pocket, two slanted side pockets, and more. This pair of pants comes with an adjustable belt, which is a nice added feature since belts are expensive on their own and this one is designed to stand up to the elements and hiking.
The waist is adjustable and has a nice bit of stretch to it, and there are "knee darts" sewn into the fabric to allow the pants to move freely while providing an excellent fit. These pants are great for camping, hiking, hunting, construction, and more. They aren't waterproof but water-resistant and offer a quick-dry technology that helps you recover quickly from spills in puddles while wading through streams. They are rated for 3 seasons, so you'll need thicker pants for colder months. Otherwise, these are great hiking pants for any level of hiker.
Pros:
Multiple pockets

Water-resistant

Lightweight fabric

Durable construction

High-quality zippers

Comes with belt

Adjustable waist
Cons:
Not rated for cold weather.
Hiking Pants Buying Guide
GO FOR PANTS, NOT SHORTS
Experienced hikers will tell you to always opt for pants over shorts when hiking. This is because they protect your legs better. Pants that are designed for hiking will keep you cool in warmer weather and warmer in colder weather. Plus, it's easy to layer lightweight hiking pants for more frigid weather hikes. Pants help protect your legs from the sun, bugs, and numerous branches and twigs you are going to come in contact with on your travels.
ZIP-OFF LEGS
Some people prefer hiking pants that have zip-off legs; the idea is that you can prevent your pants from getting wet if you have to cross a stream, or you can quickly switch to shorts if another takes a warmer turn. Zip-off pants are no better or worse than regular pants, but it will be a personal preference as to whether or not you will want to buy this kind of hiking pant.
MULTIPLE POCKETS
One thing – actually multiple things that are necessary on a hike is pockets. You want as many pockets as possible in your hiking pants. This helps you access items quickly and easily on the trail without having to remove and open your backpack all the time. Map pockets, knife pockets, and pockets for snacks and sunscreen are essential. Make sure the pockets are deep enough to prevent things from falling out as you move along the trails.
WATERPROOF
Some hiking pants are waterproof, so you don't have to worry about staying wet for long when you cross a stream or step into a puddle. Waterproof and water resistant are two different concepts. Waterproof means the water won't penetrate the fabric, so you stay very dry. But water resistance means the material will eventually become saturated with water and you'll stay wet longer.
MATERIAL
The best hiking pants are made from lightweight nylon, cotton, or spandex material that dries quickly when wet and keeps you cool in warmer weather. For cold-weather hikes, fleece-lined hiking pants are ideal because they help to keep the warmth in without making you feel too uncomfortable. Many of the best hiking pants have nylon/cotton blends that have excellent cooling effects while hiking.
SEASON
If you hike all year round, you'll want to invest in several pairs of hiking pants that will perform well for the type of weather you will encounter. For extreme climates – hot or cold – you'll want to invest in the best hiking pants you can afford. This will help you stay comfortable and dry wherever you are hiking.
COLOR
Some people will care about the color of their hiking pants, and some won't. Just know that the lighter the color of your hiking pants. The more dirt and dust they will show. Lighter-colored pants will keep you cooler in the warm weather though, so keep that in mind as you shop for your perfect pair of hiking pants.
FIT
You might like to get a loose-fitting pair of hiking pants, but the more fit the pants are to your body the better the material will perform. Wide-legged hiking pants just get in the way of your movements, and the added material only weighs you down as you hike. Pants that move with your body are best when you try them on. Be sure to do a couple of different moves, including squats, to see how your pants hold up. Another thing to consider is if the waist lays flat around your body. If you are carrying a backpack and the waist of your pants bunch up as you move, your backpack may rub against that excess material and cause you a great deal of discomfort.
Conclusion
When it comes to choosing the right hiking pants for you, don't skimp on the important things like durability, construction, and weather resistance. You want a pant that can take you from hot to cold, and keep you comfortable no matter what activity you are doing. Hiking is more enjoyable when you have the right equipment and are prepared for taking on the elements. Get yourself a pair of hiking pants today, and you'll be glad you did.