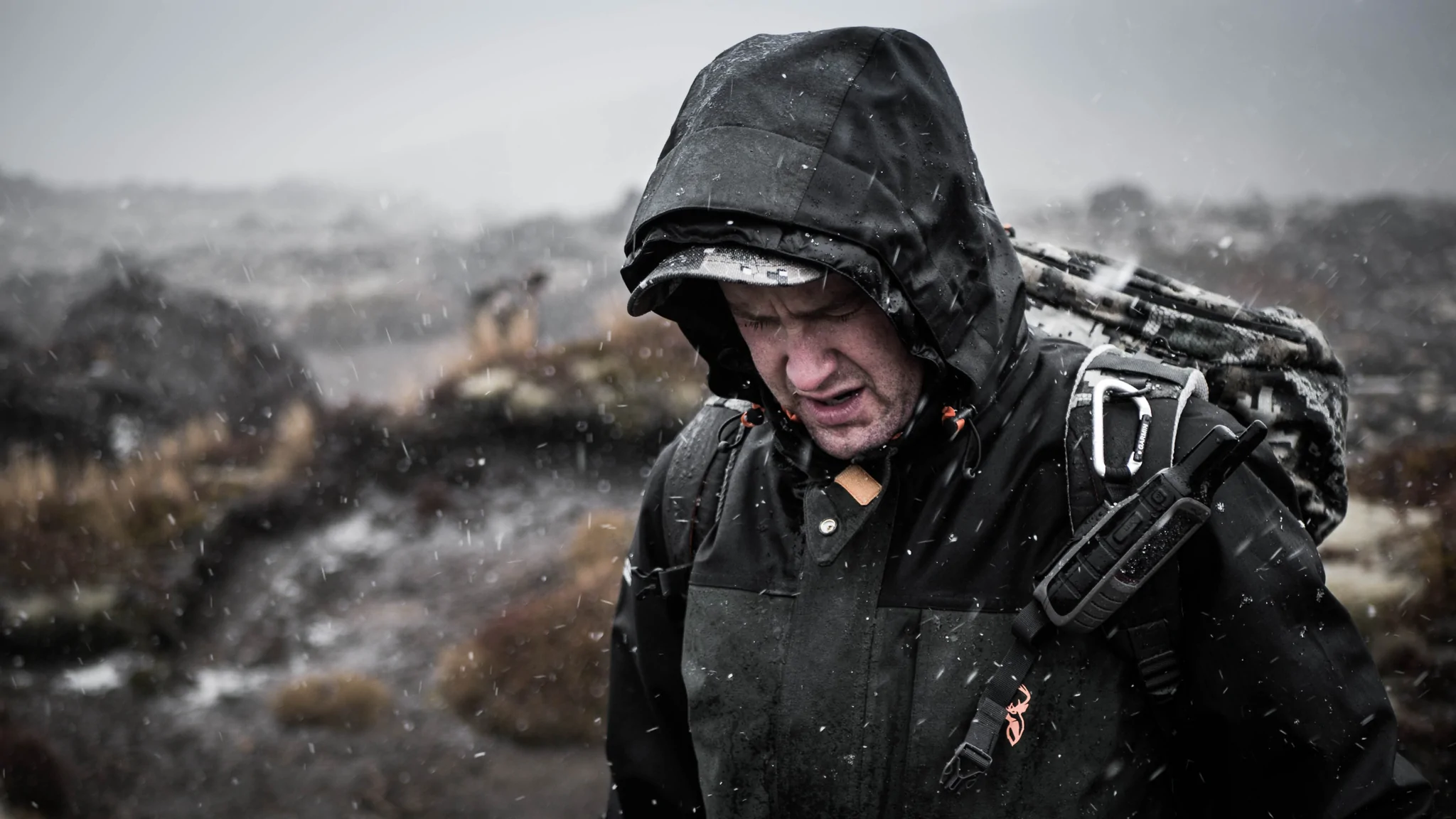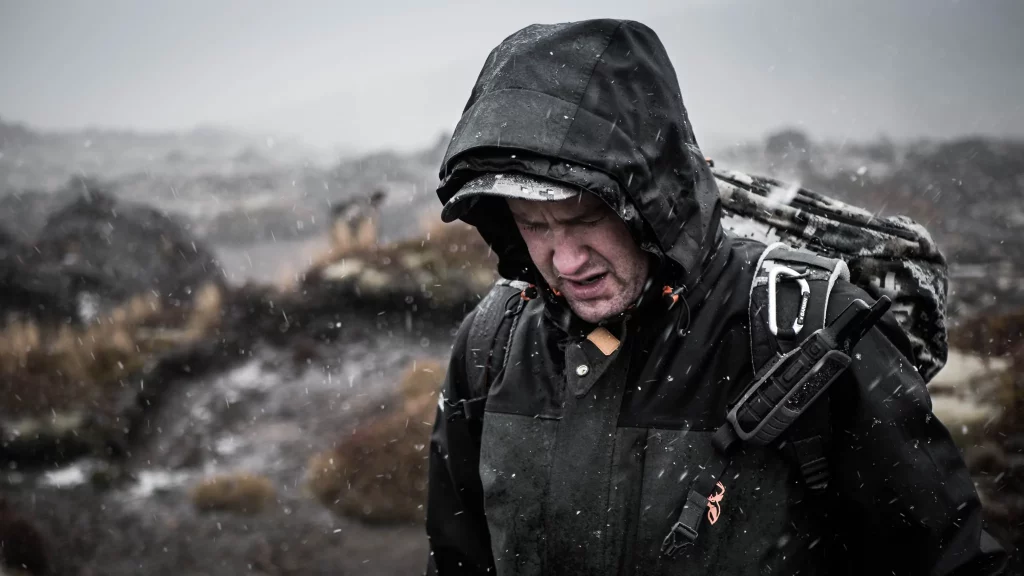 If you're looking for the best rain jackets around to help you weather through monsoon season, you've come to the right article. In this article, we'll give you tips on how to pick a great rain jacket, and then review five of the best rain jackets on the market. If you're already feeling drops of water on your head, you might want to hurry through the next section.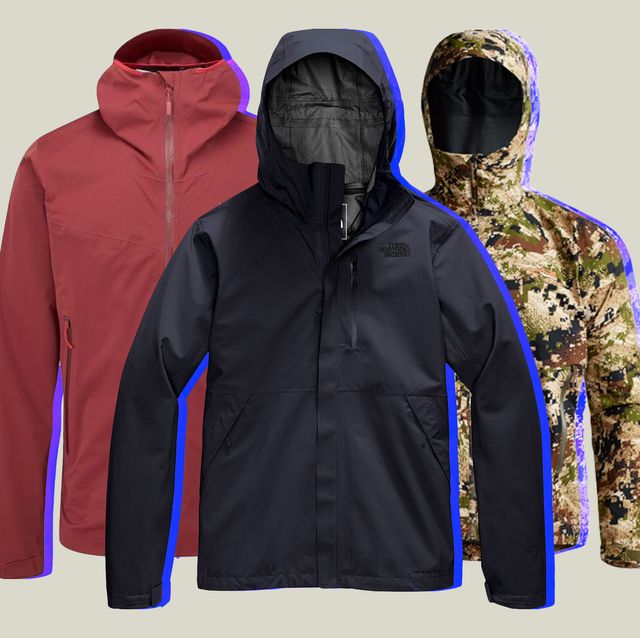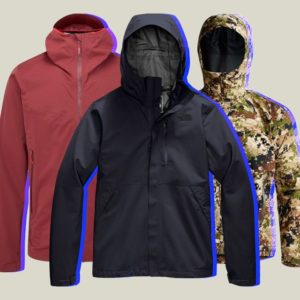 Now that you know what to look for in a rain jacket, here is our roundup of the most popular rain jackets on the market. As you read through our breakdown of these rain jackets, try to keep in mind the way that you'd be using the rain jacket and when you see yourself using a rain jacket in the context that the reviewed jacket is being discussed.
BEST RAIN JACKETS
| | | | | |
| --- | --- | --- | --- | --- |
| 1 | Marmot Minimalist Men's Lightweight Waterproof Rain Jacket, GORE-TEX with PACLITE Technology | 100% Polyester | Waterproof | No |
| 2 | Portwest Men's Classic Rain Jacket | 100% Nylon PVC Coated | Water-Repellent | No |
| 3 | Columbia Men's Glennaker Lake Front-Zip Rain Jacket | 100% Nylon | Water-Repellent | No |
| 4 | Carhartt Men's Rockford Rain Defender Jacket | 100% Nylon | Water-Repellent | No |
| 5 | Gioberti Men's Waterproof Rain Jacket | 100% Polyester | Waterproof | No |
Know what you want? Buy your rain jacket here now!
TOP-RATED RAIN JACKETS
EDITOR'S CHOICE – MARMOT MINIMALIST MEN'S LIGHTWEIGHT WATERPROOF RAIN JACKET, GORE-TEX WITH PACLITE TECHNOLOGY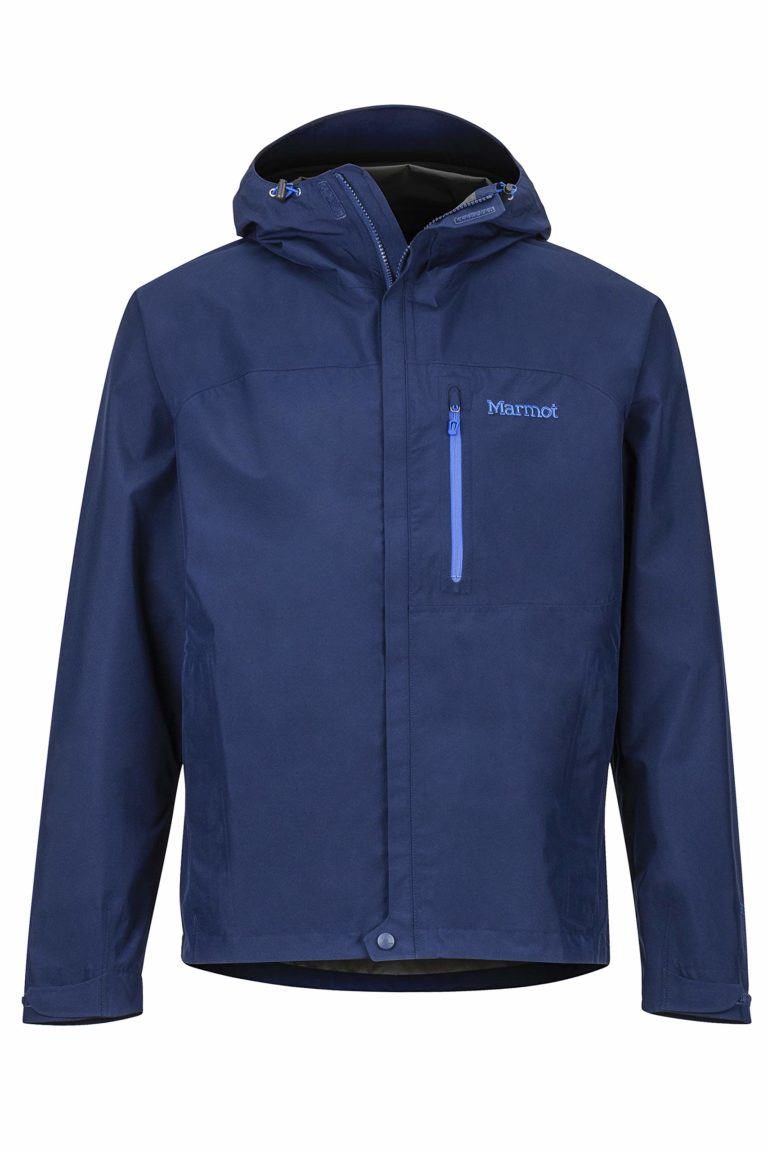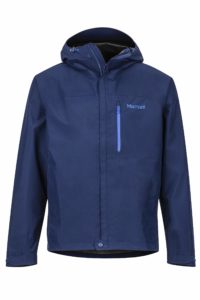 The Marmot Minimalist Men's Lightweight Waterproof Rain Jacket, GORE-TEX with PACLITE Technology is the prototypical sporty rain jacket that utilizes advanced materials technology. This jacket is eminently breathable, has decent aesthetics, and comes in blue, green, black, and red.
As a brand, Marmot has a reputation for making expensive rain jackets that don't age very well because they're not very durable, but they also have the reputation of being the go-to brand for sporty usage thanks to their superior breathability. Marmot relies on high-technology materials, so you'll never get wet, even in the shower. This can be a lifesaver when you're on the trail. The hood on this rain jacket is also extremely effective, even if the bill can be a bit annoying. The bill of the hood folds back easily enough. Additionally, zippers on Marmot products are often finicky, and that's the last feature that you want when you're scrambling to put on your rain jacket.
Nevertheless, this particular Marmot rain jacket is a winner because of its relatively low cost and its extreme commitment to being lightweight. You'll hardly feel this jacket, which can be excellent for sporty use, provided that there's no load bearing involved. It weighs a mere 3.6 ounces. For a rain jacket, that's hard to beat. Sporty users will enjoy the lightweight and superior breathability of this jacket, and lament its weak durability. There are other rain jackets in the Marmot line that are a bit more expensive but solve many of this particular jacket's problems.
Pros:
Minimalist aesthetics
Highly breathable
Extremely lightweight
Good value
Multiple zippers for controlling breathability features
Cons:
Weak zipper
Not enough pockets
Poor color selection
Stitching may not be the best
---
PORTWEST MEN'S CLASSIC RAIN JACKET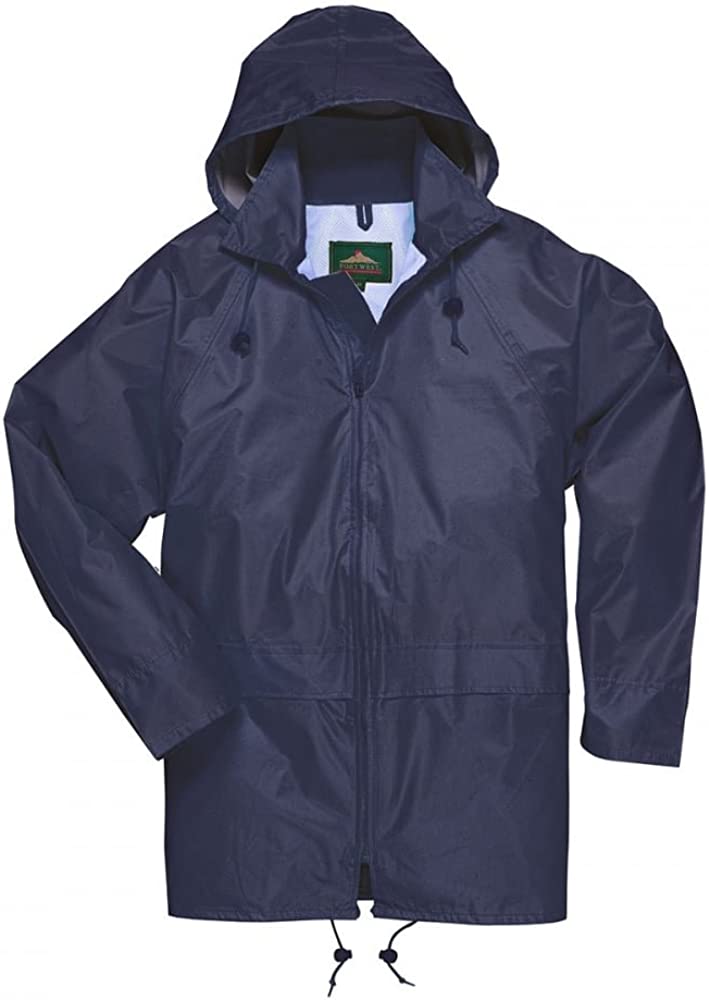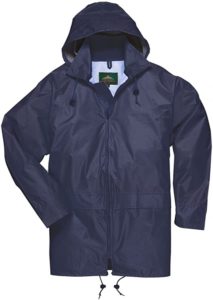 The Portwest Men's Classic Rain Jacket is a nylon rain jacket that's coated with PVC so that it's waterproof. This rain jacket has plenty of pockets, plenty of moisture regulation zippers, a decent hood, and mediocre aesthetics in a moderate range of color selections. The biggest draw to the Portwest is its price point. This rain jacket will keep you dry for very little money, and it doesn't suffer very much in the durability department as a result. Where the Portwest struggles are in the breathability department. There are internal zippers to increase outward airflow, but the material itself isn't breathable.
The fit on the Portwest is also a little bit funky—some users find it too small for their size, and others far too large in awkward spots. Users who are tall and thin will have the most trouble with the fitting, whereas users who are shorter and wider will probably find the fitting to be just as they expect. The Portwest has a great hood that is sufficiently deep and also broad. You may need to adjust your hood to fully block the rain while using the Portwest. This rain jacket isn't a looker, but it'll get the job done on a shoestring budget.
Pros:
Extremely inexpensive
Lots of pockets
Good hood coverage
Good zippers
Cons:
Weak aesthetics
Not made of a breathable material
Torso sizing isn't great
---
COLUMBIA MEN'S GLENNAKER LAKE FRONT-ZIP RAIN JACKET WITH HIDEAWAY HOOD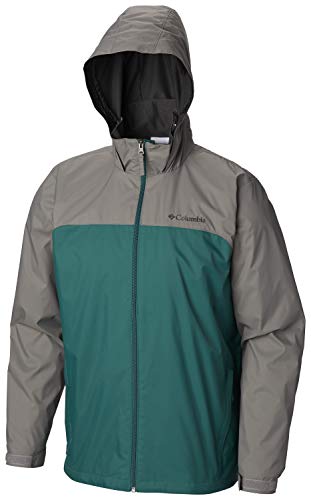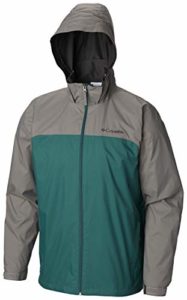 The Columbia Men's Glennaker Lake Front-Zip Rain Jacket with Hideaway Hood is a great jacket that's affordable yet packed with features, and also has a decent aesthetic. You can choose from about a dozen different color combinations with the Columbia option, which is one more reason why it might be the right rain jacket for you. If you don't plan on needing heavy rain protection regularly, Columbia's offering should be one of your major contenders.
The hideaway hood is easy to conceal—perhaps for aesthetic purposes—but it also has poor coverage. This hood isn't meant to keep your head dry; it's meant to keep the top of your head and the back of your head dry—your face and neck will get wet. The biggest issue with this rain jacket is that it's simple nylon, which means that it's not going to keep you dry indefinitely. The build quality is good for commuters and a hiker essential, but probably too weak for hikers or bikers. Finally, there is zero breathability in this rain jacket, nor are there ways of increasing the outward airflow. At least it's machine washable.
Pros:
Decent price
Wide range of color choices
Machine washable
Slim fit for a sleek look
Hood packs away easily
Cons:
Not enough pockets
Not enough coverage on the hood
No breathability or ability to regulate internal moisture whatsoever
---
CARHARTT MEN'S ROCKFORD RAIN DEFENDER JACKET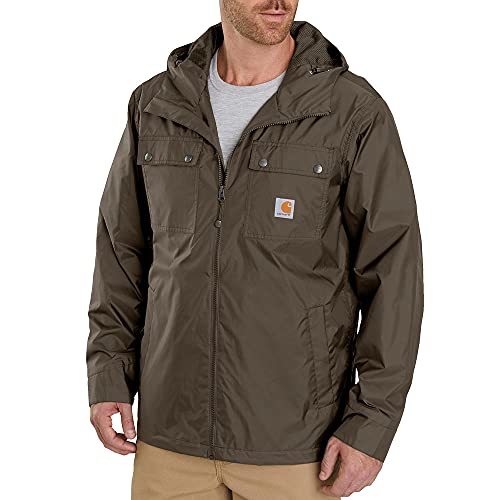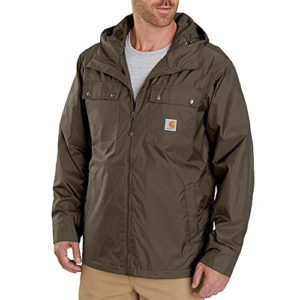 The Carhartt Men's Rockford Rain Defender Jacket has outstanding aesthetics at a price point that's just slightly too high to justify given the jacket's rain-repellent features. This jacket has more than enough pockets, good build quality, and a small selection of possible colors, but is nylon. Much like the Columbia, this is a jacket for casual use and not for sporting in any capacity. There's no way that you can let moisture out of the Carhartt rain jacket, so you may end up wet if you exert yourself.
Unlike other aesthetically pleasing rain jackets, the Carhartt's hood isn't weak. In fact, the hood may be the strongest point in favor of this jacket aside from how good it looks and how well it fits most people. The hood can hide away if necessary, but looks great hanging naturally, and offers good coverage when up—and remarkably, still looks good when up. The zippers are effective on the Carhartt, but nothing to write home about. Like other nylon rain jackets, you can machine wash it, but if you do any strenuous activity that gets it dirty, it probably can't serve its intended purpose effectively.
Pros:
Looks awesome
Good hood coverage
Hideaway hood
Plenty of pockets in diverse places
Has a media port for your earbuds to snake through so that your phone can stay dry
Cons:
Slightly overpriced
Small color selection
No breathability or ability to regulate internal moisture
---
GIOBERTI MEN'S WATERPROOF RAIN JACKET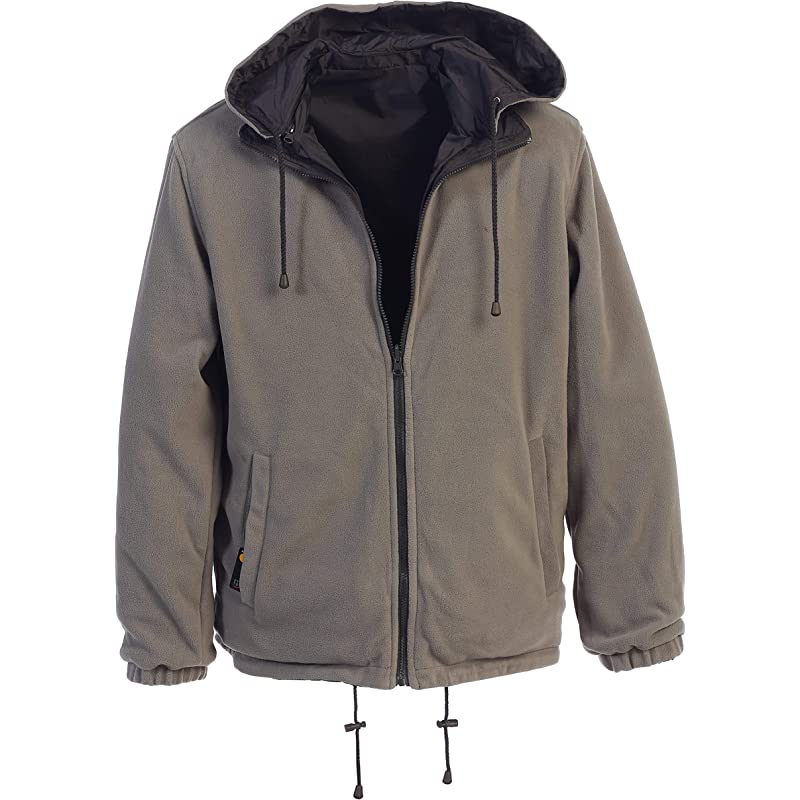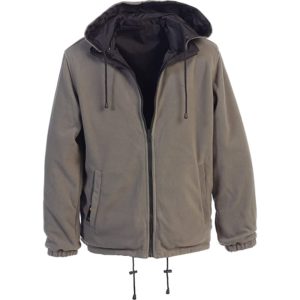 The Gioberti Men's Waterproof Rain Jacket is a polyester-based rain jacket that manages to be breathable, light, affordable, and aesthetically pleasing all in the same package. The Gioberti also has a moderately large color selection and offers a sealing Velcro strip over the front zipper to ensure that no rain from the outside makes it to the zipper, leaving zero chance of you getting wet via the zipper, in theory.
The zipper itself on the Gioberti is a missed opportunity. It frequently jams, and thus the user is forced to rely on the Velcro covering the zipper to protect against the rain, which thankfully is sufficient. The Gioberti has plenty of pockets but fits oddly around the forearms for many users. As far as the breathability and build quality go, the Gioberti falls into the medium band of rain jackets. There are a few breathability features on the rain jacket so that the user can regulate internal moisture somewhat effectively—the problem is that they don't keep the rain out enough while they're letting out internal moisture.
You could probably get away with doing some light hiking while wearing this rain jacket without fear of it falling to tatters, but it's not for extremely heavy use. It's also not very light relative to other rain jackets, making it less desirable for hiking. Additionally, the Gioberti seems to resist rolling up into a small package like many of the other rain jackets do—an odd difference that makes it slightly worse, but not an issue if you don't plan on going hiking.
Pros:
Velcro seal over zipper prevents any wetness getting in
Effective hood
Good price point
Can withstand light sporting use
Good color selection
Cons:
Zipper gets caught too frequently
The jacket itself is heavy for a rain jacket
Breathability features don't work very well
Awkward fitting around the forearms
---
RAIN JACKET BUYERS GUIDE
In this section, we'll tell you about the things you need to look for when you're shopping for a rain jacket or shopping for hiking gear. Some rain jackets are fit for London, and some rain jackets are fit for protecting you while you're taking a shower. Other rain jackets are perfect for activities like riding a bike through the rain, whereas others are a bit too stylish and a bit too flimsy to survive that kind of activity.
There are also plenty of rain jackets that are extremely expensive, yet can't protect you effectively or lose their efficacy after a certain amount of time. These tend to be rain jackets marketed toward sporty users or users looking for a high-tech solution to the problem of getting wet when it rains.
Typical rain jackets for casual use often lack core features, but, if you don't plan on being in the rain very much or plan to use assistive technology like an umbrella, can still be the right rain jacket for you to use. Let's look at the features that every rain jacket should have, regardless of its intended purpose.
BREATHABILITY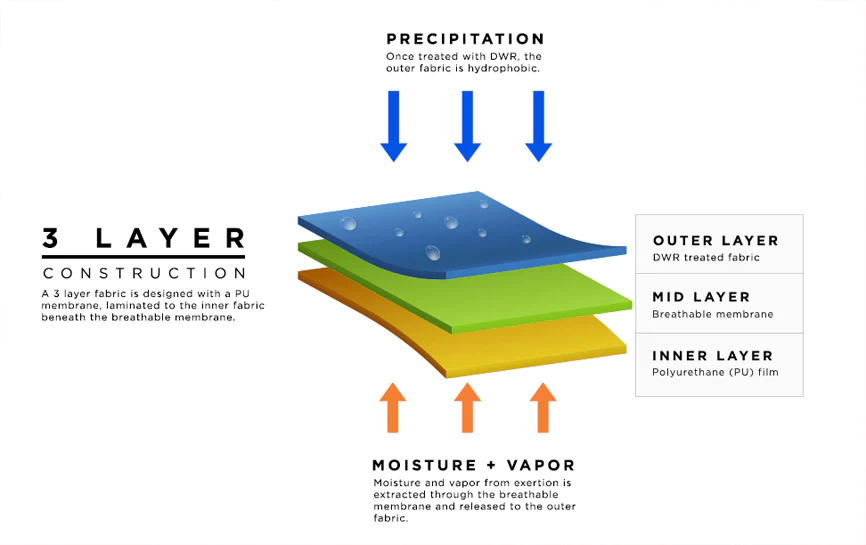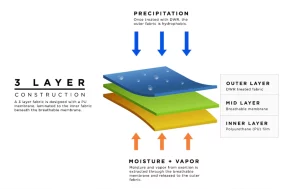 Some raincoats are breathable and allow for some of the moisture that builds up beneath the coat to perspire outward at a slow rate. If you're going to be sweating a lot on the inside of your raincoat, you want that sweat to leave your raincoat so that your raincoat doesn't just become a source of you getting wet.
This is why they no longer make rubber-style rain jackets outside of the maritime environment. Non-breathable rain jackets are likely to leave you soggy if you have to exert any effort. The downside of breathability in rain jackets is that it often comes at the expense of durability. To be breathable, rain jackets need to be lightweight.
If a rain jacket is lightweight, it can't take too much strain, but there are jackets out there that hit the right balance. One final thing to note about breathability is that not all rain jackets are breathable forever—the chemical composition of the material degrades after a while, and the jacket loses its breathable features.
AESTHETICS
Let's face it; you may want to look dashing, even in the rain. That's why aesthetics are an important choice in your rain jacket buying decision. If you can't stand to see yourself in the mirror whenever it's raining, you'll also have to avoid looking out for puddles due to their reflective nature, and you'll be in more trouble.
Nearly all rain jackets come with a hood, which is one of the points at which aesthetics matter the most and also intersect with functionality. If your rain jacket's hood blocks your vision too much but looks great, it may not be the best choice. There are rain jackets that get the balance correct.
GOOD SIZING
Rain jackets need to deal with the fact that you will be wearing clothing—potentially heavy clothing. The best rain jackets have a slight elasticity to their material, which helps to make up for their inability to become a larger size as needed. Your rain jacket should be sized slightly larger than a typical jacket that you'd buy for yourself. Buying large enables more moisture to escape your rain jacket if you want it to, and it also allows for a wider range of clothing worn underneath.
RAINPROOFING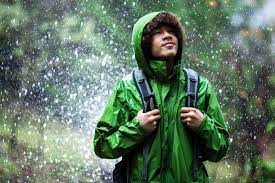 As crazy as it sounds, not all rain jackets are rainproof indefinitely, even when they're new. Sometimes bad zippers or weak materials make it so that when it rains, you feel the water seeping in through a seam. We've avoided reviewing any rain jackets that are that bad in this roundup, but there are still some other considerations when it comes to rainproofing.
These jackets use materials that can slough off water for a while, until they get saturated, at which point they simply let water flow through. This is also a consequence of a breathable jacket aging poorly. Aside from material issues, many rain jackets have zippers that let too much water through. These rain jackets are probably fine for casual use, but serious campers will be seriously unhappy when their rain jacket leaves them trying to dry off next to the fire.
BUILD QUALITY
The build quality of a given rain jacket is its general durability and the number of flaws in its stitching, etc. if you intend to put your rain jacket through a lot of athletic or active use, you need a more durable rain jacket with a better build quality than someone looking for casual wear.
Most rain jackets are of average build quality, and it is important to note that price does not have any correlation to build quality or durability when it comes rain jackets. What matters more is the intended use case of the rain jacket.
As an example, a rubber rain suit for maritime use will be indefinitely durable, dirt cheap, and aesthetically a mess—but at least it won't be a several-hundred-dollar debacle that gets torn to pieces by its loose threads. We didn't review any rubber rain jackets in this roundup, however. Rubber rain jackets are not breathable at all, are extremely ugly much of the time, and are extremely heavy—all features that we've just explained are not desirable in a good rain jacket.
WRAPPING UP
With the review of the Gioberti completed, we're wrapped up with our review of the top rain jackets on the market. For our money, the Marmot is probably the option that the hikers and bikers want, whereas the casual users should probably opt for the Carhartt. If you want some flexibility while maintaining good aesthetics, the Gioberti is a good choice.
There's no absolute winner among these rain jackets, just rain jackets for different people's rain protection needs. While you evaluate these rain jackets and others, keep the points we discussed in mind, and always consider your use case in comparison to the jacket's strong points versus its weak points.
Good luck staying dry!