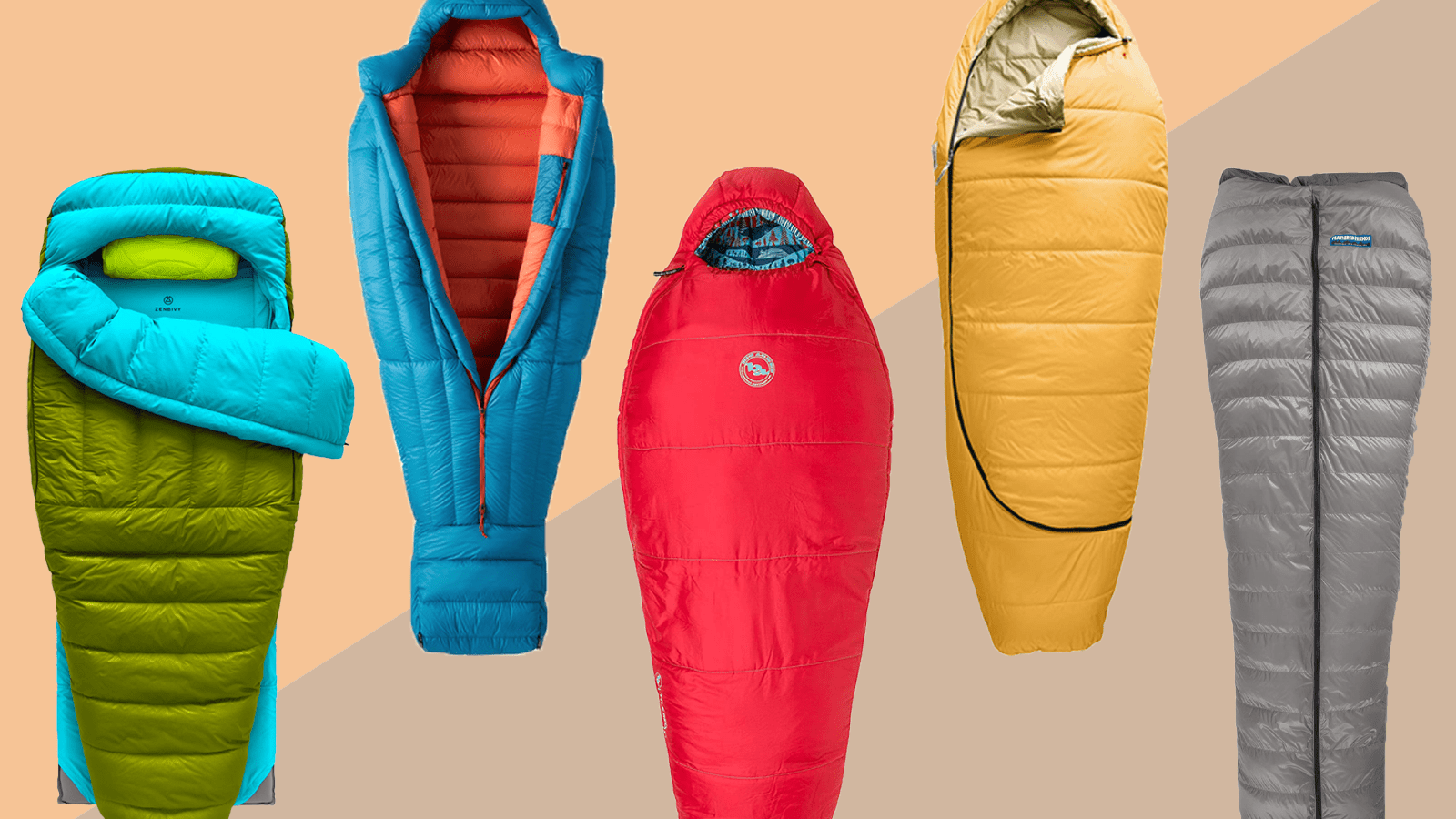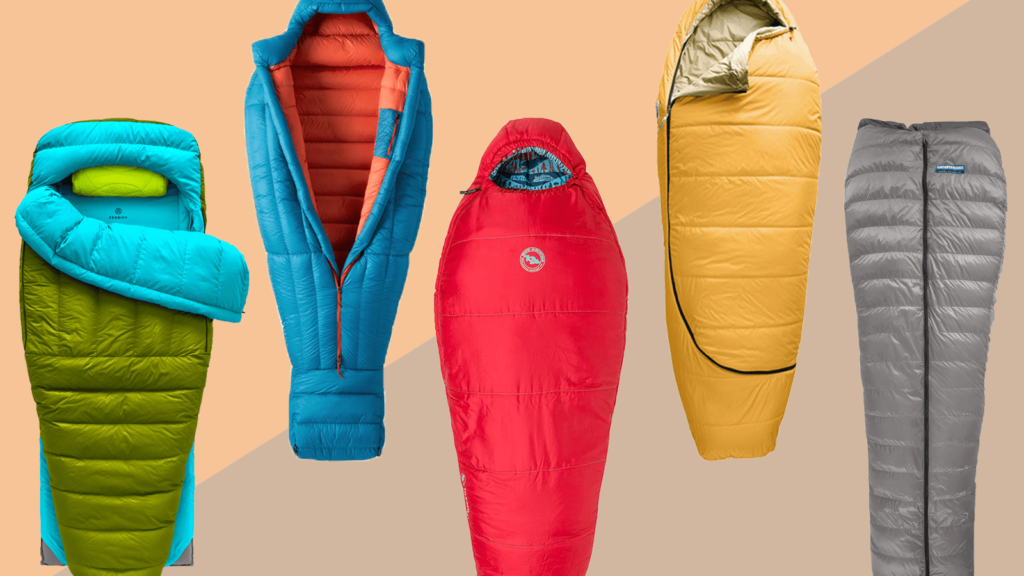 Choosing a sleeping bag is something that requires some careful thought because of the impact it will have on your camping experience. The best sleeping bags run the gambit from the lightweight summer models to ones that will keep you warm and safe in the most frigid conditions. Let's go over what things you should look for before buying.
| | | | |
| --- | --- | --- | --- |
| 1 | Coleman North Rim Adult Mummy Sleeping Bag | Polyester | 0 |
| 2 | REDCAMP Cotton Flannel Sleeping Bag | Cotton | 59 |
| 3 | Farland Camping Sleeping Bag | Polyester | 32 |
| 4 | Abco Tech Sleeping Bag | Polyester | 20 |
| 5 | TETON Sports Celsius XXL Sleeping Bag | Poly-Flannel | 0 |
Know what you want? Buy your sleeping bags here now!
TOP-RATED SLEEPING BAGS
We focused on products for the mainstream audience rather than performance sleeping bags. These will suit the needs of most users. You can find many decent options in the under $100 category. Let's review our favorites and point out the features that make them stand-out models.
COLEMAN NORTH RIM ADULT MUMMY SLEEPING BAG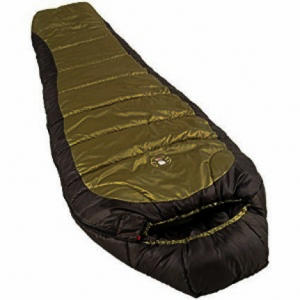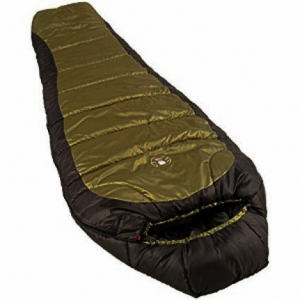 The Coleman North Rim Adult Mummy Sleeping Bag is a great buy for the money.  It features a polyester shell and fills which are good options for wicking moisture away from your body. And that's a nice thing considering it is rated for 0 degrees Fahrenheit and comes in a mummy shape.
The manufacturer boasts about its ZipPlow system but misses the mark. It still snags and has a cheap feel to it. It is strictly a camping sleeping back and not one you'd want to use for backpacking because it's bulky for that use. That said, it works well for the former with some reservations.
On the positive side, synthetic materials don't carry the same risk of allergic reactions as down has. It'll be easier to clean too. It just comes with a stuff sack which is not meant for long-term storage.
Pros:
The Coleman North Rim Adult Mummy Sleeping Bag offers a lot of features for the price.
Its large size will give you lots of room for a comfortable night's sleep.
The sleeping bag comes with a five-year warranty.
Cons:
It isn't the best option if you do a lot of summer camping since it will get hot even if you unzip it.
It may be a bit too snug if you are closer to its 6' 2" size.
It may not hold up to a lot of heavy use.
The Coleman North Rim Adult Mummy Sleeping Bag succeeds as a fall-winter bag but may border on too warm for summer use.
REDCAMP COTTON FLANNEL SLEEPING BAG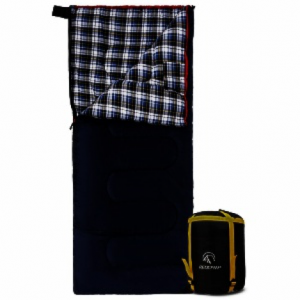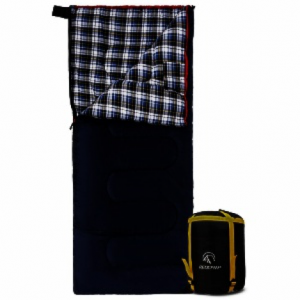 The REDCAMP Cotton Flannel Sleeping Bag is a three-season product rated down to 32 degrees Fahrenheit for those chilly spring or fall nights. It has a roomy rectangular shape that is wider than the standard-sized sleeping bag. It's a great option if you are a restless sleeper.
Many manufacturers include a limited warranty with some fine print. REDCAMP, on the other hand, offers an unconditional one that says a lot about the company. It comes in three kinds that differ based on the amount of fill you want. That's a great option to match the product with the type of camping you do.
This sleeping bag is not meant to be a performance bag or something you'd use for backpacking. You definitely need to use this one with a ground cloth, preferably something that is waterproof. For a light-use sleeping bag, it does the job.
Pros:
You can zip two of the REDCAMP Cotton Flannel Sleeping Bags together to make it double-wide.
We loved the built-in cords which make it easier to get the bag back into its stuff sack.
It holds up well to repeated washings.
Cons:
There's no denying that the cotton is soft, but we have concerns about it getting wet and becoming cold.
It is thinner than comparable models which can be a deal breaker for some buyers.
Using the zippers is a bit awkward at times which can be annoying.
The REDCAMP Cotton Flannel Sleeping Bag is an excellent value if you're looking for a product for general use. It doesn't pretend to be anything more than what it claims.
FARLAND CAMPING SLEEPING BAG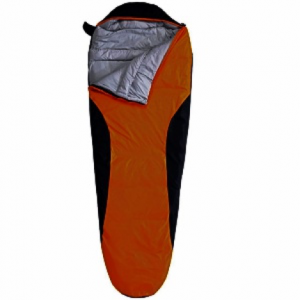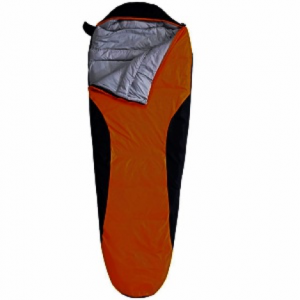 The Farland Camping Sleeping Bag comes in a mummy shape for a cozy night's sleep down to a chilly 0 degrees Fahrenheit. The top is a bit roomier than we typically see with this type of product. It is composed of primarily synthetic materials which makes it a good choice for users with sensitive skin.
We loved the fact that you can zip it with another sleeping bag to make it double-wide. That's something we don't see nearly enough with mummy models. It's a definite dealmaker if that feature is important to you. Unlike a lot of products, it is waterproof and balanced with breathable materials.
The sleeping bag comes with a 100-percent satisfaction guarantee which we always like to see. We loved the fact that it's easy to roll up. It only comes with a stuff sack, so you'll need to do something else for long-term storage to extend its life.
Pros:
The Farland Camping Sleeping Bag comes in a variety of color options to please the kids.
The sleeping bag is waterproof which is always a welcome feature.
It is extremely comfortable considering its price point.
Cons:
The sleeping bag is a bit on the short side and may not suit all users.
There are the occasional quality control issues with the manufacturer which are off-putting if it happens to you.
The zippers can snag sometimes.
The Farland Camping Sleeping Bag is an excellent option if you're looking for an affordable mummy bag with some features of more expensive products.
ABCO TECH SLEEPING BAG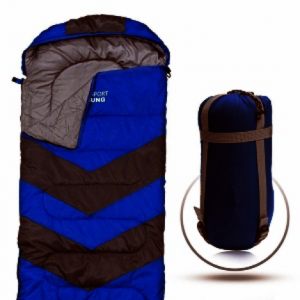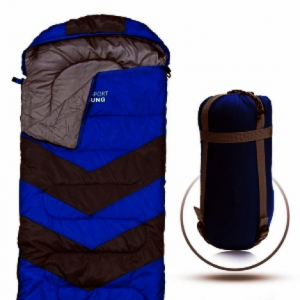 The Abco Tech Sleeping Bag ticks off a lot of the boxes we like to see in an affordable product. It has a unique envelope shape that is a great compromise between a rectangular and mummy-shaped sleeping bag. It gives you a bit more space to move around if you're one of those active sleepers.
Abco Tech prides itself on the skin-friendly properties of its synthetic materials like many manufacturers of similar products. Polyester has that added advantage of wicking moisture away so that you can stay dry all night long. Of course, it's hard to deny the benefit of one that you can machine wash—as long as your appliance can handle it.
It's rated to 20 degrees Fahrenheit which makes it a smart choice for people who live or camp in more northern regions as a three-season sleeping bag.
Pros:
The Abco Tech Sleeping Bag comes with a satisfaction-guaranteed warranty.
It is waterproof to keep moisture at bay.
It will keep you warm on those chillier nights.
Cons:
It's a bit on the heavy side, making it camping-only gear rather than for backpacking.
It's well-made but may not feel as comfortable to those looking for an uber-soft sleeping bag.
It isn't the easy one to get back into the stuff sack.
The Abco Tech Sleeping Bag is a good buy if you're on the fence between a mummy and a rectangular product with lots of fill to keep you warm.
TETON SPORTS CELSIUS XXL SLEEPING BAG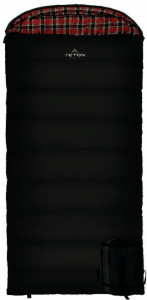 The TETON Sports Celsius XXL Sleeping Bag toes that line between a rectangular and mummy-shaped product like the previous item. You get the best of both worlds. You can also zip two bags together for a double-wide. It is rated at 0 degrees Fahrenheit.
It has a super comfortable flannel liner that makes it a cozy sleeping bag. It is well-constructed with a taffeta shell that can handle life on the road. It's an excellent choice if you move around a lot in your sleep because of the added length and width. You may need to unzip it a bit on warmer nights because of the added fill.
While it comes with a lifetime warranty, you will void it if you toss it into the washing machine. That's a problem over the long term. Be sure and read all the conditions in the fine print. This bag is a bit tougher to roll it up for transport. It comes with a stuff sack, but you will definitely need something else for storage.
Pros:
The TETON Sports Celsius XXL Sleeping Bag has a limited lifetime warranty.
You can get your choice of a left or right zipper which we really liked.
It is longer and wider than other standard-sized sleeping bags for roomier accommodations.
Cons:
The TETON Sports Celsius XXL Sleeping Bag is the heaviest of the bags that we reviewed.
There were a few issues with the zipper snagging in the liner which is always frustrating.
The sleeping bag is not waterproof, so a ground cover is essential.
The TETON Sports Celsius XXL Sleeping Bag has a lot of the features we like in a sleeping bag such as the added room. The fact that it isn't waterproof is a potential dealbreaker for some.
After considering all the features, our pick of the best sleeping bags is the Farland Camping Sleeping Bag. We liked the versatility of a product that is rated a bit lower on the temperature scale.
We loved the envelope top that gives a bit of welcome headroom. It's a nice feature that accommodates the warmer end of the spectrum. While it's not the optimal choice for winter conditions, it'll handle the cooler nights of the spring and fall to extend our camping season at both times of the year.
When buying a sleeping bag, take into account your sleeping style including the conditions that you prefer for the ideal environment. That will steer you in the right direction toward choosing the best product for you. Remember, a good night's sleep is priceless when it comes to enjoying your camping trip. Don't ignore the importance of its role.
SLEEPING BAG BUYERS' GUIDE
Before you start browsing for a sleeping bag, it's essential to determine what you need from it. It could make a significant difference in what you'll pay. For example, if you only camp during the summer, you'll need a very different product than the one you'll use during all four seasons. As you may expect, the latter costs much more than the former.
Also, think about how often you'll use it. That'll give you a good idea of what is a reasonable investment for a sleeping bag. You can get a decent product for under $100. Performance products can run several hundred dollars. If you only use a sleeping bag once or twice a year, a less expensive one might be a wiser choice as long as it provides the comfort that you deserve.
FEATURES TO LOOK FOR IN A SLEEPING BAG
There are several specs that will give you a good overview of a sleeping bag. It's a great place to start to give you an idea of how it will perform on the job. Some things to consider include:
Shape
Size
Shell and Lining
Temperature Rating
Insulation
Care
Each plays a key role in the comfort and functionality of your sleeping bag. The time you take for this preliminary groundwork will pay off in dividends. Let's review each one and how it influences the best uses for the product.
SHAPE
You'll find sleeping bags in several shapes which include mummy, semi-rectangular, and rectangular. A rectangular model is the one that will likely come to your mind first. It will have a zipper around one long and short side so that you can open it like a book. The semi-rectangular has a narrower bottom. Finally, the mummy sleeping bag will enclose your whole body including a hood to keep your head warm.
The choice boils down to your sleeping style. If you move around a lot during the night, a rectangular bag offers an excellent option to give you the space you need. A mummy bag, on the other hand, may leave you feeling almost claustrophobic because of its narrow shape. However, it excels at keeping you nice and toasty on a chilly night. Bear in mind that it also covers your head which the others don't do.
You may also see double-wide rectangular bags which are a great choice if you want to cozy up to your significant other. It's a nice compromise versus going with a heavier bag since you two can share your body heat. However, they may not offer the best option if one of you is a restless sleeper because of the confined space.
SIZE
You'll typically see bags made for adolescents and varying sizes for adults including regular and extra long. You may even find bags specifically designed for women. For the best heat conservation, choose one closer to your height rather than one that is a lot longer. It'll do a better job of keeping you warm with less space to heat.
TEMPERATURE RATING
A sleeping bag's temperature rating gives you the necessary information to determine the seasons in which it will provide the optimal sleep setting. It is usually given as a range since it is a bit subjective. Generally, you'll find bags rated for summer, three-season, or winter comfort levels.
The rating for a summer sleeping bag runs at 35 degrees Fahrenheit and above. A three-season takes it down to 10 degrees whereas a winter bag will have a lower temperature rating. Bear in mind that these ratings often assume you're using some type of ground pad. That's a smart way to ensure you stay warm and dry enough throughout the night. It creates another barrier between you and the cold surface with an added layer of warm air.
INSULATION
Insulation is the deciding factor with comfort as it relates to the temperature rating. You can choose from synthetic fibers on the lower end to duck or goose feathers for the ultimate comfort. The former has improved in quality and insulating abilities over recent years to get close to what the latter offers.
The downside—no pun intended—is that it loses its key advantage if it gets wet. But if you prepare, it's a non-issue. On the plus side, it's light. That's important if you're backpacking where every ounce you haul counts. Going back to the disadvantages is cost.
CARE
Take into account the care as part of the upfront investment you'll make in a sleeping bag. You may have to dry clean some products which can definitely tread into deal-breaker territory. That said, make sure and check the care instructions before deciding on your final choice.
Some sleeping bags may require dry cleaning or a trip to the laundromat to use an industrial-sized washing machine. Be sure to look at the warranty as it applies to care. Some manufacturers may have additional conditions too. There's no denying the fact that washing it will affect how it performs the next time out on the road.
Don't be surprised if you see specific instructions regarding the care of some sleeping bags. Machine washing may not be an option for some products because it'll affect the terms of the warranty.