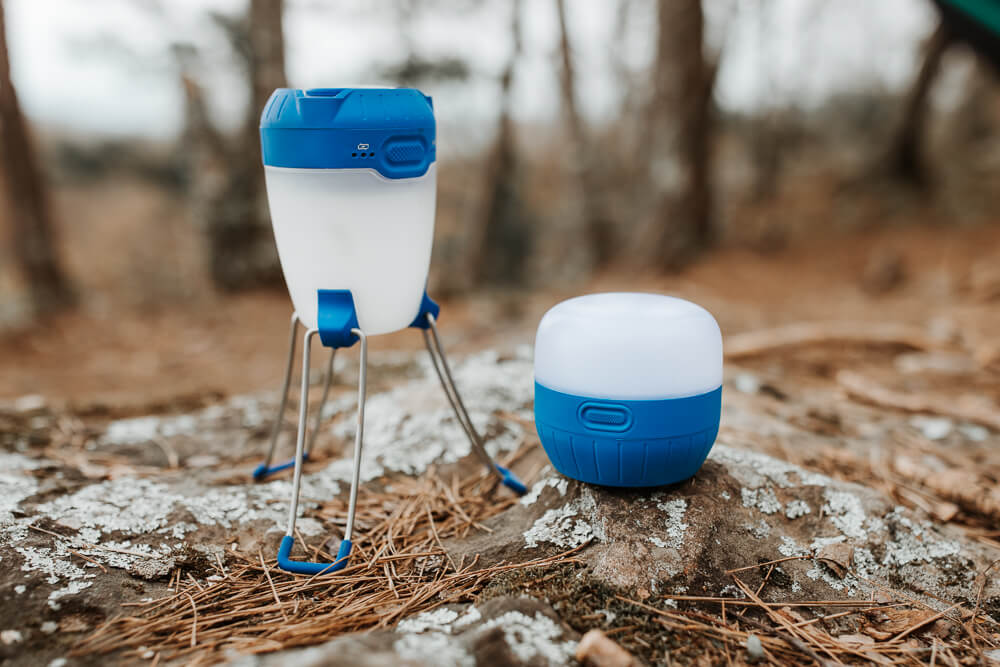 Black Diamond is known for their high-quality alpine and climbing gear. They impart quality and reliability to every product they tackle and the Apollo Lantern is surprisingly effective as a hiking camping lantern.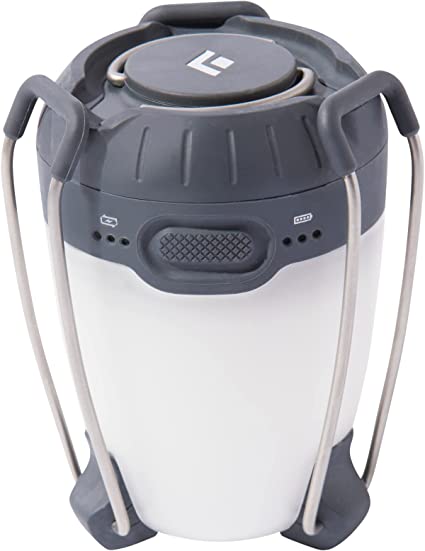 The Black Diamond Apollo Lantern uses a frosted plastic lantern globe to help disperse an even, white light around your tent or campsite. Inside the LED light is reflected off of the two conical surfaces where it's then directed outward to create a surprisingly bright area of light. By using the dual reflector system the lantern is able to maximize light use from the efficient LED.
The Apollo Lantern gets a lot of its functionality thanks to the popup design. The globe slides up to extend the height of the lantern while the legs fold down to provide a taller platform where the lantern can sit tall and cast its light substantially further than ground-based models. Furthermore, the power button is intelligently hidden behind the sliding globe so that when the lantern is in your pack it cannot accidentally be turned on.
Like any good camping lantern, the Apollo is a dual-purpose standing or hanging lantern. When hanging you can fold the legs up to keep them out of the way for an improved profile if you're walking or moving underneath it.
I love that the lantern has two power settings and has available optional rechargeable batteries. With the two power mode settings, this lamp can last up to 60 hours on low at 10 lumens with 4 AA batteries. On high, you'll get a steady 80 lumens for up to 15 hours.
Compared to the Coleman Dual Fuel gas lantern you can expect to pay more to operate this lantern over the same time frame. However, you do gain the advantage of having a packable, lightweight, indoor safelight. With gas lamps, you cannot burn them inside a tent, whereas LED lanterns are cool to operate, don't emit gases, and won't spill fuel when carried.
I like this option for hiking with groups because it makes for an ideal light that can be used during evening meals, gatherings, or meetings. When preparing for tomorrow's hiking route you can deploy the Apollo lantern on its stand to shed light over the maps, notebooks, and workspace. I've found that you don't even need a headlamp at all when using the Apollo lamp for these purposes.
It's also lightweight enough to be hung from a tent or tarp without putting too much weight on the support structure. Lightweight plastic LED lanterns have the advantage of minimizing weight and bulk and make an indoor hang possible for tent campers.
Having adjustable light modes means you can stretch the batteries to last as long as possible in any given situation. Use bright mode only when you need it and you'll get a much-improved battery life out of your set of AA batteries.
One thing I would have liked to see is a variable brightness setting. Being able to adjust the light between just "high" and "low" would allow a bit more versatility in how this lantern can be used. That said, however, it's still entirely effective in high and low modes so this is a bit of a nitpicky point.
Know what you want? Buy your camping lantern here now!
At just 7.8 ounces overall this lantern is about the same weight as a large headlamp. Assuming a battery weight of 0.8 ounces per AA that comes to 11 ounces packed and ready to go. Thanks to the collapsing design it ends up being about the size of a soda can when packed.
It's never going to be an ultralight option for camping illumination. This lantern is meant for groups or situations where time spent in camp is as important as the hike itself. Sure, there are lighter options available but when you need to keep an eye on the kids or lead a discussion at the end of the day on an expedition there's no real replacement for a decent lantern.
There's no doubt about it – the Apollo Lantern is one of the ultimate camping lanterns for hikers. Its lightweight LED-based design and extending height adjustment make it functional and effective in almost any situation. Best for hiking groups or campers who spend most of their time in a single location.