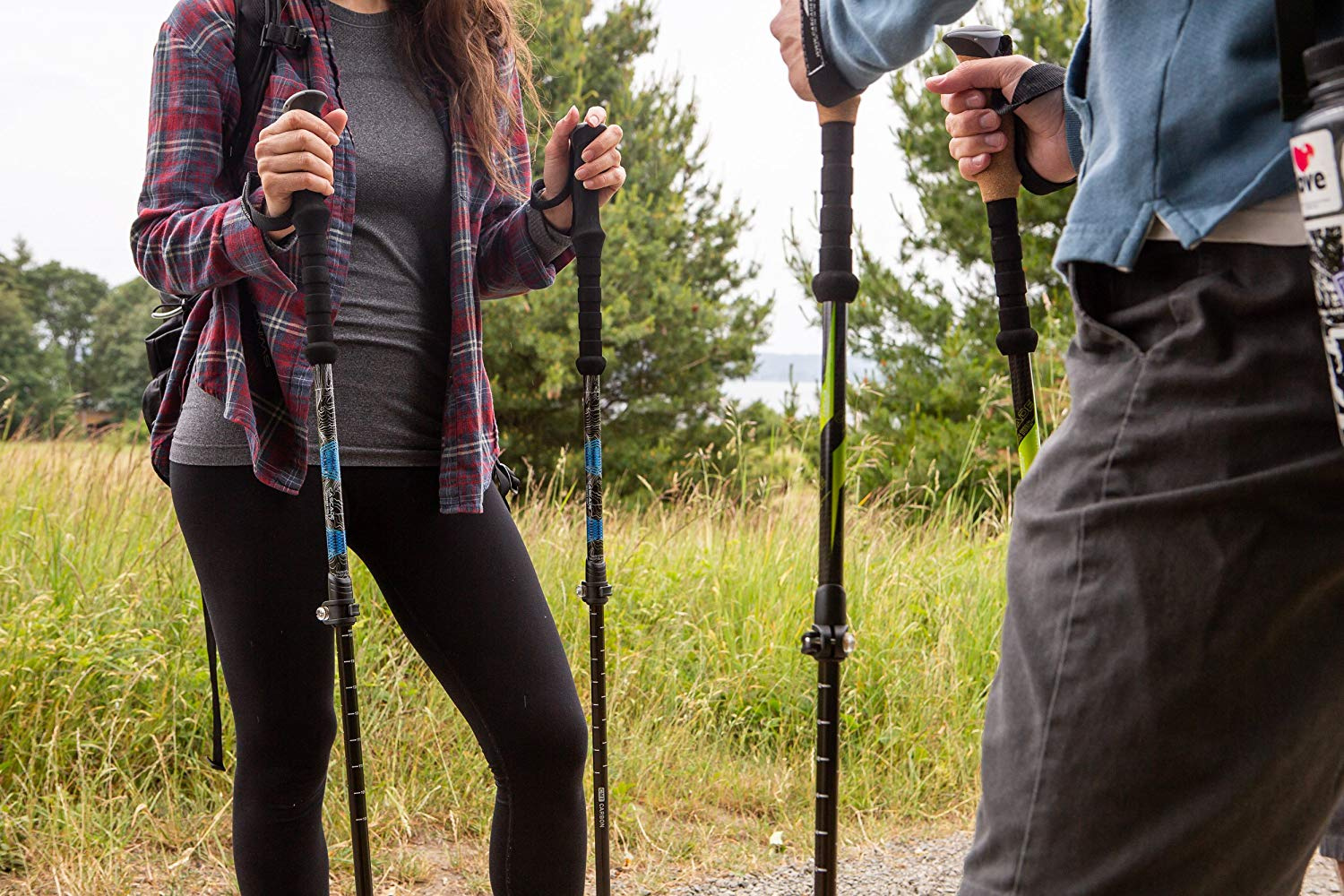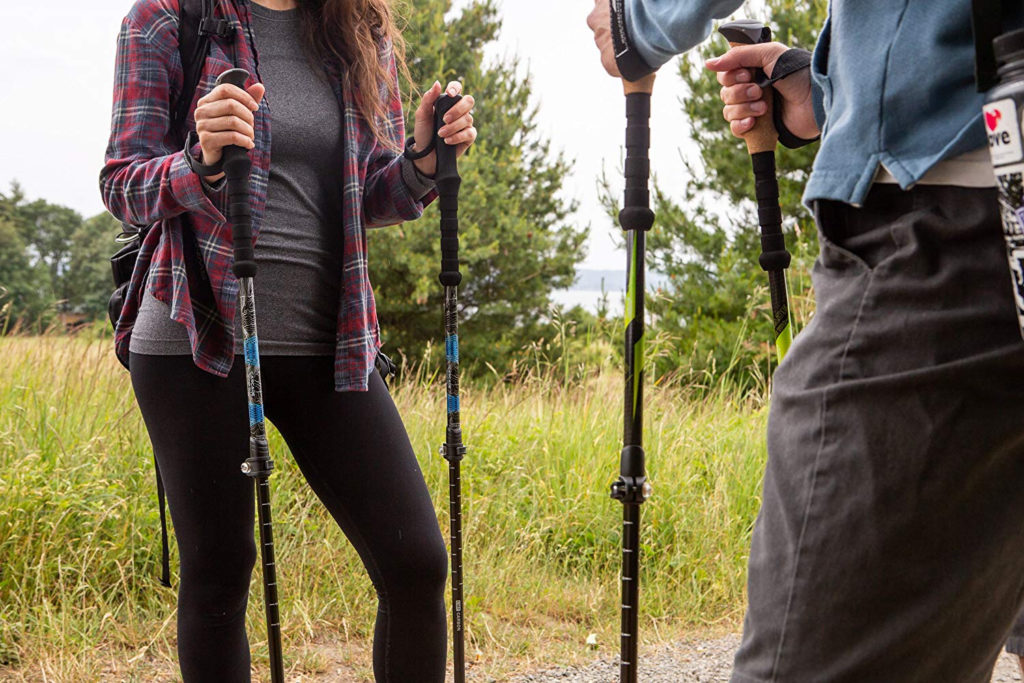 Over the course of a few decades trekking poles have come a long way. From being a seldom seen piece of equipment that was considered "unnecessary" to a mandatory one that a hiker just cannot leave for a trek without. People have started to realize the importance of this simple piece of equipment and are more aware of the wide range of benefits these poles provide.
This has attracted many new manufacturers to the production of trekking gear. With the market being flooded with hundreds of different trekking poles, it has become quite a hard task to make up your mind on which one to choose.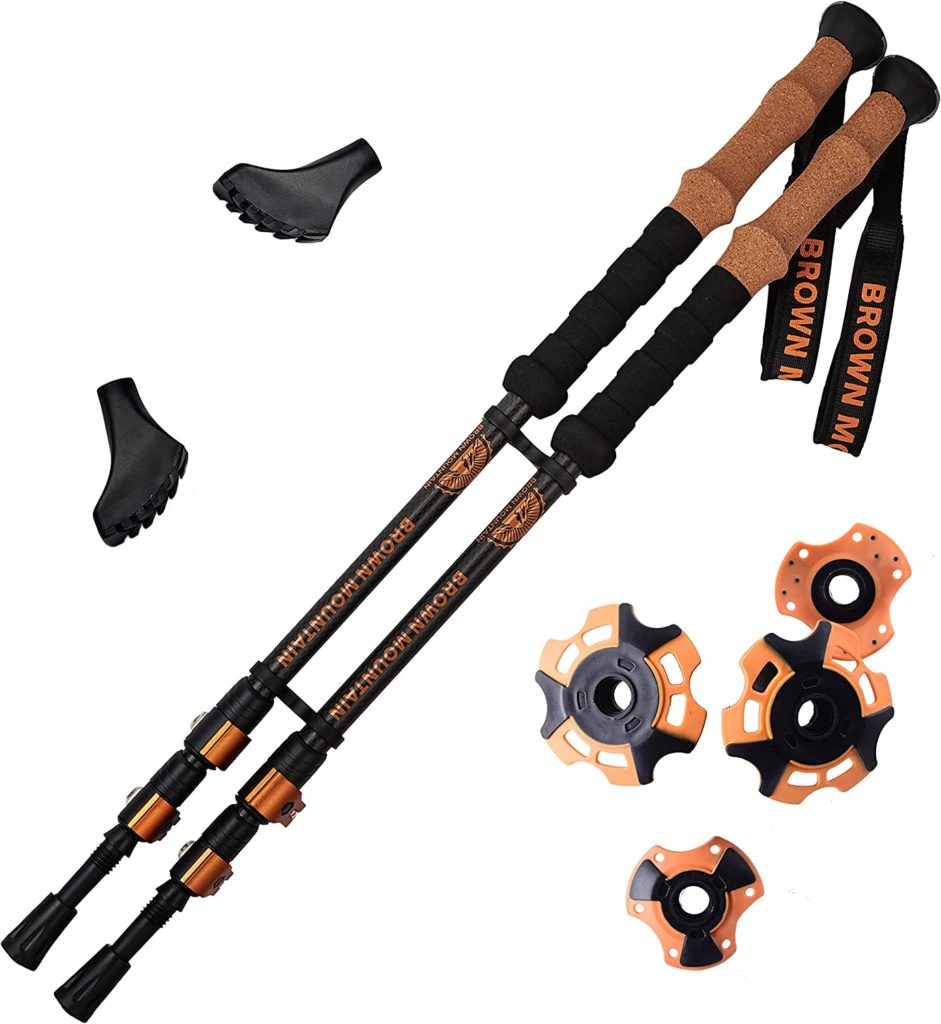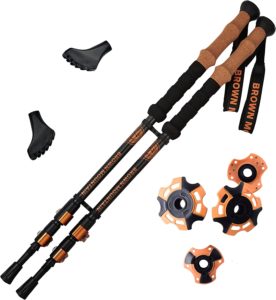 In this crowd of hundreds of different brands, there are a few that really stand out from the rest. Brown Mountain is one of those trekking equipment manufacturers that has really established itself as a strong contender in this competitive market.
The Brown Mountain Carbon Fiber Trekking Poles are one of the finest trekking poles that you can get your hands on at a moderate price range. These poles are incredibly durable and are loaded with tons of features in order to provide you with maximum utility.
The utility provided by these poles is not just restricted to hikers only. This pair of trekking poles by Brown Mountain are collapsible which means that they can also serve as walking sticks. This is great news for the elderly as well as for people who like to go on walks on slightly challenging terrain. These poles are suitable for both professional hikers as well as for those who are fairly new to this activity.
As far as the durability of these poles is considered, they absolutely outperform all other sticks in the same price range. Brown Mountain has really gone the extra mile in order to ensure their trekking poles are solid as a rock. Made of 100% sturdy and reliable carbon fiber, these poles are not only strong but lightweight at the same time.  They weigh a mere 15.4 ounces a pair which is very convenient for hikers. It is guaranteed that you will be satisfied with the quality and the weight of this product.
These adjustable trekking poles lock in place with the help of a lever lock. It features a quick lock system that is adjustable without any extra tools. Lever lock systems are given a much higher preference over the twist lock adjusters by hikers because they are simple and maintenance-free.
Comfort is an important factor that plays a key role in deciding how good a trekking pole is. The Brown Mountain Carbon Fiber Trekking Poles absolutely kill it when it comes to comfort. Equipped with cork grips and non-slip EVA Foam Grip Extensions, these poles are sure to stay fixated to your hands while minimizing strain on your arms during long treks. Additionally, these poles also feature wrist straps which further strengthen your grip. All these features combined make these a very well-balanced and trustworthy pair of trekking poles.
Know what you want? Buy your trekking poles here now!
Brown Mountain is quite minimalistic when it comes to the design of its trekking poles, as is the case with these ones. They have somehow managed to make these poles stylish while keeping the design simple. The brown and black color combination of these poles has been chosen to match the brand logo and carbine. The best thing about the design of these poles is the woven fibers which are all visible on every part of this product. This pair definitely deserves a perfect score when it comes to the design.
There is also a whole bunch of additional equipment that you will receive on purchasing this pair of trekking poles by Brown Mountain. This includes 2 rubber tips, 2 rubber feet, 2 mud baskets, 2 snow baskets, and a carrying bag with a strap. All these extra parts are easy to carry and will serve as a replacement when you need them. Brown Mountain also provides a 1-year warranty on this product.
This product boasts great reviews which should be enough to convince you of the superiority of this pair of trekking poles.  There are several reviews submitted by users from all across the globe who are extremely happy and satisfied with the performance of this product. Users are particularly appreciative of the durability of the poles which many of them claim to be at par with the highest-priced poles in the market.
Irrespective of whether you're a seasoned hiker or a newbie, these poles by Brown Mountain totally worth your money. Overall, a very well-balanced pair of trekking poles provide the ultimate combination of comfort, durability, and utility at a price that is unmatched.