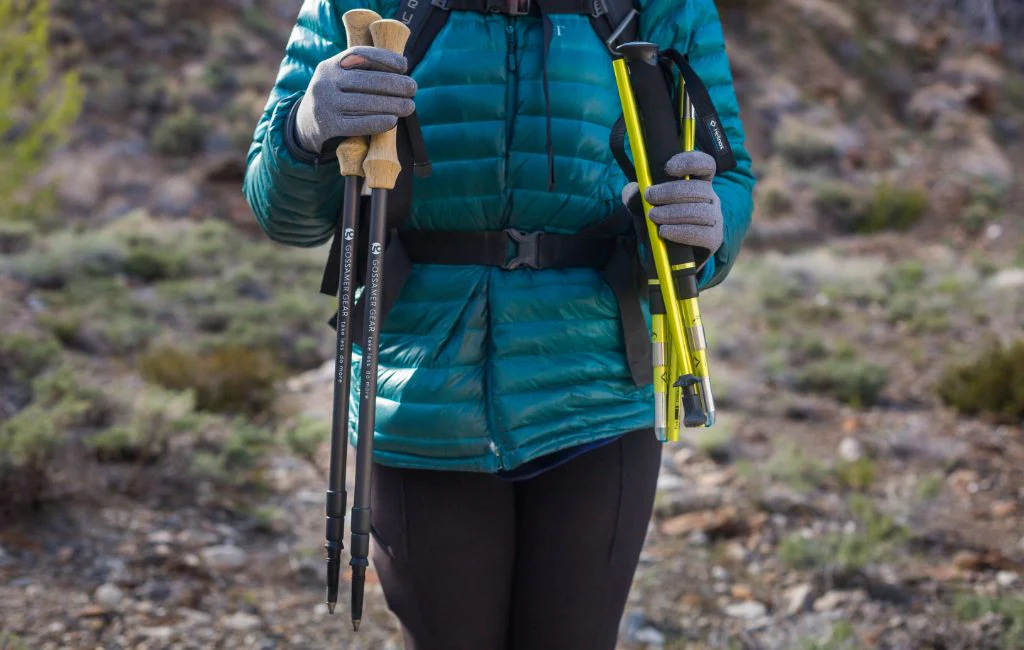 With the ever-increasing popularity of outdoor activities such as hiking, the demand for hiking equipment such as trekking poles are over the roof. But buying a trekking pole can be a tricky job especially if you're not a seasoned hiker who is well aware of the things required in a trekking pole to make it suitable for challenging treks. This is exactly the reason why you should always buy trekking equipment from well-known brands that are vouched for by pro hikers.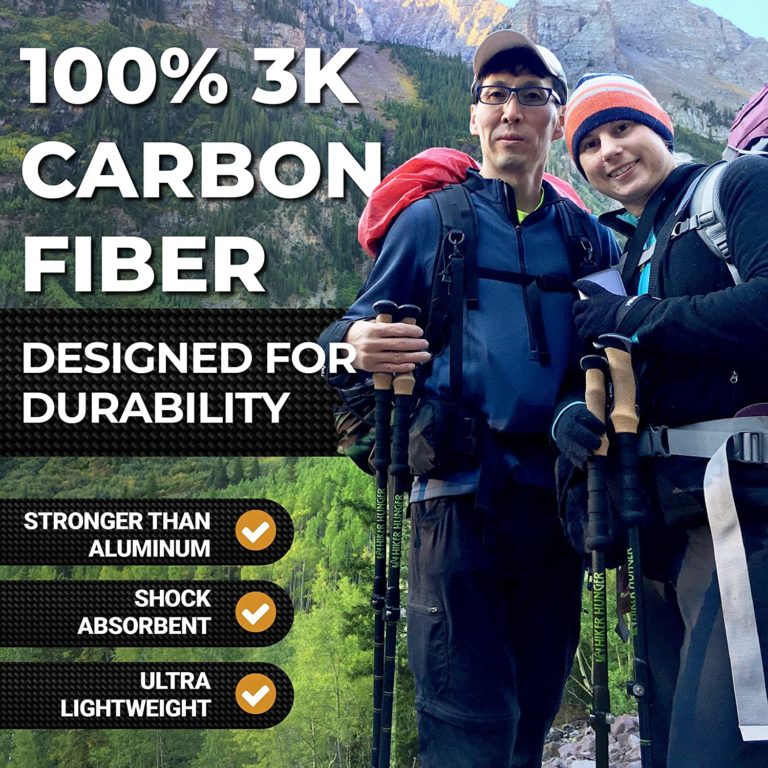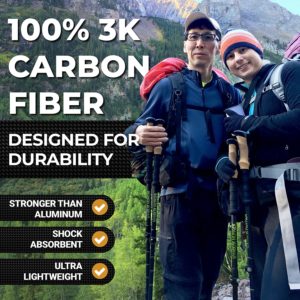 When it comes to quality trekking gear, Hiker Hunger is one brand that is well known for its top-notch equipment that comes at affordable prices. This brand has established itself prominently in the market and is well known and respected for the high-quality products they provide. So just in case, you're planning an adventurous hiking trip anytime in the near future, you should definitely check out the Hiker Hunger Carbon Fiber Trekking Poles.
These poles are by Hiker Hunger backpacking, hiking, mountaineering, walking, snowshoeing, and pretty much every other form of outdoor activity and adventure travel. They are incredible when in it comes to durability. Made up of 100% Carbon Fiber, these trekking poles have been built to last. Carbon Fiber not only makes these poles extremely sturdy but this material is also known for being lightweight. Carbon Fiber, being a natural anti-shock material, ensures that you're well protected from trauma while on long hiking trips. This material reduces stress on your arms and hips thus reducing the chances of injury. They also help drastically in reducing fatigue.
These ultra-light poles weigh only 7.6 ounces each which comes to a total of 15.2 ounces for both poles. This pair, being under one pound, is definitely one of the lightest in the market. The lightweight is very convenient for hikers as well as for people who are looking to use them for regular outdoor activities such as walking.
These poles by Hiker Hunger also feature the Quick Flop Lock which enables you to collapse or extend the poles from 24 inches (60.9cm) up to a maximum of 54 inches (137cm). This feature allows you to adjust the height of the poles according to your preferences and requirements. The collapsibility also makes these poles suitable for kids who can easily reduce the length of the poles o match their needs. Apart from that it also becomes much easier to pack these things in your backpack when not in use. In fact, there is a free carry bag included with every purchase of this product in which you can easily fit these poles. You can further separate each section of the poles to reduce the length to 21 inches which will enable you to fit these things in a suitcase.
Comfort is one of the major considerations when looking for a trekking pole, Hiker Hunger has put in extra effort to ensure these poles provide you with the ultimate comfort. In order to provide its users with the best possible experience, these poles feature an ergonomic cork grip that is extremely comfortable and conforms to the shape of your hand. The grip is also moisture wicking hence soaking up all the sweat from your palms, reducing the chance of accidents. With these poles, your grip will fit like a glove in no time, thus reducing any sort of discomfort that can be caused by the neoprene grips. Apart from the grip itself, there is an EVA Foam Grip Extension included underneath the cork grip. This is extremely convenient for quick choke-ups on steep terrains.
Know what you want? Buy your trekking poles here now!
With every purchase of this product, Hiker Hunger provides its customers with a bunch of accessories. These include two rubber feet, two rubber tips, two mud and snow baskets, and a carry bag that has a strap. Apart from that, you also get a full 1-year warranty which takes care of any glitches that might appear in your product.
Performance-wise, these poles are pretty decent. They are great for both serious and sparse hikers as well as for casual outdoor activities. They provide great functionality and durability and come at a price that is hard to beat. Although these were designed for moderate trekking, there have been several feedbacks from owners who claim to have tested them on some highly challenging terrain and found these poles to perform brilliantly. Most customers are appreciative of the design and durability of the product.
Overall, these trekking poles by Hiker Hunger are a great choice for hikers who are looking to find a wide range of features in their trekking poles without shelling out a large amount of money. At its price, this pair is a great deal for the value they provide.