The keys to a great trekking or camping experience are packing light and carrying ultra-portable, versatile gear. That is why a normal blanket just doesn't make sense for the outdoors, especially in monsoon or wet conditions. These blankets are far too cumbersome, and their drawbacks far outweigh their advantages.
This is where the nifty pocket blanket steps in. Not only do they fulfill the mantras of a great trekking or camping experience, but these pocket blankets are also light on the wallet. Moreover, they are waterproof, and that is something you cannot say about normal blankets.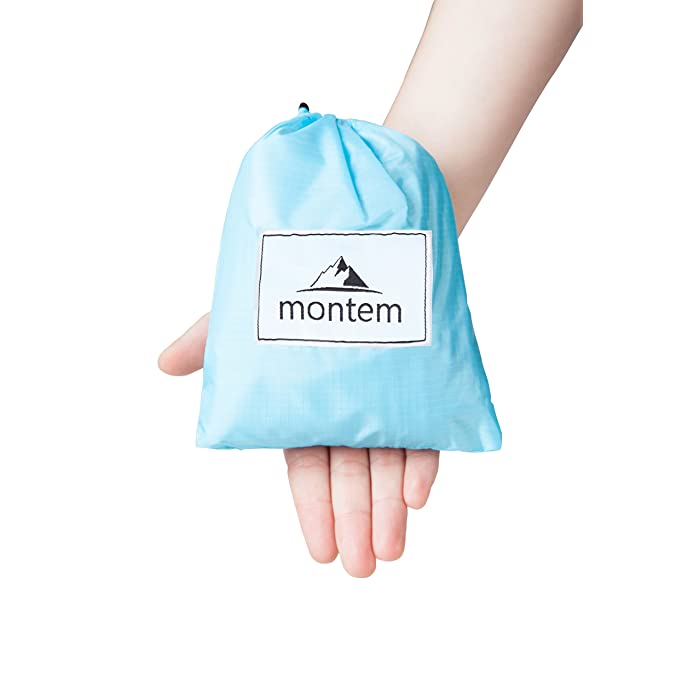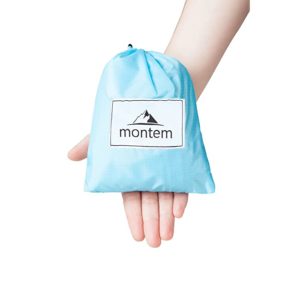 In this article, we will review the brilliant Montem Premium Pocket Blanket and find out why it can easily become your perfect companion when you head into the outdoor world. While the Montem brand does not carry the same stellar reputation as its direct rival, Matador, it surely deserves to.
In case you doubt the reliability of this brilliant pocket blanket, you should check out the reviews for Montem Ultra Strong Trekking Poles. These amazing trekking poles have an average rating of 4.7 on Amazon.com and are also listed as 'Amazon's Choice. That surely would have grabbed your attention and removed any skepticism regarding the Montem Premium Pocket Blanket.
FEATURES AND SPECIFICATIONS
The Montem Premium Pocket Blanket is not only perfect for people who love camping and trekking, but it is also perfect for families going out on a small picnic trip. This highly versatile blanket packs in a host of extremely useful features. Here are some of the features of this pocket blanket.
SIZE
With dimensions of 60 inches X 55 inches (152 cm X 140 cm), the Montem Premium Pocket Blanket is large enough for 4 people to sit on. Its squarish dimensions make it possible for 3 people to lie down side by side and relax with their knees folded up. However, it is not big enough for stretching out your legs.
The Montem Premium Pocket Blanket is absolutely tiny when folded up in its integrated storage pouch; it is hardly larger than your iPhone! Moreover, it weighs less than 142 grams or 5 ounces! That makes it pocketable and easy to carry around anywhere. In case you do not want to stuff your pocket with this blanket, you can easily tie the drawstring of the storage pouch around the belt loop of your pants.
MATERIAL
The choice of fabric for this pocket blanket is what makes it perfectly suited for treacherous outdoor conditions. The Montem Premium Pocket Blanket is made of 100 % woven ripstop polyester along with a durable water repellent (DWR) finish, and that helps keep you dry in wet and muddy conditions.
DURABILITY
One of the most important qualities of a pocket blanket is its durability. Since it is meant to be used in outdoors and also aimed at trekkers and campers, it needs to be very tough indeed. We are happy to report that the Montem Premium Pocket Blanket passes the durability test with flying colors.
The 100 % woven ripstop fabric is tear resistant, and the durable water repellent (DWR) finish ensures that it is completely water and sand-proof. Whether it is sharp-edged rocks, sticks, or insects, this blanket will not tear under any circumstances. This Montem Premium Pocket Blanket is as tough as they come.
Is this what you want? Want the best deal? Buy now!
VERSATILITY
When it comes to the subject of versatility, the Montem Premium Pocket Blanket reigns supreme. The Montem company proudly states that you can use their pocket blanket in many different scenarios. While it can be spread on the ground for 3 people to lie down and relax, it can also be used as a table cloth and more!
The sand pockets make it perfect for the beach. You can fill the large pockets with sand to ensure your beach blanket stays firmly stuck to the ground on a windy day. The sand pockets also double up as phone holders to keep your smartphone tucked away while you sit down and relax.
On top of all that, this pocket blanket comes with elastic loops in all 4 corners; which means that you can also use it as a rain cover or even as a sunshade! Finally, the best part about this pocket blanket is how easy it is to clean; all you need to do is give it a couple of good shakes, and you are done! It is really hard to imagine how this simple pocket blanket can be so versatile!
OTHER FEATURES
The Montem Premium Pocket Blanket is packed with many features, and we have covered almost everything in the previous sections. If you are still not convinced about purchasing this stellar pocket blanket, then the 1-year product warranty should seal the deal for you. Moreover, the sub-20 dollar price is hard to beat.
COLOR OPTIONS
Unlike its main rival, the Matador Blanket 2.0, the Montem Premium Pocket Blanket comes in more than 2 color options. In fact, it is available in 5 different shades! This pocket blanket comes in black, blue, green, navy (yellow), and red. All the blankets have the same gray shade for the center and only differ in the color of the sand pockets and the integrated storage pouch.
CONCLUSION
The Montem Premium Pocket Blanket has an average rating of 4.5 on Amazon.com after over 100 reviews, with over 92 % of them being 4 or higher. However, some of the negativity surrounding the blanket is clearly because of people expecting this product to do a lot more when it comes to camping. Most of them do not seem to consider the fact that this blanket fits inside your pocket and is priced under $20!
On a scale of 1 to 10, 10 being excellent, we would score this pocket blanket 9.5. If you are in the market for an amazing pocket blanket that scores high on value, then the Montem Premium Pocket Blanket is hard to top. We suggest you check out this stellar pocket blanket.