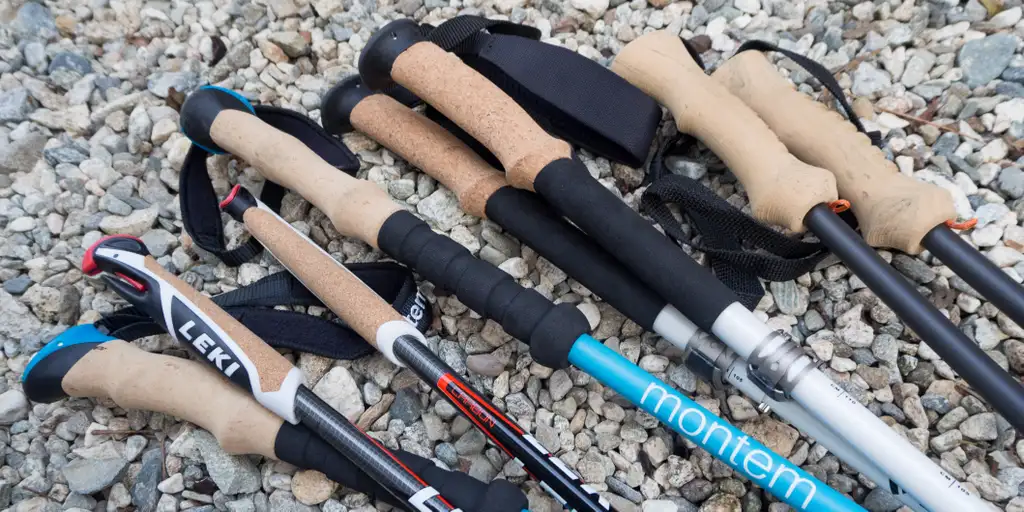 It's no secret that trekking poles are highly useful and important pieces of hiking and adventure equipment that can do wonders for trekkers while on their adventures. Trekking poles not only reduce pressure on your joints thus reducing fatigue but they also help you balance while climbing the steep mountains and boost your agility. As more and more people begin realizing this fact, there is a higher demand for good quality trekking poles that come packed with tons of features. Trekking poles are an inexpensive addition to your pool of adventure gear and choosing the right kind of trekking pole suitable for your needs can be a little confusing. There are a large number of entry and mid-level trekking poles that are available in the market.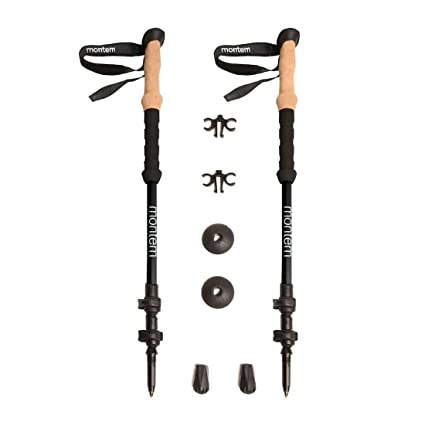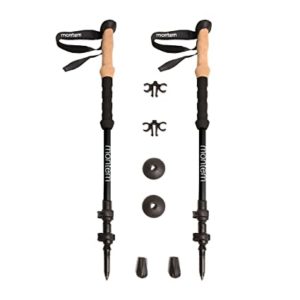 Montem is one such brand that manufactures outdoor equipment including trekking poles. The Montem Ultra Strong Trekking Poles are lightweight and ultra-durable and are specially designed for all seasons on and off-trail versatility. These trekking poles are made of a special kind of aluminum known as Aluminum 7075 which is the same kind of aluminum used in making airplanes and are thus pretty sturdy and capable of supporting a weight of 350lbs easily. Extended grips are featured in these poles which are highly useful in uneven terrain for hand placements.
The Montem Ultra Strong Trekking Poles are designed ultra-light while at the same time being very robust and sturdy. These poles are made up of Aluminum 7075 which is incredibly strong, and they are the same material used in making airplanes. The weights of these poles are 9.6 ounces per pole which are very light indeed for trekking poles made of aluminum. These lightweight trekking poles are thus very suitable for young and amateur trekkers. The grips are designed in a way that they are sturdy on the surface and tear-resistant while at the same time providing a very comfortable and soft grip.
The grip is made up of dual-density EVA foam and even has a grip area at the lower part of the pole for carrying them efficiently. The poles also come with adjustable wrist straps included and also enjoy the benefit of comfortable padding. As far as looks are concerned, these trekking poles by Montem have a very sophisticated look to them and come in shades of black/black and black/yellow.
The Ultra Strong Trekking Poles by Montem can be adjusted all the way from 24 inches to 55 inches. This is made possible by adjustable bolt locks and allows trekkers of every height to adapt and adjust the poles according to their needs. A "flick lock" arrangement is made available which is very similar to the Black Diamond Trail Pro Trekking Poles (though the flick lock is much better in the Montem poles) and this arrangement comes in very handy.
The tips of these trekking poles are extremely sturdy and made up of high-quality rubber, and they also have performed indentions on them to ensure a firm and steady grip when trekking through uneven or soft terrain such as snow. In order to make trekking through the snow a lot easier, the Montem Ultra Strong Trekking Poles come with trekking baskets that are attachable to the central footing to assist while traveling in the snow. These baskets do an excellent job in dispersing weight from the poles while on snowy terrain such as mountains. There are alternatives for this that can be found, but it is a good idea to check the pole diameter first.
Is this what you want? Want the best deal? Buy now!
As far as performance goes, these do very well in the hands of both professional as well as amateur hikers. These trekking poles provide one of the highest weight thresholds, and the height is adjustable also extremely convenient. These trekking poles also have extended grips on them, and all these features help in tackling a variety of challenges that come in the way while hiking through harsh terrain. Montem, being a relatively new entrant in the outdoor equipment market, is willing to prove itself to be a manufacturer of high-quality hiking gear, and thus they do not compromise on the quality of their products. Not only are these poles ideal for trekking in tough terrain, but these poles are also suitable for people who rely on walking support for moving.
Nylon straps are provided with the poles thus ensuring you the safest journey without you having to worry about losing or dropping the poles. Just attach the hiking poles to your backpack using the stars and you're ready to go. These poles are extremely versatile and also very comfortable. The foam-filled grips make sure your hands do not get tired. Overall, the features provided on the Montem Trekking Poles are worthy of a perfect 10/10 score and are definitely one of the strongest contenders available in the market.
The Montem Ultra Strong Trekking Poles provide excellent value for money. These poles are totally worth every single penny that you spend on them. The great quality product combined with great functionality. Everyone from trained mountaineers to local hikers will be highly satisfied with this product. They also come with a one-year warranty which is really great. At this price point, this is the best trekking pole you can buy that will give you a complete bang for the buck. Go ahead and check it out, you won't be disappointed.