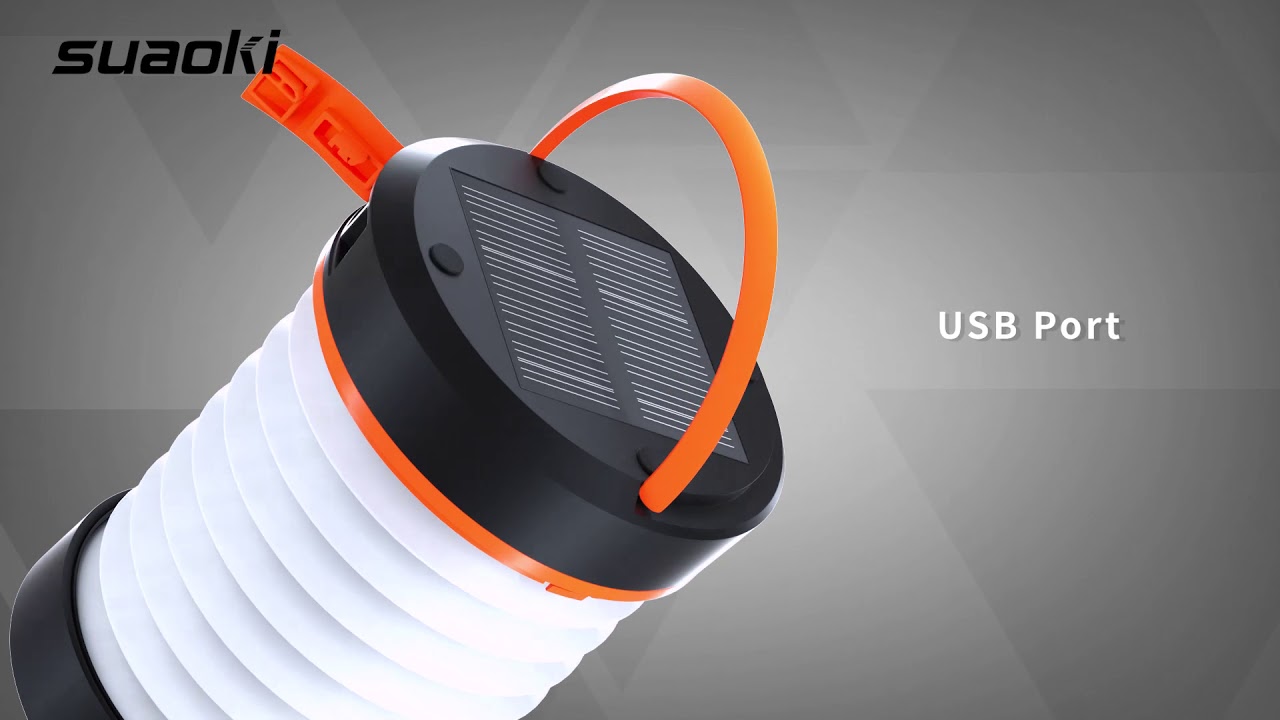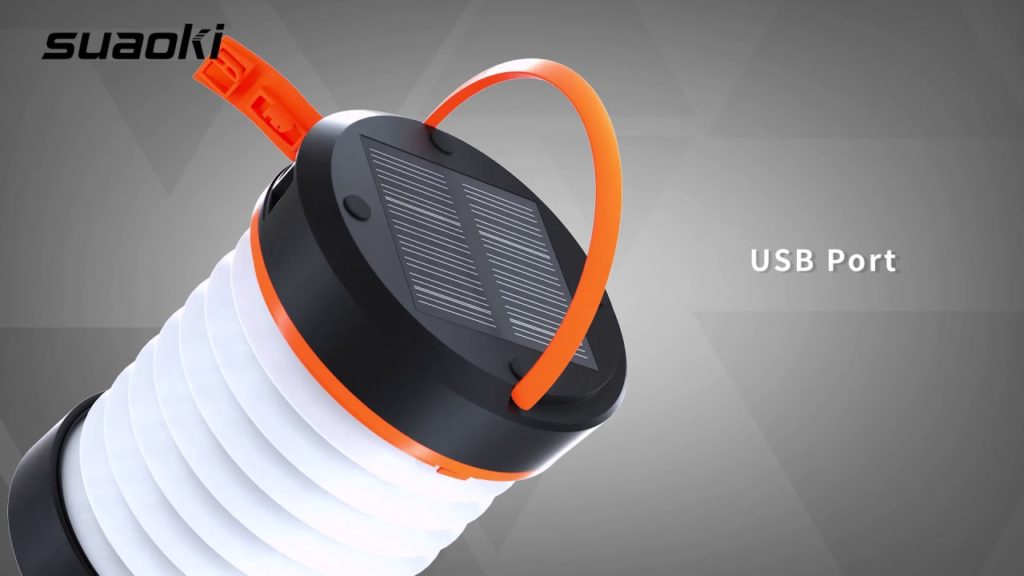 Quite possibly one of the most effective, efficient, and lightweight camping lanterns on the market today. Not only is the Suaoki camping lantern surprisingly usable, but it's also affordable and possibly one of the best ultralight camping lantern options available. I love that this little lantern compresses using a silicone globe similar to the Helix lantern we reviewed above. That means it has a tiny footprint when packed down which surpasses the Apollo or Helix by a long margin. It's just 3.35" in diameter by 2" thick when compressed which makes it small enough to fit in your palm like a little pancake.
Open the lantern with a button push and it becomes 3.35" x 4.75" to emit light in a circle around it.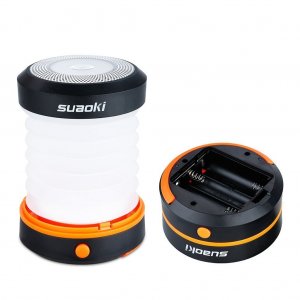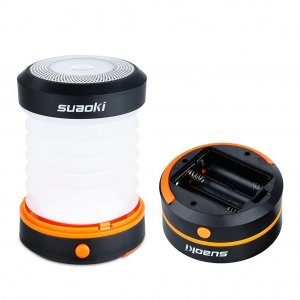 This is an awesome feature that we've seen used in Bluetooth speakers and other lights. However, Suaoki seems to have really put it all together for us here as a great lightweight camping lantern option that could put others on our list to shame.
As long as you're willing to step out on a limb and trust a non-camping manufacturer I'm pretty confident that this lantern will make a great candidate for hikers who want compact lightweight lanterns to carry into the backcountry.
One thing I worry about with this little lantern is its overall water resistance. I suspect it will be vulnerable to water damage and you'll need to keep it out of the rain on nasty nights. Use it under your tarp, inside your tent, or under the awning to keep it alive longer.
At just 4.2 ounces without batteries, this is lighter than even the closest competitor (the Helix Backcountry at 5.5 ounces). When you toss in 3 AA batteries at 0.8 ounces each you'll have a total weight of just 6.6 ounces loaded and ready to go.
So, what kind of performance can you get out of the Suaoki Camping Lantern? It's really impressive, actually!
You'll get 50-100 hours of burn time (depending on battery type) according to the manufacturer. That's at a steady 65 lumens of output. We'll assume that it's a 50-hour burn time and compare that to the other lanterns on our list so far.
Apollo – 60 hours – 15 lumens
Helix – 50 hours – 30 lumens
Etekcity – 12 hours – 60 lumens
Suaoki – 50 hours – 65 lumens
How, exactly, there are such wild fluctuations in performance reporting between manufacturers is totally beyond me. However, it is clear that at a featherlight 4.5 ounces with 65 lumens and a 50-hour run time on just 3 AA batteries the Suaoki is one of the absolute best performers in its category.
Know what you want? Buy your camping lantern here now!
On top of great performance is the excellent dual-function capability. You can use the lantern as a pop-up lantern, or keep it closed in its puck-like shape and hold it in your palm to use like a flashlight. This focuses the beam into a low output flashlight that's perfect for around camp use when you need to move around.
By far the biggest drawback of the Suaoki Lantern is that it doesn't feature any waterproofness. You'll have to be particularly careful when using this lantern that you keep it out of the rain. Considering that it's the lightest, smallest lantern on our list it makes a prime candidate for a great backpacking lantern. Unfortunately, electronics that are not waterproof don't mix well with backpacking.
Were it not for this factor, the Suaoki camping lantern might just be the best camping lantern on our list. Best for ultralight camping applications where you're sure it won't get wet!