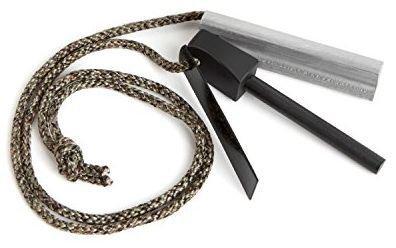 An outdoorsy person would agree with me when I say that the wilderness is where true peace lies – and for good reason! Open-air places give you a sense of freedom that no other place can. So if you consider yourself an outdoor-loving person then it doesn't matter whether you like to camp or go hiking or even like to trek, because if you are a survivalist, there are a few things that you should always have in your arsenal, the Aspen Ridge Sports "Alpha Encender" Magnesium Fire Starter
 being one of them!
Fire is an extremely important element of survival. One can only imagine being left out in the cold and damp, with only a few soggy clothes to warm them up. Doesn't really paint a pretty picture, does it? That is exactly why you always need to have a firestarter along with you, everywhere you go.
WHY DO YOU NEED AN ASPEN RIDGE SPORTS FIRE STARTER?
Now one might argue, why a fire starter? Why couldn't one just carry a few matches or a gas lighter
 maybe? Well, consider this – it has rained, and you are completely drenched, and so are your belongings, including your matches. You have two options here – wait for the matches to dry, or just tough out the cold. Neither one of them is appealing. While a gas lighter might work in a damp condition, most butane lighters do not work at high altitudes, while magnesium fire starters do. Check out all the best fire starters here.
These are a few of the many reasons that you should get yourself the Aspen Ridge Sports Magnesium Fire Starter
as soon as possible. Don't let the cold and rain deter the wild spirit in you!
FEATURES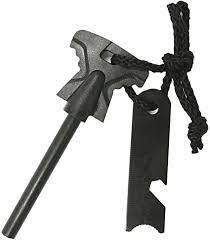 The Aspen Ridge Sports Magnesium Fire Starter is something that every outdoorsman should have in their pocket or backpack because this is the real deal – the tool to ultimate survival in the wilderness.
The Aspen Ridge Sports Magnesium Fire Starter is designed to work in every condition because it comes with a dual fire starter in one – it contains a ferrocerium rod that will give you up to 15,000 strikes! The fire starter also contains magnesium so that you can light a fire in wet conditions as easily as you would in dry weather. In places where matchsticks or a gas lighter wouldn't cut it – the Aspen Ridge Sports Magnesium Fire Starter does, never letting you down.
DESIGN
The Aspen Ridge Sports Magnesium Firestarter comes with a dual fire starting apparatus – a ferrocerium rod and a magnesium rod, so that you have double security whenever you are out camping or in the woods by yourself.
The design is simple and pretty easy to handle, with the tool being super lightweight but extremely durable. The Aspen Ridge Sports Magnesium Firestarter also comes with an attached lanyard so that you always have it nearby, maybe attached to your keys or around your neck for easy access in the time of need.
So, carry it around with you wherever you go, for you never know when the need might arise!
HOW IT WORKS
The Aspen Ridge Sports Magnesium Fire Starter
is a good choice for you no matter if you are a veteran or have just started venturing out in the outdoors. This fire starter is a great bet because it is extremely easy to use, and you can get the hang of it just a few times, and you will be an expert in no time!
All you need to do is take the magnesium rod, take your scraper which is attached to the fire starter and scrape off a few shavings of the metal onto the kindling that you have gathered. Make sure you have a coin-sized amount of scrapings onto tinder or kindling. Think of the magnesium scrapings as your fuel. Now, strike against the rod at an angle so that sparks shoot out. These sparks should land directly on your shavings.
Magnesium is generally used because of the high temperature that it attains while burning – it burns at an astounding 5,610 degrees Fahrenheit! The scrapings should easily catch fire and soon your kindling should, too. Once it has, you can add small pieces of twigs and dry leaves.
After a while, once those also catch fire, you can start adding larger pieces. However, be careful not to add too much fuel
altogether, for you risk putting out the fire completely. The trick is to carefully and gradually build a fire, not put all your wood in at once.
Don't worry if you don't get it the first time – it's an art that can be mastered!
Is this what you want? Want the best deal? Buy now!
WARRANTY
The Aspen Ridge Sports Magnesium Fire Starter
 comes with a lifetime warranty so that you never have to worry about purchasing this fire starter and worrying about receiving a defective product.
If you ever have any kind of issues with this fire starter or if for any reason it doesn't work for you as it should, you can absolutely rest assured that you will receive a replacement from Amazon or if you want to, you can contact the manufacturer directly as well. So there is really no losing here – go ahead and get yourself this awesome Aspen Ridge Sports Magnesium Firestarter, which will be your new best friend!
CONCLUSION
The Aspen Ridge Sports Magnesium Fire Starter
is a marvelous fire starter that is a must-have for you if you consider yourself a survivalist. It has proven itself time and again and it can be trusted blindly, for it will not let you down when you need it most. Most of all, carrying a Firestarter when you are going out in the wilderness just provides your mind with a sense of security that no matter what happens, you will be okay.
The fire starter itself is a hardy and handy little tool which weighs next to nothing. Keep it close to you for quick and easy access and be sure, whether it rains or snows, this fire starter is going to help you light a crackling fire – anywhere and everywhere!
The Aspen Ridge Sports Magnesium Firestarter is the one you can place your trust in, without any hesitation.
Product Specs
Name: Aspen Ridge Sports Magnesium Firestarter
Colors: Black
Warranty: Lifetime warranty