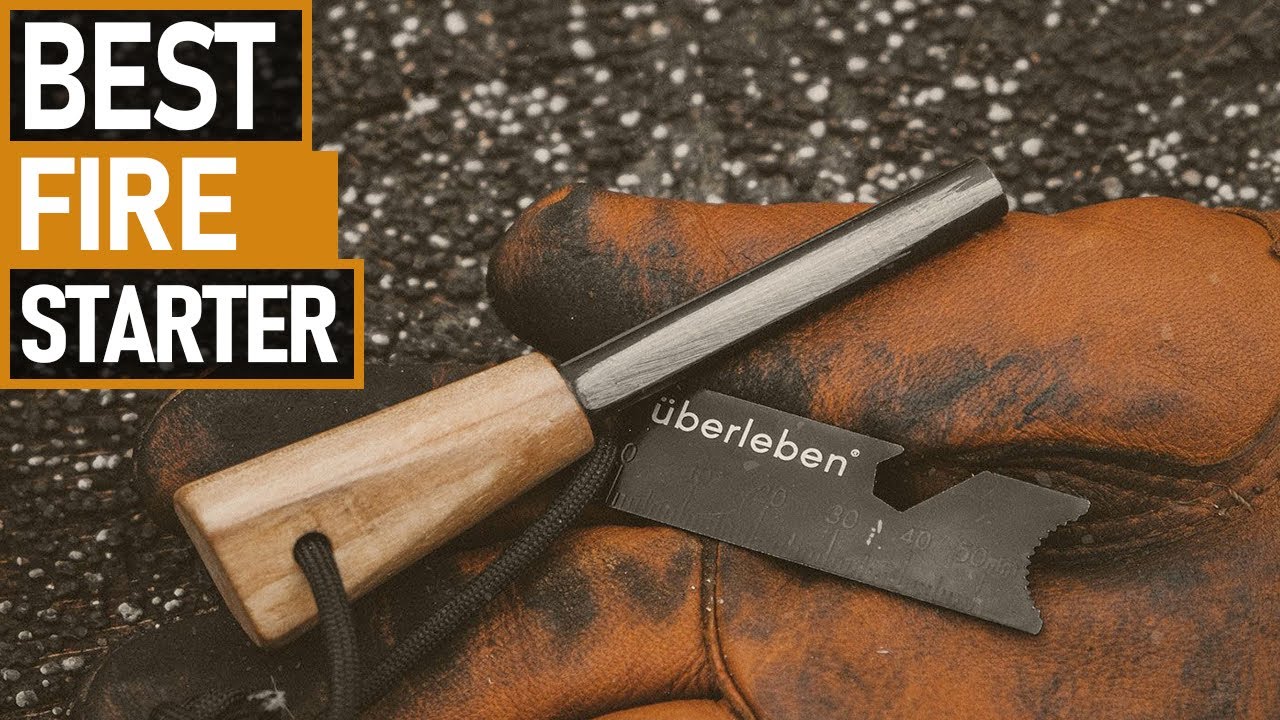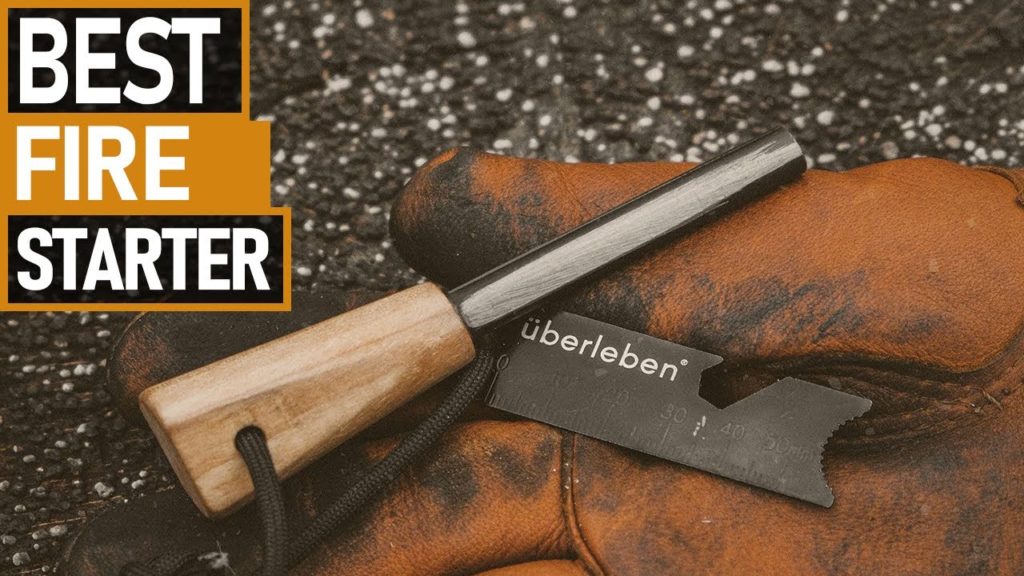 Fire is your best friend in the wild. It can make water and food safe to consume, let you signal for help, and provide warmth. But the cold, wet, windy conditions that can cause hypothermia can also hamper fire building. That's why you need a quality ferrocerium fire starter, or spark rod, to back up a lighter or matches. We cannot imagine life without fire. Fire is of utmost importance when out camping, hiking, or backpacking. It can keep you warm, ward off animals, and let you cook food and boil water to make it safe for consumption. If you need to start a fire, you are going to need a fire starter. Sure enough, you have a good lighter or match sticks in your essential camping gear, but you should have a backup plan as well when your primary source goes wrong.
BEST FIRESTARTER
| | | | |
| --- | --- | --- | --- |
| 1 | Ultimate Survival Technologies (UST) Spark Force Firestarter | 22 | 1,000 |
| 2 | Light My Fire Swedish FireSteel 2.0 Army Fire Starter | 50 | 12,000 |
| 3 | The Friendly Swede Magnesium Alloy Fire Starter  | 47 | 5,000 |
| 4 | Exotac nanoSTRIKER XL Ferrocerium Fire Starter | 62 | 3,000 |
| 5 | Aspen Ridge Sports Magnesium Fire Starter | 90 | 15,000 |
Know what you want? Buy your fire starter here now!
TOP-RATED FIRE STARTERS
EDITOR'S CHOICE – ULTIMATE SURVIVAL TECHNOLOGIES SPARK FORCE FIRESTARTER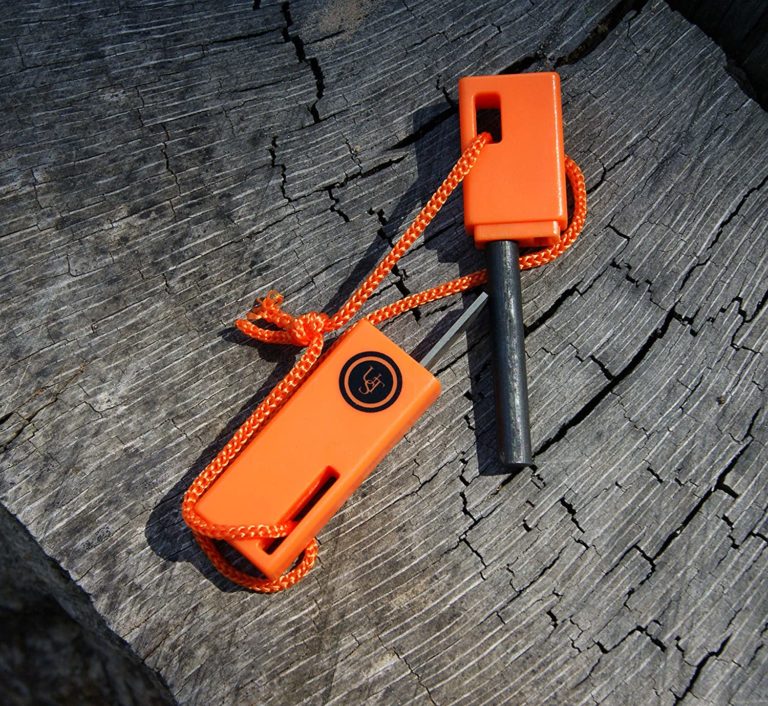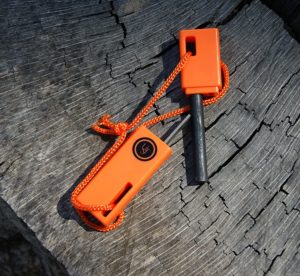 The Ultimate Survival Technologies Spark Force Firestarter
 is made of ABS, an opaque thermoplastic and amorphous polymer which is super strong. ABS is used as it is strongly resistant to chemicals and has a high tolerance for physical impacts. It is also waterproof so that you can use it even in damp or rainy weather. This material of which the outer casing is made is resistant to temperature and weather.
The firestarter or fire steel which is actually the hero of the whole process is what is used to create sparks that can ignite the fire. The sharp edge of the flint is used to strike fire at an acute angle which then shaves over a very minuscule amount of the steel – creating sparks. Learn more here.
---
LIGHT MY FIRE SWEDISH FIRESTEEL 2.0 FIRE STARTER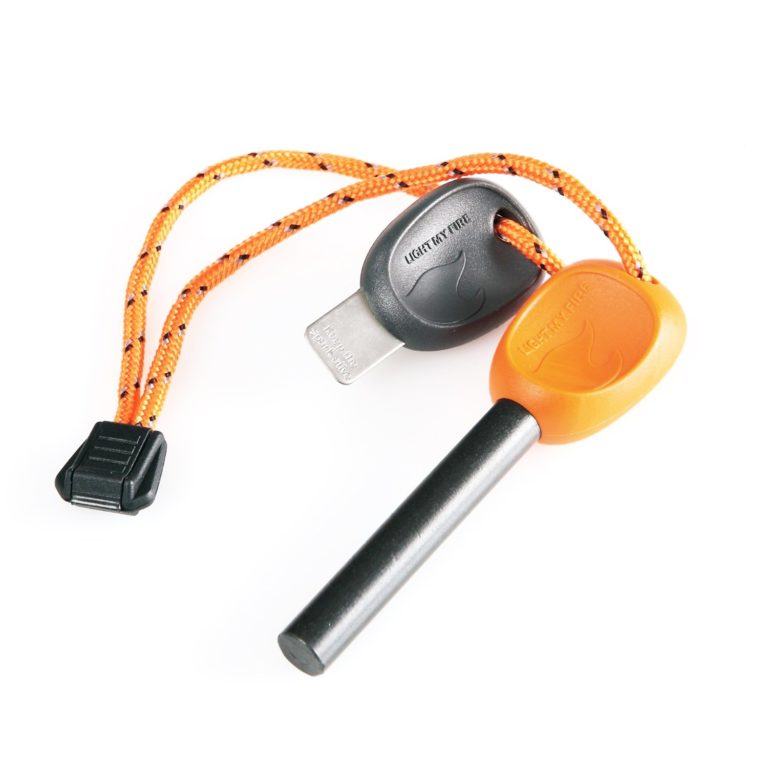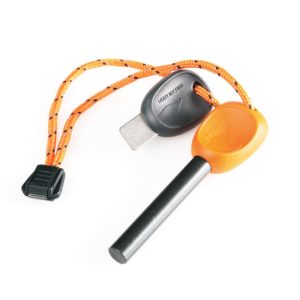 If it rains, chances are your matches will get drenched – do you wait for the matches to dry, while you shiver in the damp darkness? Sounds like a nightmare, right? Cue Light My Fire Swedish FireSteel Fire Starter
– a revolutionary but simple tool that will be your new favorite lifesaver and a very useful addition to all your trips.
The Light My Fire Swedish FireSteel Fire Starter is an extremely reliable tool that can be used in a large number of situations. It is a magnesium alloy fire starter.  It is a Firestarter that is sturdy and requires no flints, battery, or replacement parts. If you are an avid traveler and like to travel to places that have extreme weather conditions, fret not! The Light My Fire Swedish FireSteel Fire Starter is here for the rescue. Learn more here.
---
THE FRIENDLY SWEDE MAGNESIUM ALLOY EMERGENCY FIRE STARTER BLOCKS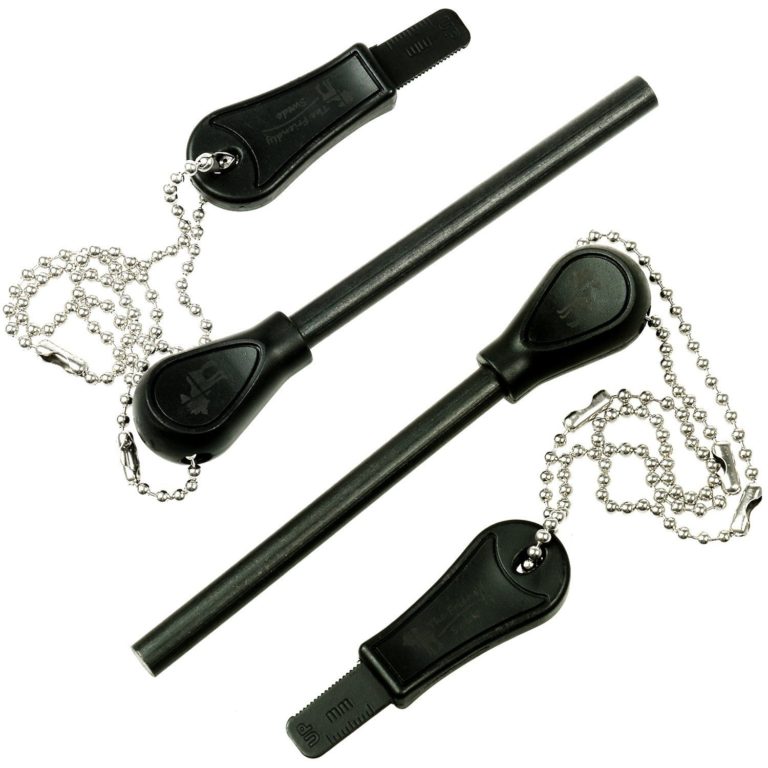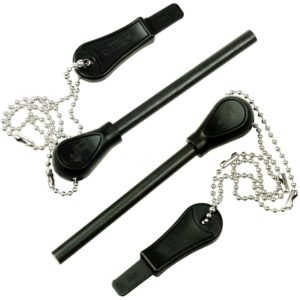 It is always good sense to carry around a fire starter no matter where you are going, for you never know when you might need it in a fix. The Friendly Swede Magnesium Alloy Emergency Fire Starter Blocks are a very useful tool to have in your travel backpack.
It is a magnesium alloy fire starter that will create instant fire with a shower of sparks on each and every strike. This is a simple-to-use fire starter that can be used by anyone. It is super sturdy and requires no battery or flint to work so the unavailability of these items won't be a hindrance! So don't let the cold and rain deter you anymore, as you will always be warm and toasty thanks to your new Friendly Swede Magnesium Alloy Emergency Fire Starter Blocks
, which will never fail you! Learn more here.
---
EXOTAC NANOSTRIKER XL FERROCERIUM FIRE STARTER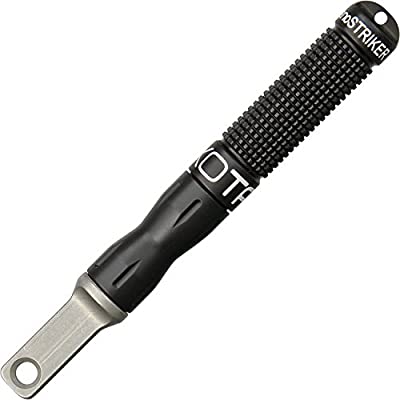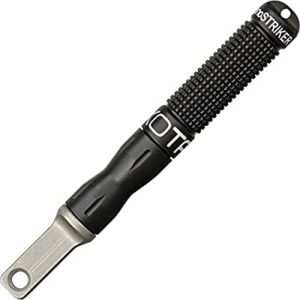 We would shudder to think what would happen if you are alone in a dark, damp forest with no means to light a fire. Or let us say you have some matches
 – but unfortunately, they are drenched. What do you do? Well, you won't have to ask yourself this question if you carry with you the Exotac nanoSTRIKER XL Ferrocerium Fire Starter.
Ferrocerium fire starters have been called the most reliable fire starters and have been used for a long time- and for good reason. The Exotac nanoSTRIKER XL Ferrocerium Fire Starter
 is a self-contained ferrocerium rod and comes along with its own striker. Learn more here.
---
ASPEN RIDGE SPORTS "ALPHA ENCENDER" FIRE STARTER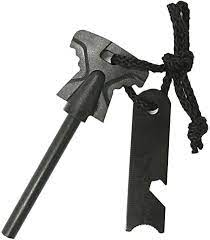 The Aspen Ridge Sports Magnesium Fire Starter is something that every outdoorsman should have in their pocket or backpack because this is the real deal – the tool to ultimate survival in the wilderness.
The Aspen Ridge Sports Magnesium Fire Starter
is designed to work in every condition because it comes with a dual fire starter in one – it contains a ferrocerium rod that will give you up to 15,000 strikes! The fire starter also contains magnesium so that you can light a fire in wet conditions as easily as you would in dry weather. In places where matchsticks or a gas lighter wouldn't cut it – the Aspen Ridge Sports Magnesium Fire Starter does, never letting you down. Learn more here.
---
FIRESTARTER OVERVIEW
A warm, toasty fire is always a welcome treat on any cold evening or night. But lighting up a warm and toasty fire is another story altogether, right? How many times have you struggled to light up a fire with just a few pieces of wood and a matchstick? Too many to count, I am sure. But well, you'll eventually get a fire going after ten or fifteen tries – no, doesn't exactly sound fun on a chilly, windy night when all you need is warmth!
If you consider yourself a person who loves the outdoors, then you will know that adventure is almost always synonymous with the outdoors. You have to always be prepared for anything and everything that you might encounter out there. If you are going out, ensure that you always have with you a few items that will provide you with peace of mind if you ever happen to be stuck in a tough spot. Well, if you have lived anywhere near the woods in your life, then the word bonfire probably brings back happy memories to your mind.
More than just being a happy memory, fire is a very crucial tool for survival. Fire is a basic essential for survival on our planet. It could be for warmth, light, cooking, and protection, or just for that sense of security when you are out there in the wilderness. Imagine a world without heat and light – a rather bleak one isn't it?
THE UTILITY OF FIRE STARTERS
Fire starters are an incredibly important thing to have when you head out, and you should always have one – two in fact, on the safe side – in your emergency kit. Of course, the market is flooded with these tools. Sure, you could always spare yourself the trouble of choosing from many and fashion your own fire starter using dryer lint or candle wax, but commercial fire starters are inexpensive and hassle-free and many times, they are almost foolproof.
Most fire starters are easily and locally available for a very reasonable rate, so there is really no reason to not have these super useful tools handy for whenever you need to go out, or just have a barbecue at home! So why not give them a try?
Not all fire starters are the same, and you should select what's best for you. Not sure? Fret not – we'll give you a top to bottom guide so that you can choose a fire starter that is best suited to you!
Now there are tons of different types of fire starters out there, which one is the most efficient? Well, no need to go around looking for answers, you can read on and make a decision for yourself.
1. FLINT AND STEEL
These are also called Ferro rod strikers. These fire starters are actually pretty ancient, dating back to the Iron Age. The mechanism behind these fire starters is pretty simple – all you have to do is shave off a few scrapings of the metal using the striker, put it on the kindling, and then strike against the rod at an angle so that the friction creates sparks. Let the sparks fall on the metal shaving and light up.
The modern versions of the flint and steel variety use ferrocerium alloys in place of flints. The alloy works as such to create longer burn time and more sparks so that you can light your fire much more easily than you would be able to with flint and steel. However, you do require a decent amount of practice to get this technique mastered. This works regardless of climatic conditions. These fire starters are also super light and can be carried around easily.
2. MAGNESIUM AND FERRO RODS
Magnesium is a highly popular metal that is used in fire starters. It is a shiny grey metal that burns with high intensity. When used in small quantities and in the form of powder or shavings, it is very easy. Since this metal is waterproof, it does its job regardless of the weather conditions. These tools work by scraping a pile of shavings and then striking at an angle against the Ferro rod for a shower of sparks. These fire starters are cheap, easy to use, and super compact as well.
CONSIDERATIONS BEFORE YOU BUY A FIRE STARTER
1. SIZE OF THE FIRE STARTER
A handy fire starter is one that can be carried around easily, one that is durable and lightweight. The absolute last thing you want when you are going on a trip is to lug around a huge box that takes up all the space you have in your backpack. Well, luckily enough, most fire starters that also have good ratings are handy and compact, not more than 6 inches in size. These were basically made keeping in mind that a survivalist will probably keep these little tools close, in a pocket, or in an accessible mini compartment in a backpack.
2. BURN TIME
While size and durability are very important, equally important is knowing the burn time of your fire starter. Highly flammable fire starters are meant to speed up the tiresome process of starting a fire with damp products like a soggy piece of wood or a piece of coal that just won't light up! Most fire starters today have a considerably long burn time, long enough so that you can get a fire started without having to light it a dozen times before it finally works. Choose wisely, and you can enjoy your crackling fire sooner.
3. GO ODORLESS
Well, most fire starters in the past contained a myriad of chemicals that smelt awful when burnt. Therefore, being a turn-off for most people who probably used these fire starters for a barbecue, were probably deterred from using them ever again. But thankfully most fire starters today are fairly odorless, a big relief for people who used them for starting the grill! So save your nose from the trauma and get yourself a smell-free fire starter.
4. BE GREENER
Well, if you are going to buy a fire starter, be a responsible citizen of this planet and buy one that will not emit any harmful fuels that will harm the forests and the air quality. Thankfully, most fire starters burn clean and are environment friendly. Do your bit by using green flammable materials like wood waste, recycled paper, and such. Look for fire starters that don't leave much residue and burn quickly, and the planet will thank you!
5. CONSUMPTION
How fast will your fire starter be used up? Ferro rods
tend to last for a long time before they get worn out, whereas lighters and matchsticks have a relatively shorter lifespan. While there are other methods like a fire piston that will never get worn out if you know how to maintain them correctly.
CONCLUSION
There are lots of factors for you to consider before totaling on a fire starter that serves your needs correctly and one that won't let you down in times of need. If you are backpacking and need a fire starter just to light a stove, then a simple lighter should do the trick. Whereas if you are traveling deep into the woods, you might want to consider stocking up on more than one method and tool of lighting a fire for your safety and peace of mind.
Ferro rods and magnesium fire starters are very simple to use, effective, and waterproof and you can never really go wrong with them – just be sure to practice lighting a fire using them so that you get the hang of it.
We might be preaching to the choir here, but always have a backup fire starter in your survival kit, for you never know what you might end up needing! Go ahead and purchase any of the suggested fire starters above and be sure that you are getting a good deal! Happy discovering!