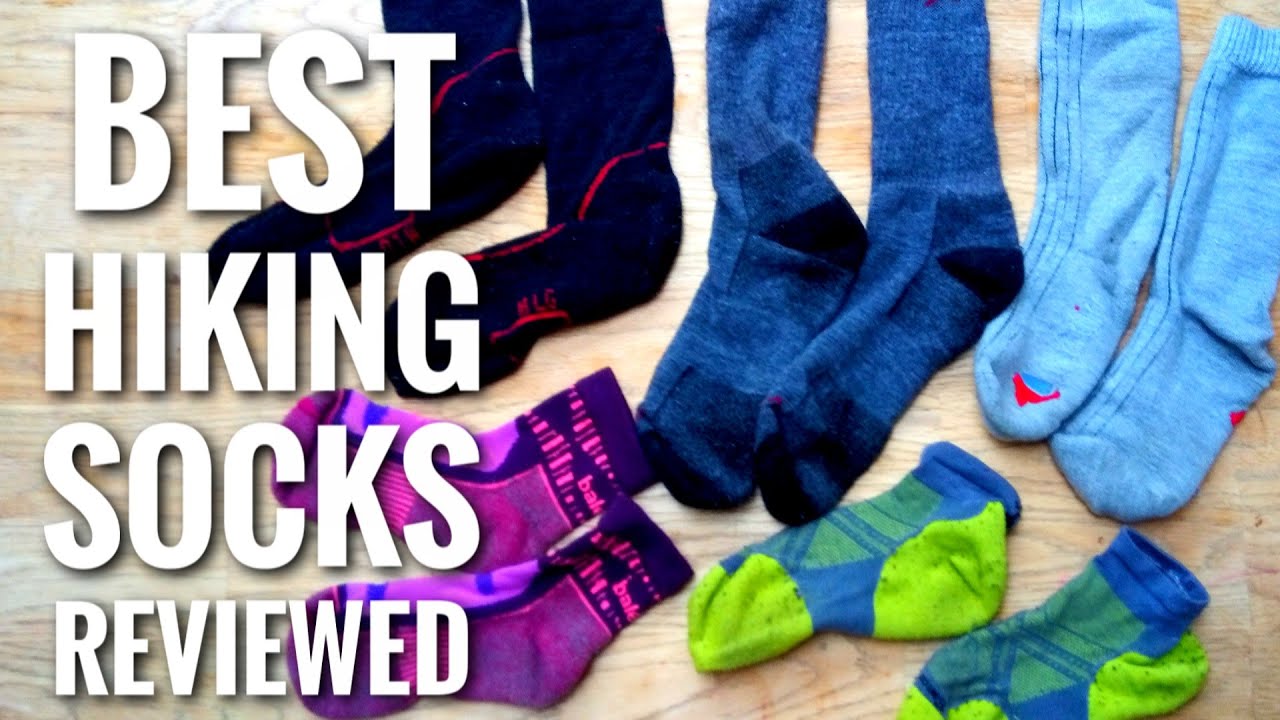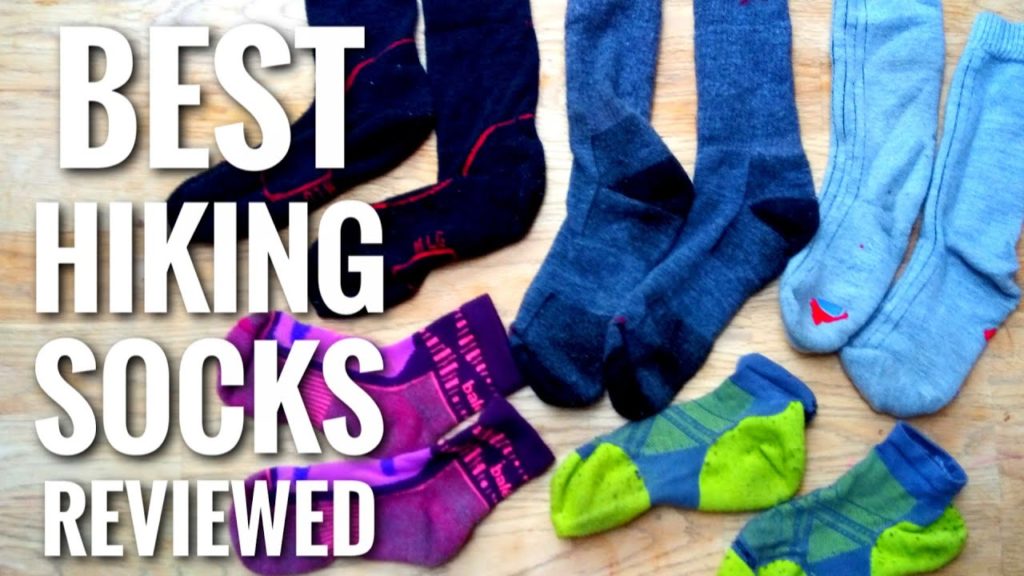 With all your high-tech gear, an enjoyable trek boils down to one essential item—your socks. It can mean the difference between a miserable and painful day to one that leaves you feeling uplifted and darn proud of your effort. Your feet take the brunt of everything. It only makes sense to baby them with the best hiking socks you can find. Believe us that it's worth the time and money to go for the quality.
BEST HIKING SOCKS
| | | | |
| --- | --- | --- | --- |
| 1 | Danish Endurance Merino Wool Hiking & Trekking Socks | 33% Merino Wool | Yes |
| 2 | Smartwool Women's Hike Light Crew Socks | 76% Virgin Wool | Yes |
| 3 | People Socks Premium Merino Wool Crew Hiking Socks | 71% Merino Wool | Yes |
| 4 | Buttons & Pleats Premium Merino Wool Hiking Socks | 65% Merino Wool | Yes |
| 5 | Darn Tough Men's Merino Wool Hiker Boot Sock Full Cushion Socks | 67% Merino Wool | Yes |
Know what you want? Buy your hiking socks here now!
TOP-RATED HIKING SOCKS
We'll admit up front that we are biased toward a wool product. The advantages are just too overwhelming to ignore. That said, we found that the various manufacturers took a different approaches to what makes a good pair of socks. It all boils down to the secret recipe with their material blends.
DANISH ENDURANCE MERINO WOOL HIKING & TREKKING SOCKS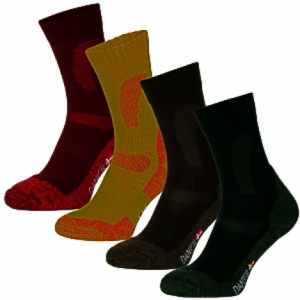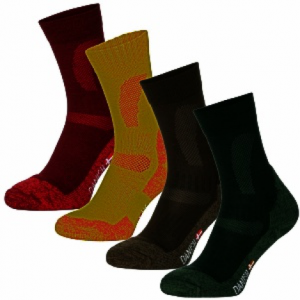 The Danish Endurance Merino Wool Hiking & Trekking Socks have the least amount of wool in their blend of materials. It also has some ones that were new to use. It includes 33 percent merino wool, 33 percent acrylic, 33 percent polyamide, and 1 percent elastane. Unfortunately, the manufacturer's website doesn't provide any information. Elastane, by the way, is another term for spandex.
Danish Endurance clearly puts the emphasis on a product that will last. The socks are padded throughout the construction for a comfortable product that can reduce the risk of blisters. To increase its breathability, they have several Targeted Ventilation Zones to keep your feet dry.
The company is unabashedly proud of its European roots as is evident in the product description. It also has the endorsement of former Navy SEAL Erik B. Jørgensen. We liked the fact that we had the choice between one or three to try out for ourselves.
Pros:
The Danish Endurance Hiking Socks come with a 100-percent satisfaction guarantee.
They come in an interesting selection of colors if you're looking for something different.
They are reasonably priced for a wool-blend sock.
Cons:
You can't put these socks in the dryer after washing nor can you use hot water.
The US sizes are a bit off, leaning toward the high side.
The cushioning is on the light end of the spectrum.
Overall, the Danish Endurance Hiking Socks are a good value, albeit, with some sizing issues. The downside is the smaller wool content which detracts a bit from the comfort and warmth.
SMARTWOOL WOMEN'S HIKE LIGHT CREW SOCKS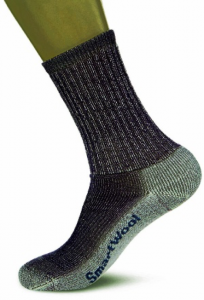 The Smartwool Women's Hike Light Crew Socks come in a blend of 67 percent merino wool, 32 percent nylon, and 1 percent elastane. The extra amount of wool gives it that comfortable feel with the cushioning and warmth we've come to expect from this brand. We liked the fact that the product name tells you upfront what to expect with the weight.
You'll also find information about sizing right on the package which is a lot easier than having to look it up online. Smartwool brands its socks by activity which we appreciated because the one you use for running will differ from a pair for skiing. They are well made and include an elasticized arch brace to give them a snug fit that won't bunch up in your shoes.
On the plus side, you can put them in the dryer at a tumble low temperature. That last bit is essential so that they don't shrink. Merino wool has natural anti-bacterial properties, but we prefer a sock that we don't have to let air dry. The socks aren't itchy at all, so you can ditch the sock liners with this pair.
Pros:
The company offers a 100-percent satisfaction guarantee and will replace returned products with a comparable pair of socks within two years of purchase.
The socks come in a wide variety of colors.
You can score a free pair of socks with the Smartwool Rewards program.
Cons:
You'll pay for the better quality because the Smartwool Hike Light Crew Socks are not cheap.
There is the occasional quality control issue with the socks, hence, the guarantee.
The sizing is a bit off, leaning toward the larger side.
Smartwool has a reputation for the quality that these socks deliver. We like it when a manufacturer stands behind its products. Overall, they are a worthwhile investment.
PEOPLE SOCKS PREMIUM MERINO WOOL CREW HIKING SOCKS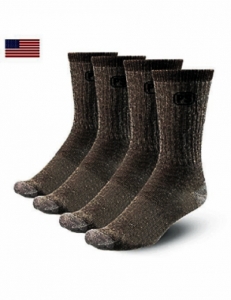 The People Socks Premium Merino Wool Crew Hiking Socks have the highest wool content of any of the socks we reviewed. The blend includes 71 percent merino wool, 21 percent nylon, 7 percent polyester, and 1 percent spandex. That said, proper care is essential to keeping them in good shape. Unfortunately, that means air drying.
The socks have reinforced heels and toes. It is a welcome feature given the fact that those are the spots that tend to wear out first. They come in a pleasing selection of colors, though we'll admit we prefer earth tones for our hiking socks. They have a tighter fit the first time you put them on, but the spandex gives them that bit of stretchiness to keep them comfortable.
They are durable and can handle a lot of heavy use. We had no issues with rubbing or chafing. They are well constructed too. While the wool is imported, the other materials are sourced locally by the manufacturer. That earns it props in our book. It also keeps them at a more reasonable price point when compared to other wool socks.
Pros:
The People Socks Premium Merino Wool Crew Hiking Socks are made in the United States.
The socks have great breathability, so no more sweaty feet if you wear them all day.
They are reasonably priced for socks with such a high wool content.
Cons:
The socks have a tendency to pill which is a strike against them.
Like Smartwool, poor quality control sometimes rears its ugly head.
The medium thickness feels more like a lightweight sock.
The People Socks company is on the right track with these socks with its commitment to buying locally. Overall, it would be our number one choice if it weren't for the few quality issues.
BUTTONS & PLEATS PREMIUM MERINO WOOL HIKING SOCKS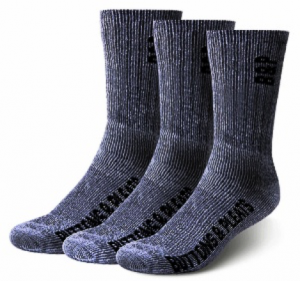 The Buttons & Pleats Premium Merino Wool Hiking Socks contain 65 percent merino wool, 26 percent polyester, 8 percent nylon, and 1 percent spandex. The socks strike an excellent balance between wicking and breathability. The product description suggests they are appropriate for winter use, but we thought there were a bit thin for frigid conditions.
Nevertheless, the socks get an A for comfort. We loved the fact that they stay in place and don't slip down your calf when you wear them. They get full marks for keeping your feet dry too. The socks also hold up well even after multiple times of washing. On the downside, the branding is way overdone on these socks.
They are machine-washable. However, the same precautions about drying apply with this pair too. They're a bit on the spendy side, but it certainly isn't confined to Buttons & Pleats. They come in two sizes, but the ranges are pretty wide. People on the low end of each one may have issues with their fit.
Pros:
The Buttons & Pleats Premium Merino Wool Hiking Socks are a great value for the price.
Other than the logo, they are a good-looking pair of socks.
The socks use unisex sizing which we prefer.
Cons:
The socks could use some extra reinforcement on the heels and toes to improve their durability.
The logo is a bit overstated and would be better suited to the foot portion of the sock.
The stitching is a bit off, creating uncomfortable pressure points.
The Buttons & Pleats Premium Merino Wool Hiking Socks score points for being a great value, but unfortunately, it doesn't necessarily apply to the product's construction.
DARN TOUGH MEN'S MERINO WOOL HIKER BOOT SOCK FULL CUSHION SOCKS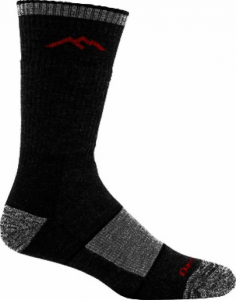 The Darn Tough Men's Merino Wool Hiker Boot Sock Full Cushion Socks are a blend of 66 percent merino wool, 32 percent nylon, and 2 percent spandex. The best thing going for these socks is their seamless construction which gives them a comfortable fit. It also has fine-gauge knit construction to keep your feet warm and dry.
We have to give the manufacturer kudos for an informative website that provides a lot of details about their product line. And then there's the lifetime warranty. This is one company that stands behind its products. The socks come in four sizes so that you're sure to get the proper fit. They are well made with a lot of attention to those extra details that come with a quality product.
The construction around the toe ensures that the socks won't bunch up to prevent blisters. They are preshrunk so that they will keep their shape.
Pros:
The Darn Tough Men's Merino Wool Socks are made in the United States.
The socks come with a lifetime warranty.
Even with the high wool content, they are fast drying.
Cons:
We can't say that we're fans of the look of these socks which fly close to the border of ugly.
Quality comes at a price with these socks being the most expensive of the lot.
We found one discrepancy with the content where there were conflicting numbers about the wool percentage.
The high price tag is the only disadvantage of choosing these socks. Otherwise, they are a high-quality choice.
When all was said and done, we picked the Darn Tough Men's Merino Wool Hiker Boot Sock Full Cushion Socks as our top choice for the best hiking socks. The price aside, they are well-constructed throughout the design. We were impressed with the lifetime warranty offered by the manufacturer. We could justify the cost because of it. It definitely makes the company stand out from the rest.
While we weren't in love with the color selection, the quality of the product trumped our fussiness about the patterns. We loved the fact that the manufacturer goes out of their way to fine-tune their products with a wide selection of sizes and heights to fit anyone's needs. That speaks volumes for the right fit that you'll have with these socks.
HIKING SOCKS BUYERS GUIDE
Let's begin with some basics to help you navigate through the sea of choices you'll find when you start looking for that perfect pair. There are several factors to consider when choosing the product that is right for you. They include:
Material
Weight
Height
Fit
Each one plays a vital role in keeping you blister-free. As we all know, nothing can ruin a hike faster than a hotspot that has morphed into a full-blown, gnarly blister. It never ceases to amaze us how such a little sore can cause so much pain. And, of course, that two-mile walk all of a sudden seems like 30 miles when you have to keep the pressure off of it.
MATERIAL
You'll find socks made of a variety of materials including cotton, polyester, spandex, nylon, silk, or the old standby, wool. Many products are a combination of fabrics to take advantage of the best features each one has to offer. You'll still find socks made of 100 percent of the material, but they aren't always the best option considering what the other ones can bring to the table.
Cotton, for example, has one glaring disadvantage. If it gets wet, it stays wet—and cold. It won't wick moisture away from your skin which could be a major problem during the winter. It'll increase your chances of getting frostbite. It's a hassle too in the summer if you've just crossed a stream and accidentally stepped into the water. On the plus side, it is soft.
Polyester is a synthetic material that adds strength and durability to a pair of hiking socks. It doesn't have the disadvantages of a lack of wicking and slow drying like cotton. But it's not the most comfortable of the bunch.
Spandex adds stretchiness that can help keep the shape of your socks. It's most often part of a blend. Nylon offers similar advantages as polyester with that same comfort issue. Silk, as you may expect, brings a luxurious feel to clothing. Unfortunately, it lacks the durability of a material on its own.
Wool is the go-to choice for hiking socks. It ticks off all the boxes for insulating ability, moisture wicking, comfort, and durability. Merino is the material of choice because it is itch-free, unlike rag wool socks. Its only drawback is its relatively slow drying time compared to the others.
No matter what the material, pay attention to the stitching and overall construction of the sock. A misplaced seam is a sure recipe for blisters and an uncomfortable fit. Also, look at the cuff of the sock. That's where the importance of spandex comes into play to make sure they stay in place.
WEIGHT
The weight of the sock is something of a double-edged sword. Heavier materials offer better cushioning to prevent blisters, but they are also warmer. Sure, it won't matter as much during the winter. During the summer, they can leave you feeling pretty uncomfortable. A good compromise is to match the weight with the hiking conditions.
You'll see this trait noted as the amount of cushioning that a sock offers whether it's light, medium, or heavy. Medium will cover most situations. Pull out the socks with heavy cushioning for those winter treks.
HEIGHT
The height of your socks depends directly on the type of boot you're wearing. You want a pair of socks that extends beyond the top of your footwear to prevent rubbing and chafing. The crew height is an excellent choice for any shoe you use. It'll protect that important ankle area. You could go with a knee-high sock if you prefer. Just keep in mind the heat factor if you're doing a warm-weather hike.
FIT
Next to the material, the fit of your hiking socks is the most important thing to consider. It's the main reason that you will see products that include a blend of materials. They should have a snug fit without bunching up near the toes. Those wrinkles are the catalyst for those nasty blisters.
We strongly urge you to try on a pair of hiking socks with the footwear you'll be wearing on the trail. That's the best way to know if the fit is right. Ideally, you should do this later in the day after you've been standing for a while. Your feet will swell the longer you're upright. This option is an excellent way to replicate the trail conditions.
Make sure that you can move your toes freely. They may not get adequate circulation if it feels tight. It's a sure dealbreaker in cold conditions. Finally, always check the sizing of the socks. You might find slight variations between manufacturers. Most companies will have a sizing chart available on their website to ensure the right fit.