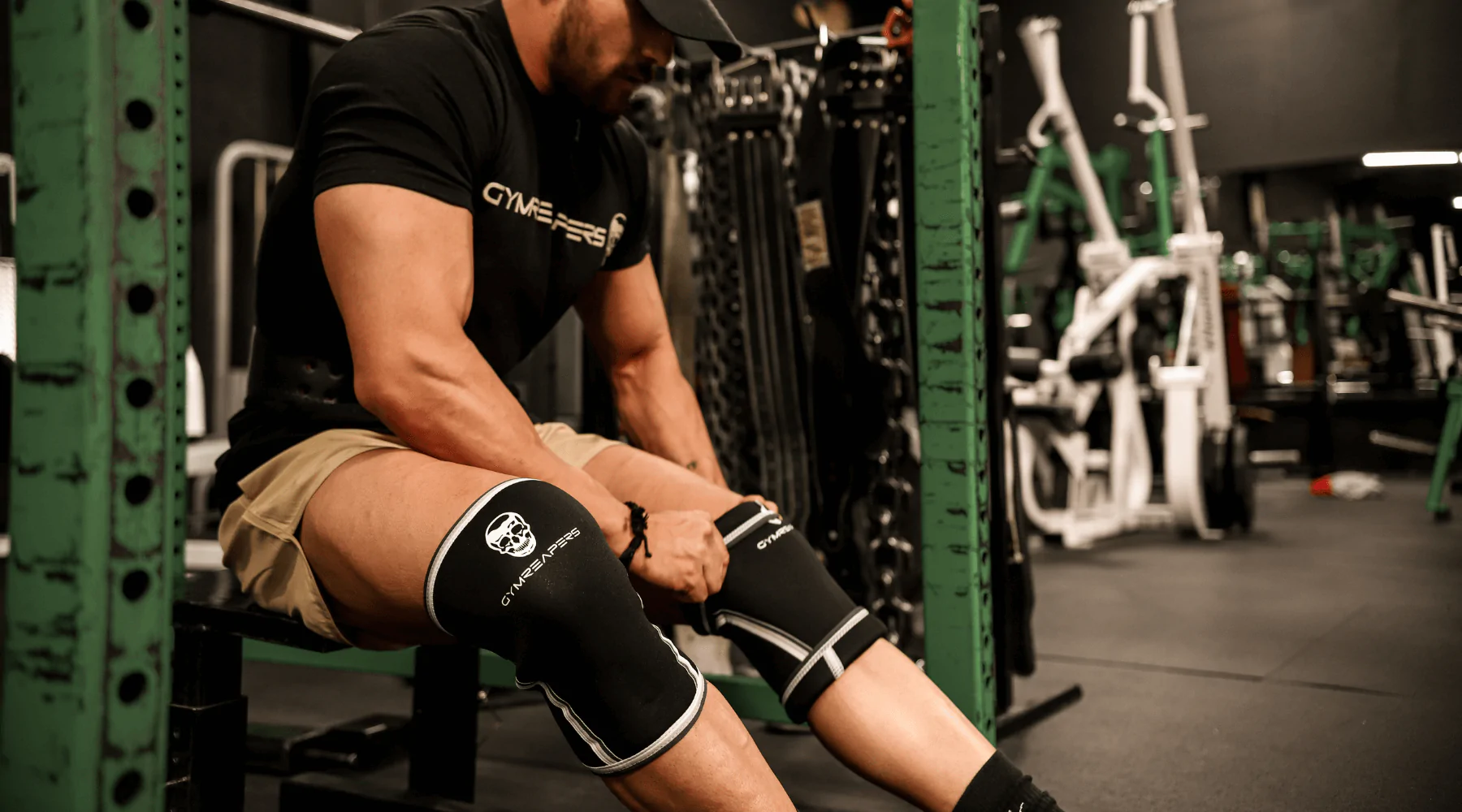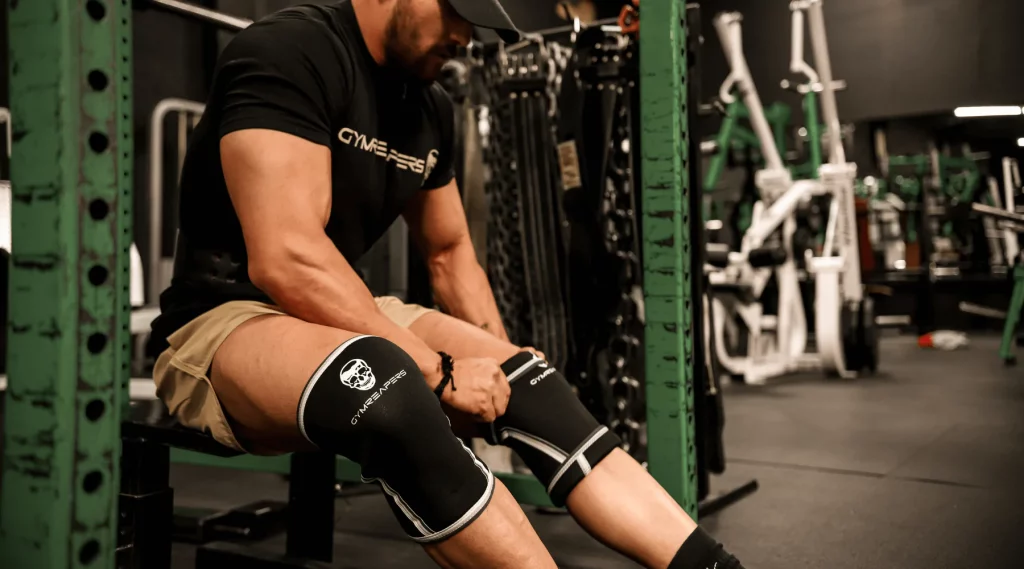 You wake up with a tinge of arthritis pain in your leg, it persists as you walk around the office, and your knee slowly swells during your after-work run. This nagging issue might not be getting worse, but it isn't getting any relief. You don't need to live like this! Add a knee sleeve to your gym bag for the comfort you need.  Knee sleeves are suitable for weekend warriors, athletes dedicated to their sport, and people requiring compression during the workday. Improve the way your knee feels throughout the average day when you support it with a knee sleeve.
Much different than a knee brace, a knee sleeve provides compression and support. It doesn't necessarily protect the knee from injury or damage. Learn more about the design of knee sleeves, the benefits, and then the best knee sleeves for your favorite activity.
BEST KNEE SLEEVES
| | | | |
| --- | --- | --- | --- |
| 1 | Wolsport Compression Knee Sleeve | Copper-Free Hypoallergenic 4-Way Stretch Fabric | No |
| 2 | Nordic Lifting Knee Sleeves | Neoprene and Reinforced Stitching | Yes |
| 3 | UFlex Athletics Knee Compression Sleeve | Anti-slip Silicone | No |
| 4 | Bracoo Breathable Neoprene Knee Support Sleeve | 76% Neoprene, 12% Nylon, 12% Spandex | No |
| 5 | CopperJoint Copper Knee Sleeve | Anti-Itch Wicking Capabilities Material | No |
Know what you want? Buy your knee sleeves here now!
TOP-RATED KNEE SLEEVES
EDITOR'S CHOICE – WOLSPORT COMPRESSION KNEE SLEEVE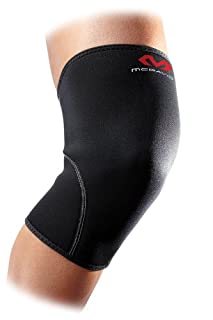 Looking for a knee sleeve that fits the compression box? The primary feature of this sleeve is its ability to compress, which rejuvenates the joints and boosts blood flow. While the item reduces strain from weightlifting or suits your knee's movement as you run, it also supports you for daily use. Pull on the Wolsport Compression Knee Sleeve for working out.
You might find this to be a bit of a hybrid product between a sleeve for compression and a knee brace. One exciting feature of this product is its "digital knit." It holds your knee sleeve in place and doesn't lose shape over time. The company is known for its no-hassle exchanges in situations when you need a replacement. If you do need their lifetime guarantee, Wolsport is willing to make good on it.
Pros:
Compression for arthritis sufferers
Made from a hypoallergenic material for spandex allergy sufferers
Comes with a lifetime product guarantee
Suitable for daily use
Provides extra compression at the top and bottom of the sleeve
Cons:
Does not come in a set
Sizing between sleeves seems slightly variable
---
NORDIC LIFTING KNEE SLEEVES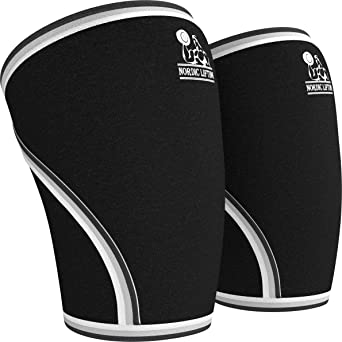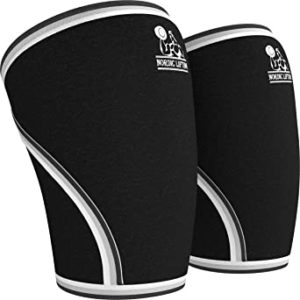 Nordic Lifting Knee Sleeves (With Support and Compression for Weightlifting, Powerlifting, and CrossFit) suits both men and women. Nordic Lifting is a weightlifting brand that created its knee sleeves specifically for increasing performance and reducing the risk of injury. Buy this knee sleeve for lifting.
Users love these knee sleeves because of the comfort you get during workouts. Made from neoprene, the brace provides flexibility and works well in a range of temperatures. There is a one-year, free replacement guarantee which is relatively comprehensive compared to other athletic equipment coverage.  Purchase in a set for use during workouts of all types, just check the sizing of the knee pads before you buy them.
Pros:
Reinforce the weaker joints in your knees when weightlifting
Comes in sets for wearing during exercise
Reinforced stitching from longevity
Six sizes suit all knees
Many users report comfort in their ligaments
Cons:
Professional lifters reporting wearing through these quickly
Some users say the padding gets wet during use
---
UFLEX ATHLETICS KNEE COMPRESSION SLEEVE SUPPORT FOR RUNNING, JOGGING, SPORTS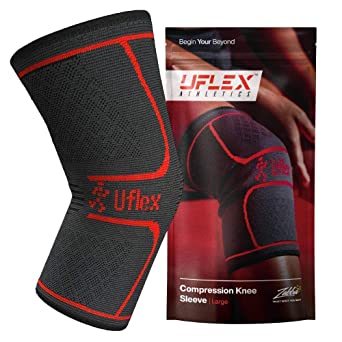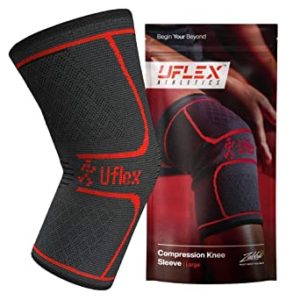 The UFlex Athletics Knee Compression Sleeve supports women, men, and children with its broad sizing options. The product provides the primary benefit of reducing swelling on the knee during sporting events of all types, including running, football, and basketball. Purchase with either high or moderate compression depending on doctor recommendations.
The UFlex brand promises a four-way stretch on its materials, so as your body bends and twists your brace stays in place. It is made from a professional-grade blend of nylon and Lycra for durability and flexibility. Some customers it for daily use and outside of regular exercise routines.
Buy this knee sleeve if you need to wrap or compress your leg but still experience breathable material. For users that don't do well with large products, this might be the sleeve you need because it is super lightweight.
Pros:
Feels comfortable and is seamless
Textured material provides further compression
Fits well under regular clothing for daily use
Transitions between sports during workouts
Two options for level of compression
Cons:
Only one sleeve with your purchase
Some individuals are sensitive to this blend of materials
---
BRACOO BREATHABLE NEOPRENE KNEE SUPPORT SLEEVE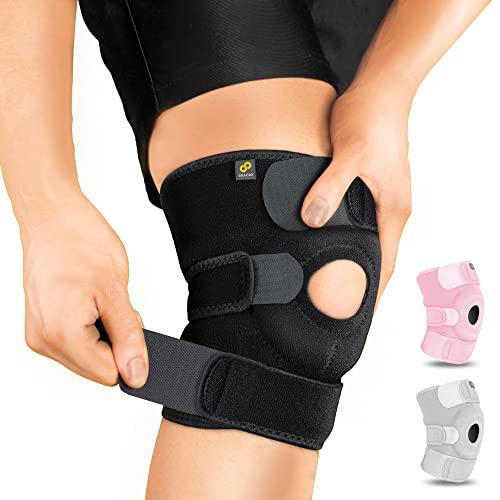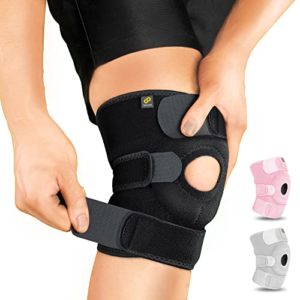 Are you worried about your knee during intense exercise? The Bracoo Breathable Neoprene Knee Support Sleeve compresses the area around your knee, increases your circulation, and protects your knee from abnormal movement.  With more support than other knee sleeves on this list, this extra-thick fabric allows less side-to-side flow during exercise.
The center stabilizer ring of the brace is meant to keep your kneecap in its proper position. Remember, always get the recommendation of a physician before wearing a brace as a medical device. Bracoo maintains that the design of this sleeve distributes stress across the knee properly.
Pros:
Prevent unnatural knee motion
Designed for wearing during intense exercise
FDA Certified
Velcro straps keep the brace in place
Relieves stress in your knee area for previously injured users
Cons:
This sleeve is not discreet for wearing under clothing
Only available in one size
---
COPPERJOINT COPPER KNEE SLEEVE AND RECOVERY BRACE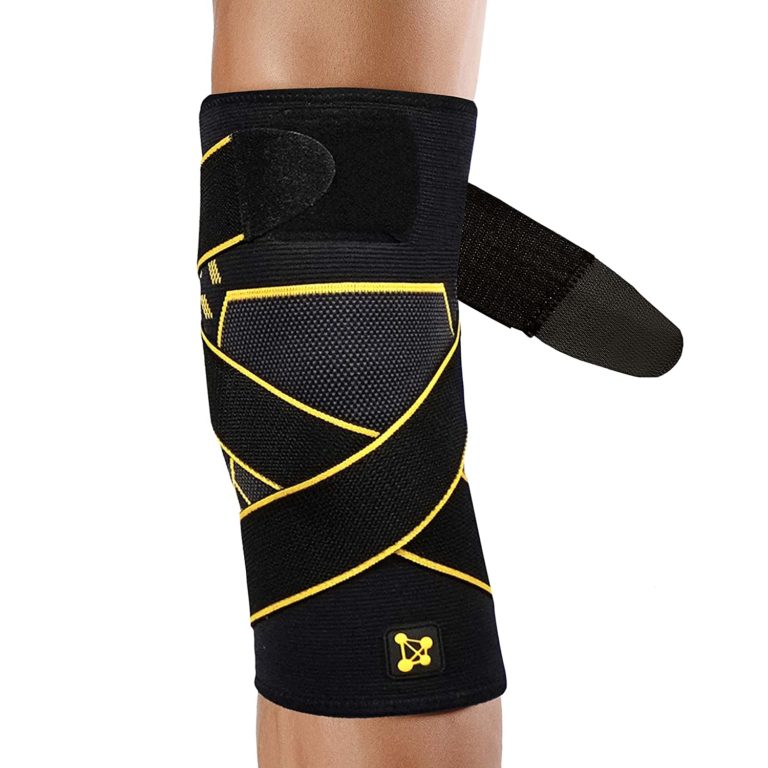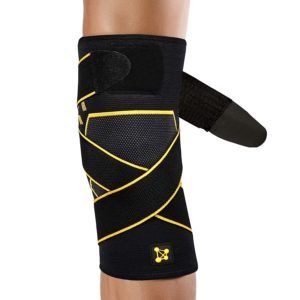 Neoprene isn't the right solution for everyone which is why the CopperJoint Copper Knee Sleeve has such a high following among its users. This knee sleeve made is made of copper-infused nylon and spandex. CopperJoint always uses real copper ions in the infusion process rather than copper oxide, used by substandard brands.
The primary use of this compression sleeve is to increase blood flow, reduce pain, and aid in recovery from knee injuries. For many wearers, the CopperJoint keeps the knee cool. The high-quality material keeps your knee at the right temperature even during tough workouts. You can also wear your CopperJoint product during the day and the night.
Pros:
A comfortable sleeve does not inhibit movement
Odor elimination with this material composition
100% money-back guarantee from the manufacturer
Less itchy than other knee sleeves
Free of latex for allergy sufferers
Cons:
The effectiveness of copper in healing has not been proven
Very light compression is not enough for some customers
---
KNEE SLEEVES BUYERS GUIDE
According to a study released by the Academy of Emergency Medicine, from 1999 to the year 2008, there were more than 6.6 million knee injuries in United States emergency departments.
If you've sustained a long-term injury or you want to improve your circulation, wear a knee sleeve for workouts, walking, running, and even daily use. The thicker sleeves use fabric that is 9mm in thickness, which is still reasonably lightweight. Get the support you need during rehabilitation exercises, leisure activities, and recovery for swelling reduction.
KNEE SLEEVES VERSUS KNEE BRACES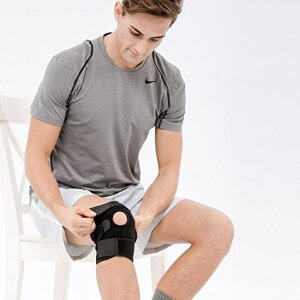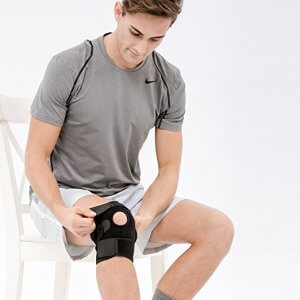 Knee sleeves are not the same as medically-prescribed braces. The brace has a primary focus – protecting your knee from damage and injury. A doctor may prescribe a knee brace post-surgery. Braces often make use of Velcro, metal pieces, padding, neoprene, and more. Braces are much more restrictive to movement.
Knee sleeves focus on compression, which reduces pain during and after a workout. Compression contributes to workouts of the highest intensity. A sleeve is much less prohibitive, can still reduce your movement, and might reduce your chance of injury. When put side by side, the knee brace looks like a medical device while a sleeve looks more like a sports aid.
IS A KNEE SLEEVE RIGHT FOR YOU?
Your knees participate in thousands of steps each day. Your body is a heavy object grinding down on your kneecap, your tendons, and your bones. Medical conditions occur in patients because the knee goes through irritation, tendonitis, sprains, and more. You need a knee sleeve if you:
Experience swelling issues after workouts
Feel a minor twinge of pain as you walk
Suffer from minor arthritis
Have stiffness in your legs when you wake up in the morning
Want to improve circulation in your legs
Don't recover well from workouts
Participate in sports that require consistent knee movement
Users committed to knee sleeves potentially use them for years. If you get used to the feeling of a knee sleeve and the benefits of compression, it is typical to wear them during every workout. Next time you go to the gym, take a look around. From the fit runners to the cardio class participants to the weightlifters, you'll see sleeves on every type of person. All shapes, sizes, and ages wear the best knee sleeves!
DESIGN OF KNEE SLEEVES
Decided to purchase a knee sleeve? The selection of the right knee sleeve depends on your preferred configuration, the material used in construction, and your primary reason for wearing it. Some people like the sock-like option of a traditional sleeve while others like the open-patella design for both breathability and support against abnormal knee movement.
Even as you switch brands in the future, identifying your preferred knee sleeve design narrows down your selection. Select the right knee sleeve for your legs with consideration to its design and the material used in its construction. First off, consider the design of the knee sleeve:
Open-Patella Design: This type of knee sleeve has a circular hole in the front. The open-patella (kneecap) design decreases the stress you experience on your knee joint when working out. When adequately supported, get relief from constant knee pain, strain, fatigue, or even arthritis with this design feature.
3mm Thickness: You don't need extra thickness on your knee when participating in an endurance sport. Long-distance wearers need the 3mm thickness for long-distance runs when the knee starts to move irregularly near the end of a workout.
5mm Thickness: The average thickness of a knee sleeve is most suitable for a mixed sporting activity like training for agility. It is popular for people looking for extra support during gym workouts, running, volleyball, basketball, and light sports to wear this knee sleeve variation.
7mm Thickness: Partake in a short, hard exercise with the thickest knee sleeve material. You are more aware of this thickness on your leg. The 7mm knee support sleeve stabilizes your knees for heavy lifting, support during rehab, or increased circulation.
MATERIALS OF KNEE SLEEVES
The material used in your knee sleeve impacts compression, breathability, flexibility, and more. The most popular elements you'll see on the market are:
Neoprene: Currently, neoprene is still the most commonly used material used in knee sleeves. It is strong enough to hold your knee in place but flexible enough to allow for movement during a workout.
Nylon and Spandex: For a thinner knee sleeve, you might see nylon and spandex as the most popular option. This is because it is thin, quick to dry, and reliable enough to stay in place as you run.
Copper-Infused Sleeves: Copper weaved into your knee sleeve reportedly has anti-microbial properties. Aside from that, look at what material is used in the copper-infused cover because this will be what you feel against your skin when you wear the protection.
WEARING A KNEE SLEEVE POST-INJURY
Knee sleeves are not medical devices. If you've experienced a known injury and your doctor recommends a knee sleeve, purchase one for your use. It is not a replacement for medical treatment or care. Purchase a knee sleeve and give it a try, but don't skip doctor's appointments if you are worried about your health.
Some users do report relief from pain thanks to a knee sleeve. This is a personal review that could occur with some wearers. Reduced swelling, improved circulation, and relief all are potential effects of the product. Seek out a solution for relief, but we encourage you always to seek the supervision of a physician if you are in doubt about a potential injury.
SIZING YOUR KNEE SLEEVE
Before making a purchase, pull out the measuring tape to measure your knee sleeve. Most companies go with a measurement of your leg circumference. Start at the center of your kneecap, measure ten centimeters down, and conduct a circumference measurement of your leg.
Check the manufacturer's sizing guide before buying since measurements for knee sleeves vary. Some companies ask for a height measurement or want to know your leg length from mid-thigh to mid-knee. Make sure you skim through user reviews of the product, just to make sure you don't need to move up or down in your sizing. Also, see if the maker of the knee sleeve you are buying has a reputation for a good product. A snug fit to the knee encourages healing during and after a workout. When you wear the knee sleeve, it should not cause restriction of blood flow or serious discomfort.
THE BEST KNEE SLEEVES
Every montage of an athlete tying up her sneakers before the big finish is a few seconds of the athlete pulling her knee sleeves on for the workout. Although not as glamorous as sneakers, the humble knee cover boosts blood flow to your knee, might reduce pain, and even lowers your swelling levels.
The best knee sleeves on our list of recommendations all fit a different niche of knee sleeve users. There are recommendations for weightlifters, avid runners, gym visitors, people recovering from injuries, daily use compression wearers, and people with circulation issues.
FINAL RECOMMENDATION FOR THE BEST KNEE SLEEVES
Our final recommendation for the best knee sleeves on the market depends on your reason for use. Because each person's body is different, we recommend considering your primary use and buying your knee sleeve based on this. These knee sleeves are highly rated by users and often make use of innovative manufacturing techniques.
If you just want compression sized to fit your knee, the Wolsport Compression Knee Sleeve is a good option. Nordic Lifting Knee Sleeves are ideal for those hitting the gym and looking for extra weight-bearing support. Need a sleeve for your cardio workouts? Buy the UFlex Athletics Knee Compression Sleeve. The combination of flexibility and support is ideal.
Before you know it, adding this useful sports brace to your workout routine just becomes second nature. Any of these five best knee sleeves make good on their product promises. Try one for yourself today!