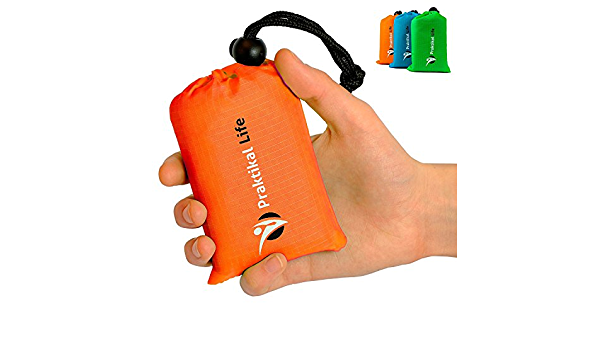 There are few things that offer a more calming experience than hanging out in the bosom of nature. However, to relax in the midst of nature's beauty, you sometimes need to sit or lie down. Hence, blankets become a basic requirement when you head outdoors. On the flip side of things, it is a huge pain to carry a large and cumbersome blanket on every camping trip.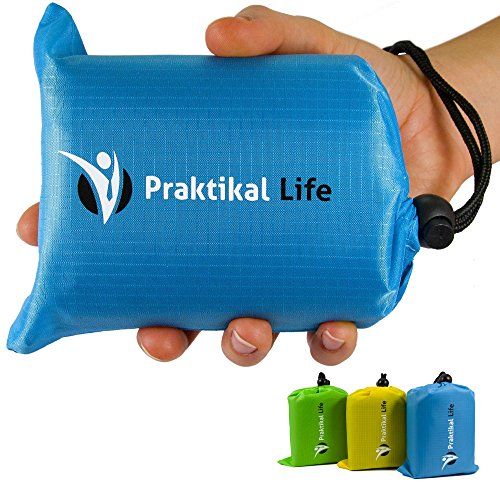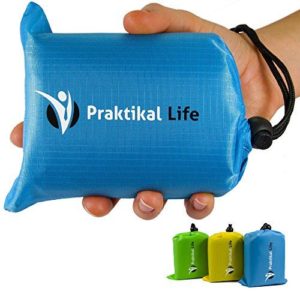 The drawbacks of a normal blanket far exceed the benefits of carrying one. That is why you need a pocket blanket. It eliminates every drawback of a normal blanket and comes with all its benefits and more. As its name suggests, you can carry it around in your pockets, and more importantly, it is completely waterproof and costs a lot less too!
In this article, we will review the highly acclaimed pocket blanket from Praktikal Life and find out why it was voted the #1 Best Compact Blanket Design. The Praktikal Life Pocket Blanket is yet another newcomer to the world of pocket blankets. However, this pocket blanket has quite a few tricks up its sleeve to disrupt the status quo.
FEATURES AND SPECIFICATIONS
Not every pocket blanket holds the honor of being the #1 Best Compact Blanket Design. So what makes the Praktikal Life Pocket Blanket this impressive? Well, an abundance of versatile features for starters. Here are some of the features of this stellar pocket blanket.
SIZE
With dimensions of 66 inches X 55 inches (167 cm X 140 cm), it simply dwarfs the other pocket blankets. While the breadth is identical to the Montem Premium Pocket Blanket and BEARZ Outdoor Picnic Blanket, its length is 6 inches larger than the competitors. This translates to 4 people being able to lie down and relax with their knees folded up. Its length is almost able to accommodate an average-sized adult with their legs stretched out.
While being much larger than its direct competitors, the Praktikal Life Pocket Blanket surprisingly folds down to a pouch with dimensions of 4.7 inches x 3.6 inches (12 cm X 9 cm). That makes it hardly any bigger than your wallet, and it easily fits in your pocket. This pocket blanket also comes with a storage pouch as standard, and unlike most other competitors, this storage pouch is detachable.
MATERIAL
The Praktikal Life Pocket Blanket's fabric material makes it possible for it to endure almost every kind of outdoor scenario. It is tough as nails, waterproof, sand proof, and even dustproof! This is surely the best-suited fabric material for pocket blankets.
DURABILITY
The durability of the Praktikal Life Pocket Blanket is undoubtedly one of its strongest points. The fabric material ticks all the right boxes when it comes to the subject of durability. The material of choice for this pocket blanket is a high-quality polyester fabric. Not only is it puncture resistant, but it is also waterproof, dustproof, and sand proof! You really cannot ask more from a pocket blanket.
Hence, the Praktikal Life Pocket is surely one of the most durable pocket blankets available on the market today. Its unrivaled toughness, coupled with its waterproof feature makes it possible to use in a wide range of treacherous outdoor conditions. You can rest assured that this pocket blanket will easily win the battle against sharp rocks, twigs, and insects.
Is this what you want? Want the best deal? Buy now!
VERSATILITY
The Praktikal Life Pocket Blanket almost scores full marks on versatility. Why 'almost', you ask? While it comes loaded with many useful features, it leaves out a crucial one, the sand pockets. However, that should not sway you away from purchasing this stellar blanket. In fact, its long list of nifty features will make you forget the missing sand pockets.
The lack of sand pockets does not mean that you will not be able to use them on the beach. This pocket blanket comes with loops in all 4 corners so that you can pin it down using stakes. In fact, we believe that the stakes do a much better job at holding down the blanket compared to sand pockets. However, you need to purchase the stakes separately.
Other than the beach, you can also use it as a picnic blanket or as a tablecloth to cover picnic tables. On top of that, the waterproof capabilities and the ripstop fabric make it possible to use it in camping and trekking environments. However, that is not all; you can also use it as a rain cover or even as a sunshade! Hence, the Praktikal Life Pocket Blanket is one of the most versatile pocket blankets available today.
OTHER FEATURES
But wait, there is more to cover! The Praktikal Life Pocket Blanket's detachable storage pouch has a drawstring to close it once you have folded your blanket inside. It also comes with a complimentary carabiner to clip onto your bag or belt loop easily. On top of that, it features a color-matched pocket to stow away your valuables.
COLOR OPTIONS
Just like its main competitor, the BEARZ Outdoor Picnic Blanket, the Praktikal Life Pocket Blanket is available in 4 vibrant shades – blue, green, orange, and yellow. This pocket blanket has a dark gray center and a pocket which is matched the color option. The detachable storage pouch has the same color as well.
CONCLUSION
When it comes to Amazon.com ratings, the Praktikal Life Pocket Blanket takes the cake. This pocket blanket's average rating of 4.4 with over 120 reviews is definitely one the highest in the pocket blanket category at the moment. Out of those 124 reviews, over 93% of them have rated this pocket blanket 4 or higher! That is very impressive, to say the least.
If we had to rate this blanket on a scale of 1 to 10, 10 being excellent, we would give it a solid 9.5. The Praktikal Life Pocket Blanket's incredible pricing coupled with its plethora of features is hard to beat. If you are in the market for a top-notch pocket blanket, then you should definitely check out this blanket.