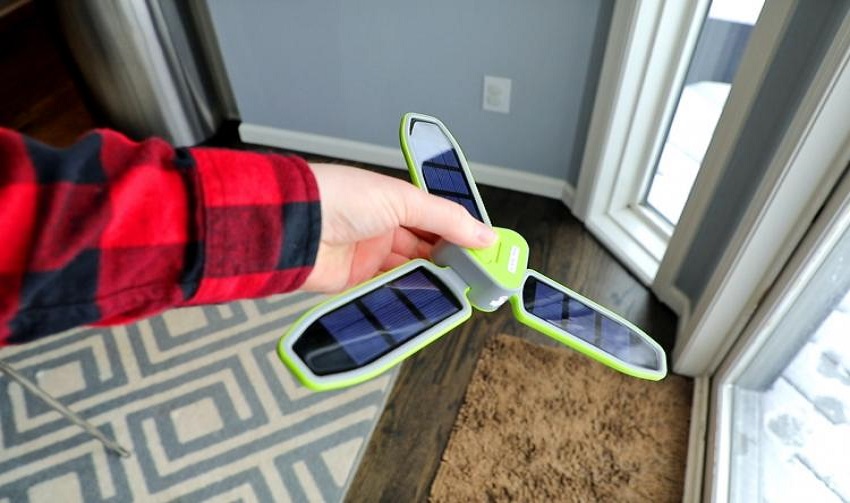 Suaoki impressed us with their tiny little hockey puck-sized camping lantern above. Now they're back to lay down the law with this awesome and inventive solar rechargeable camping lantern. With a unique shape and style, there's a lot to love about this Suaoki camping lantern. Not only that but users who love solar power and avoid battery waste will be pleased with the solar capabilities.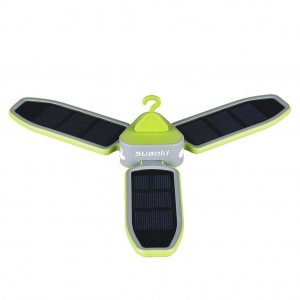 This camping lantern comes in two colors – green and orange. One of its best features is the tons of options on how you can set it up. If you stand the lantern on its legs (which also function as the lights and solar panels) you get a traditional lantern setup.
Hang the lantern from a cable, rope, or tentpole using the hookup top and adjust how the light works by folding and unfolding the legs. If you want more light, you can flip the whole thing over, unfold the legs, and lay it flat. This results in a flood of LED lighting that will illuminate an entire area.
To charge the lantern all you need to do is plug it into a traditional Micro USB cable (common on Android phones) and you'll get 3.5 hours of light on a single charge. If you leave it plugged in while operating, the lantern will continue indefinitely.
Whenever you're in an "emergency" you can use the solar panels to charge the light back up. With 18 power-hungry LEDs and three modes, it won't take long to burn down any charge made by solar charging. That's not to say it's bad to have, though! One hour of charging can result in 30 minutes of low light discharge in optimal conditions, according to Suaoki. At that rate, it will take 7 hours of full direct sunlight to charge the Clover Style Lantern.
Overall the light with its rechargeable battery comes in at just 8.2 ounces which is pretty light compared to most other lanterns. For its size and capabilities, it might be the lightest camping lantern on our list. While the Suaoki puck-style Camping Lantern is a bit lighter, it doesn't have rechargeable batteries and has far fewer options than the Clover lanterns.
One feature that the Clover Style Lantern has that's missing from many other lanterns is the SOS strobe light. Of our lanterns on this list, only the Apollo Lantern also features a strobe light system. This isn't much of a concern for those in RV or tent campgrounds, but in emergencies or urban disasters it could come in handy.
Know what you want? Buy your camping lantern here now!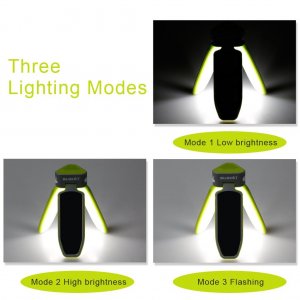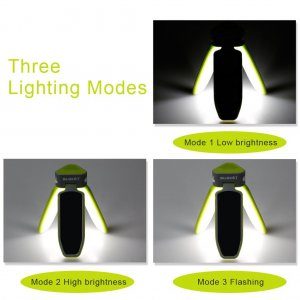 Only the Helix lantern, with its removable globe and adjustable angles, can come close to a competitor in versatility. There's no doubt that the Clover Style Lantern from Suaoki is the most advanced lantern on our list in terms of features. Rechargeable batteries, a Micro USB plug port, adjustable light arms, solar panels, and tons of setup options make it a top competitor for the most feature-rich lantern available.
If anything could make this lantern better it would be, like the puck-style lantern, waterproof housing. For a camping lantern having the durability to withstand nasty weather is a top feature. However, it's easy enough to keep this lantern safe and dry when camping at a campground or RV park. The rechargeable battery and larger size of this lantern make it most suited for use at an RV park or campsite. Hiking with this lantern is an option, however, thanks to the solar panels. But if you run into several days of rain you may not be able to leave the lantern out to charge which will leave you in the dark quickly. Best for versatility on options for lighting when you have access to a charging plug to get the most out of this advanced lantern.