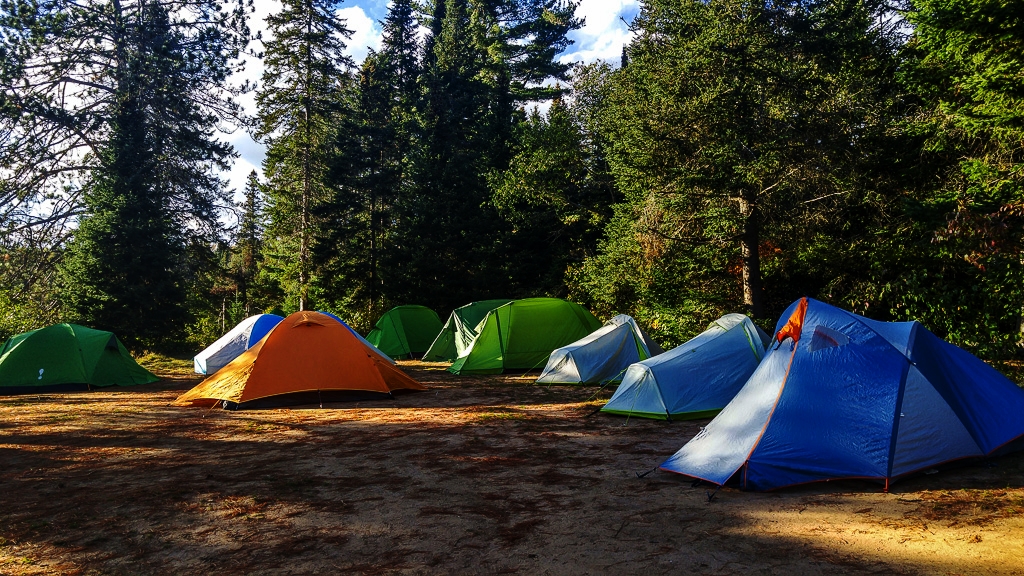 What's the difference anyway? First, the nomenclature itself is a little misleading. So let's start with the basics, and work our way up. The chief differences between four-season tents and three-season tents are wind resistance and the ability to withstand heavy snowfall. Consequently, winter tents typically come with an extra rigid exoskeleton and have steeply angled sides.
WHAT IS THE DIFFERENCE BETWEEN A FOUR-SEASON TENT AND A THREE-SEASON TENT?
By far the most popular choice, 3-season tents are lightweight shelters designed for the relatively temperate conditions of spring, summer, and fall. Properly pitched with a taut rainfly, 3-season tents can withstand downpours and light snow but are not the best choice for sustained exposure to harsh storms, violent winds, or heavy snow. A 3 season tent is generally referred to as a tent designed for use in spring, summer, and fall. These tents are designed to be lightweight and to protect from rain and wind. The build is typically designed to provide as much ventilation as possible. Open meshy walls and lots of vents will allow for air to flow freely throughout the entire tent while protecting the user from direct wind. This is to prevent condensation build-up and also allow cooler air to get inside. The side rain cover and or vestibules will usually sit off the ground to allow air to move in also. Ultra-lightweight, thin body and floor materials are becoming more and more common, providing less bulk and weight. Thinner, lighter-weight aluminum frames and sleeveless pole setup cuts weight while still remaining strong enough to survive most mild weather events. Most common is the usage of clips to attach the tent body to the poles, which speeds setup while cutting weight. Many shelters eliminate the weight of poles by allowing trekking poles (which many users already carry) to provide the structure of the tent. These shelters usually weigh somewhere between 3 and 6 lbs.
You may also read- montem ultra strong trekking poles review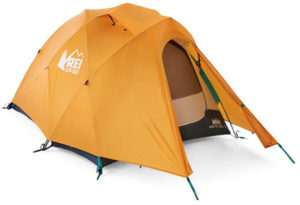 A 4 season tent is generally, a four-season tent
shelter that, despite the name, is normally used only in the winter. Snowy conditions or areas of very harsh wind are prime locations for 4 season tent usage. These tents are built to protect from snow, snow buildup, ice, hail, and high winds. The walls are often built entirely mesh-free, instead using a polyester of nylon to trap in some body heat and block out gusty winds. Vents are usually provided, which allows the tent to open up to control condensation, but this is less of an issue in colder temperatures. The rain fly or vestibules often extend completely to the ground, blocking wind, and often have flaps that fold inward, which allows for snow to be packed onto them, improving stability and protection from the elements. Thicker, more robust frame designs, almost always aluminum, are used. Full fabric sleeves can be used to further improve strength and stability but provide a slower, more complicated setup. Often times more pole sections are utilized providing better framing and better protection around the tent for stability against gusts and providing enough strength to hold up against the weight of accumulating snow or ice. Often, large extended vestibules, extra doors, additional guy-out points, and internal gear pockets are available. These tents average a weight anywhere between 8 and 16 pounds, although recent technologies have brought them down to the 5 lb range for many models.
It would be better to call a "three-season tent" a backpacking tent
, and a "four-season tent" an extreme weather tent. 3 season tents are built to withstand the typical conditions associated with backpacking: rain, wind, light hail, and some cold weather. 4 season tents are designed to handle everything else: Snow loads, high winds, harsh winters and even blowing sand. A 4 season tent is simply a tent designed to take it all, while a 3-season tent is designed to be as light as possible while sacrificing some strength and protection.
IS A 4-SEASON TENT NECESSARY?
There is no precise answer to this question and it depends on one's own personal experience when camping in winter. In fact, many campers have used a 3-season tent during winters and have had no problems at all.
The short answer to this question is that if you are going to camp in a place that features winters with moderate to heavy snowfalls and/or strong winds, you will need a 4-season tent as a 3 season one may break down and the snow may get inside providing you with an unpleasant camping experience. One of the pitfalls of using a 3 season tent during winter is that it will need regular maintenance and it will get damaged sooner than expected.
While buying a 4 season tent may seem like an unnecessary investment, it's not. You can end up saving money in the long run since using a 3 season tent during winter will not last as long as the 4 seasons. On top of that, a 4 season tent will provide you with a more pleasant camping experience. A 4 season tent will also keep warmer conditions inside which is the desired thing during cold weather.
As a rule of thumb, a 4 season tent is necessary during winters in locations where snow and strong winds are present. If there is no forecast of snow falling – even during winter-, a 3 season tent will work fine.
WHICH TENT IS RIGHT FOR ME?
As a general rule of thumb, if you're not camping in the cold, snow, or constant high winds (gusts of 30+ mph) a 3-season tent should be the way to go. They're lighter, cheaper, easier to use, and provide plenty of protection for most users. Not to mention the fact that they're quite a bit cheaper.
However, if you need strength, flexibility, and warmth, a 4-season tent can certainly add peace of mind and comfort, especially when the weather begins to create challenging conditions that might otherwise flatten a 3-season tent. The main difference between a 3-season and a 4-season tent is that the latter has a greater ability to withstand heavy snowfall and strong winds. This is because of its angled shape, outer and inner structure, and the materials being more resistant.