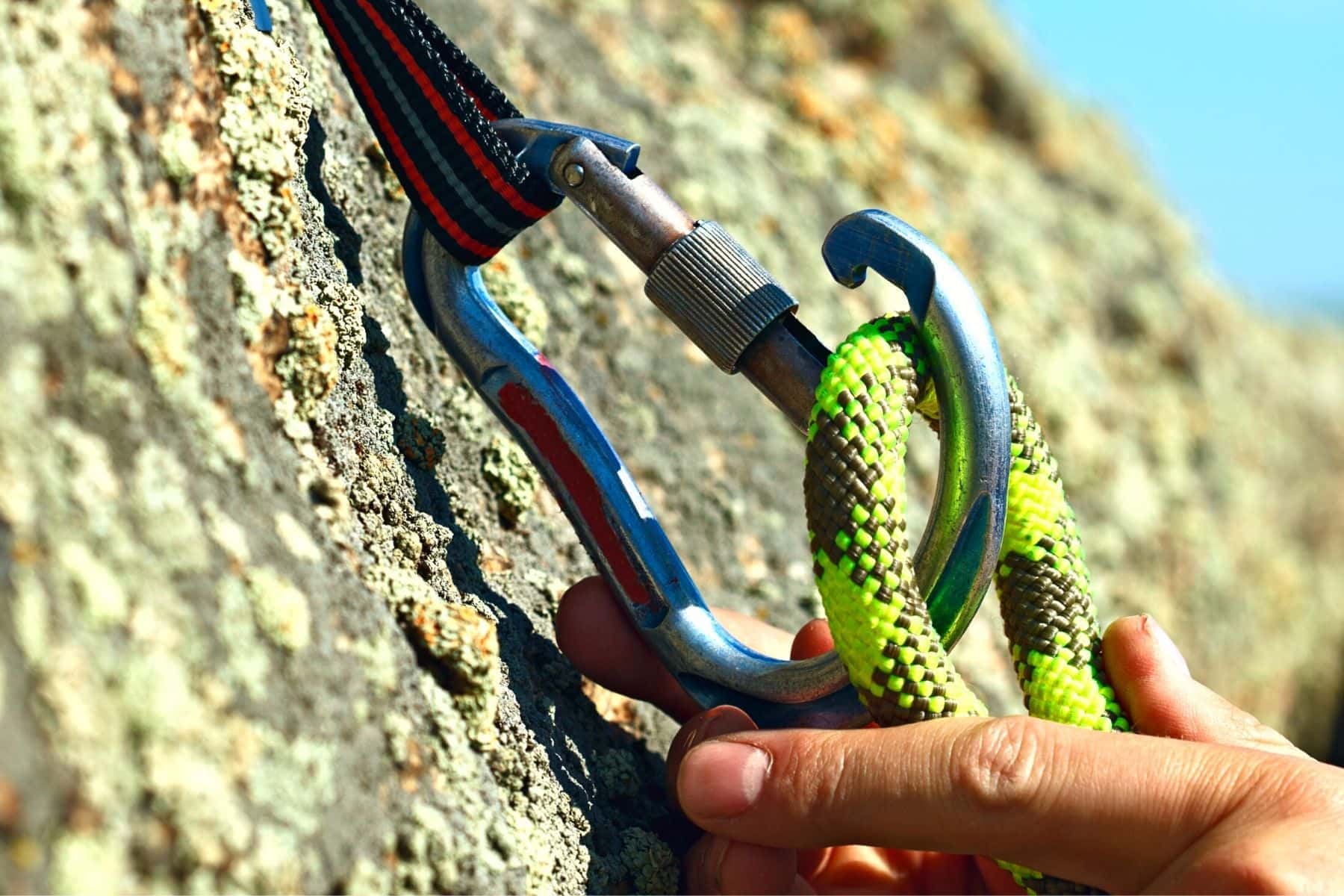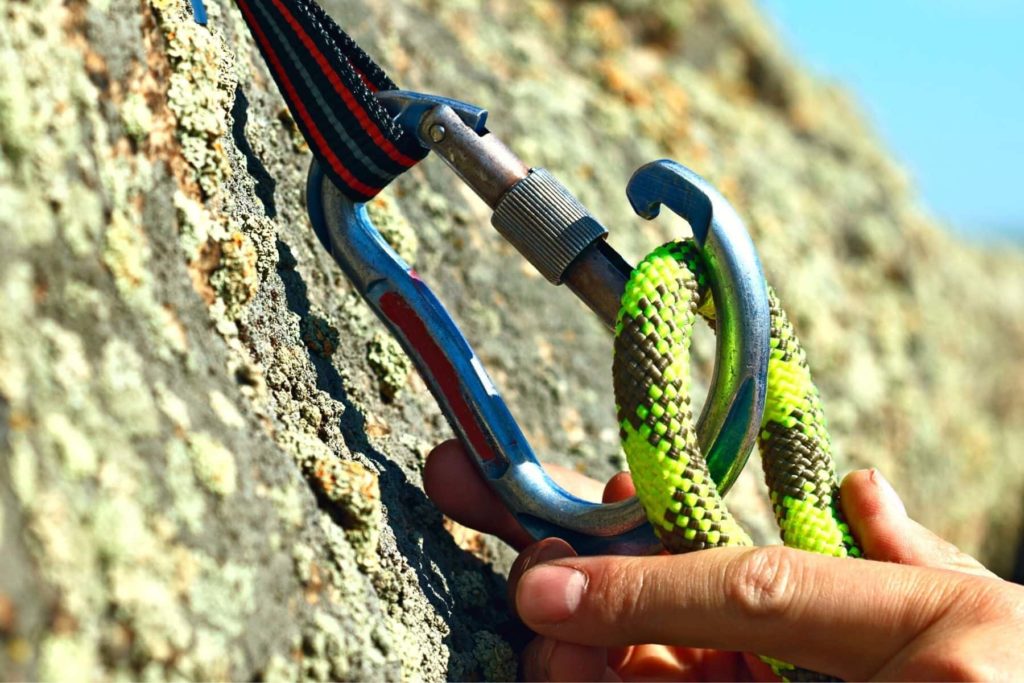 Carabiners are used to quickly and reversibly connect components. They are often used in safety systems but are also a staple in the lives of campers, rock climbers, various rescue types, and industrial rope work. These steel or aluminum fixtures are also as commonly used as keyrings. The small tools are typically made to be strong and used in intense and athletic situations.
BEST CARABINERS
| | | | | |
| --- | --- | --- | --- | --- |
| 1 | Montem Ultra Sturdy Locking Carabiners | 25 | 5 | 15 |
| 2 | Petzl ATTACHE Screw-Lock Carabiner | 56 | 22 | 24 |
| 3 | DMM Belay Master 2 Carabiner | 100 | 25 | 18.5 |
| 4 | Metolius F.S. Mini II Carabiner | 23 | 22 | 17.5 |
| 5 | Black Diamond GridLock Belay Screwgate Carabiner | 76 | 22 | 21 |
| 6 | EDELRID HMS Strike Slider Carabiner | 62 | 22 | 20 |
Know what you want? Buy your carabiners here now!
TOP RATED CARABINERS
EDITOR'S CHOICE – MONTEM ULTRA-STURDY LOCKING CARABINERS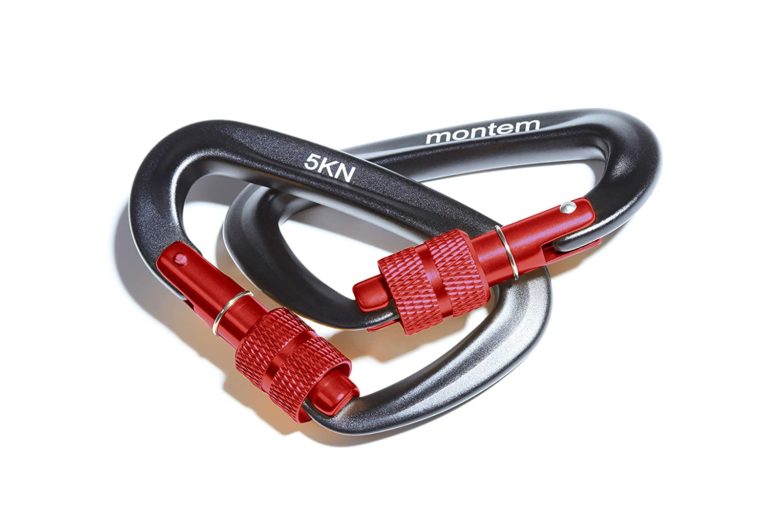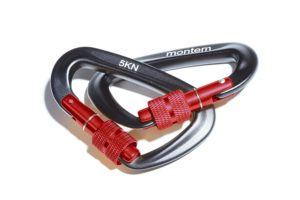 The Montem Ultra Sturdy Locking Carabiners are one of the lightest carabiners for their size. This auto-locking device uses a screw-lock mechanism for easy security. Since the gate is so easy to maneuver, the carabiner can be very easy to use in general, which is convenient for seasoned climbers. Simply twist the barrel then push against the spring load and your Montem carabiner will open with ease. Automatic re-locking when you release the pressure. To lock, simply twist the mechanism and experience true stability.
The asymmetric-D shape of this carabiner is promised to give you the best possible use of material for minimal weight. Its strength measure 5kN.
Pros:
Auto-lock feature is easy to use and reliable
Lightweight for its size
Consistent size and thickness around
Strong and sturdy
Smooth motion to use
Cons:
Not for more strenuous activities such as climbing
---
PETZL ATTACHE SCREW-LOCK CARABINER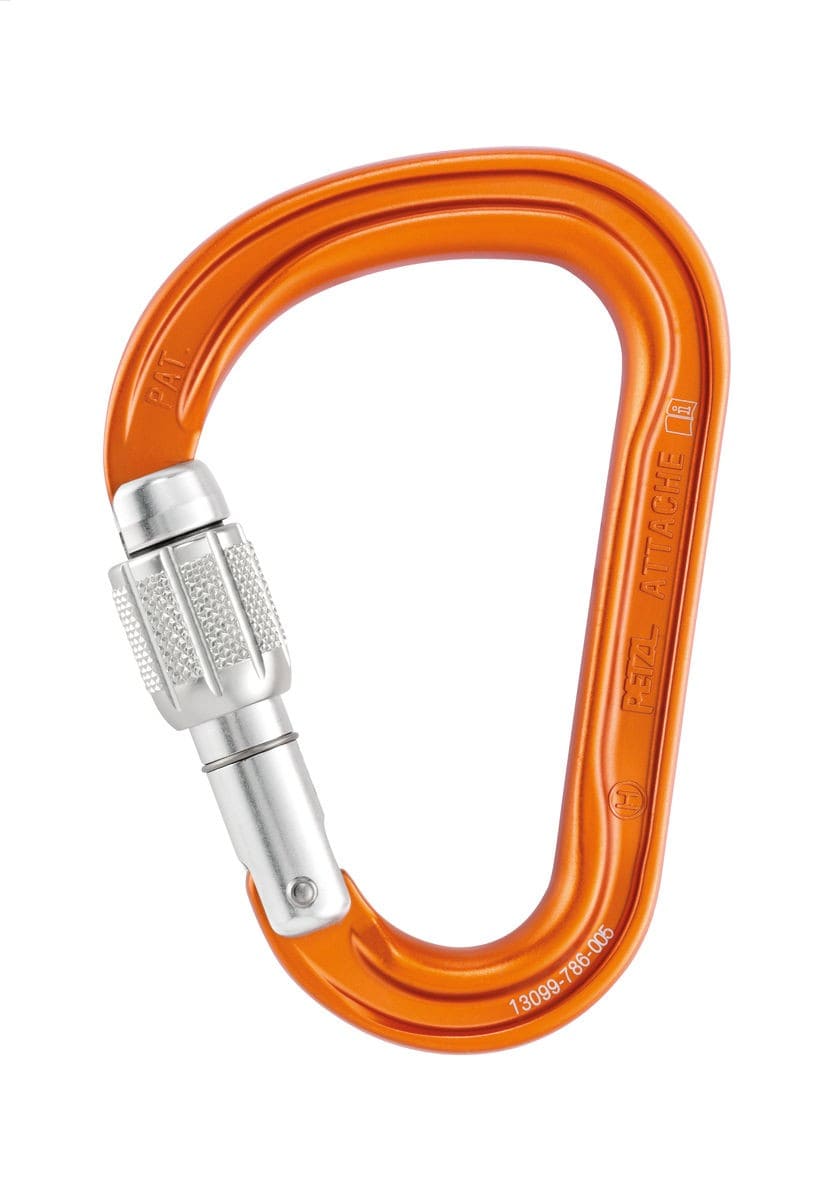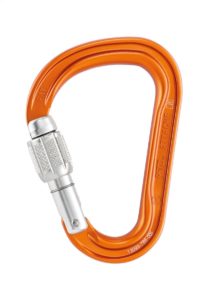 The Petzl Attache Carabiner is a pear-shaped carabiner that features a straight gate. The gate is a screw-locking gate for extra security. The game also features a red marking to let users know when the screw gate is undone.
This carabiner is very lightweight and utilizes a large gate opening for ease of use. Its keylock nose ensures snag-free use. It has a major axis strength of 22kN.
Pros:
Easy to use and lock
Screw-locking provides extra safety and security
Very lightweight
Red marking to alert when the carabiner is unlocked
Snag-free use through keylock nose
Smooth tightening
Cons:
Some customers report the locking system getting stuck
---
DMM BELAY MASTER 2 CARABINER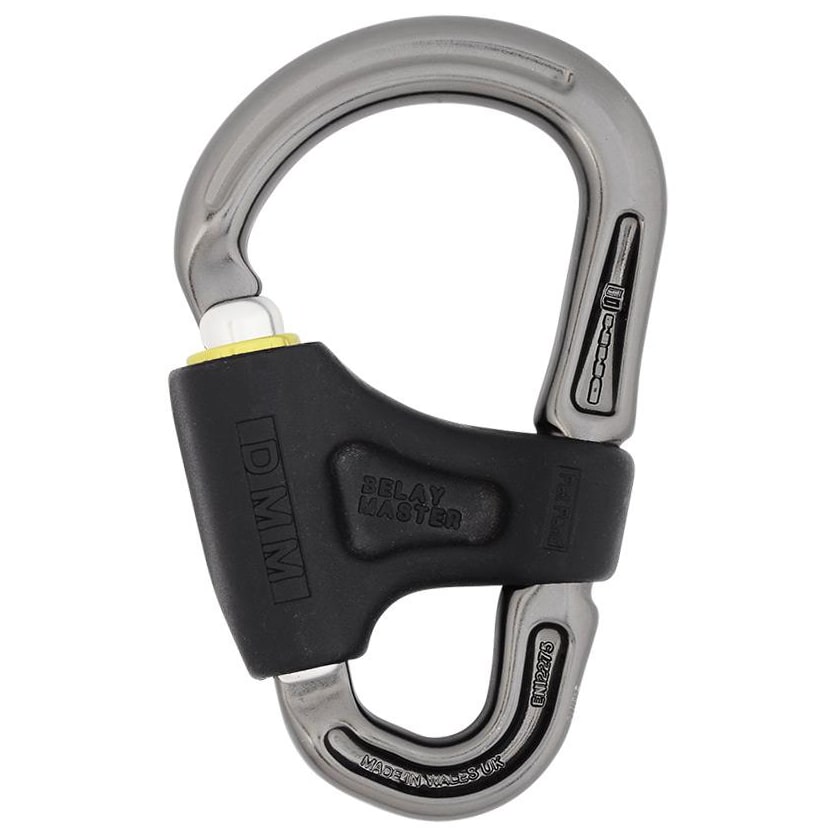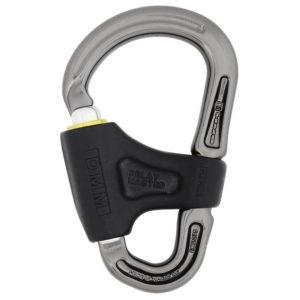 This DMM Belay Master 2 Carabiner uses a wide-mouthed gate for ease of use and features a screw-locking system. Its strength measures 25kN. The tool is designed to be very solid, safe, and effective.
In addition to its screw-locking security, the carabiner comes with a plastic extra-locking feature. While it provides extra locking, it can easily remove when not in use.  The Belay Master 2 is good for avoiding cross-loading and keeping devices and loads from moving around too much.
Pros:
Strong and sturdy
Very reliable and safe
Extra safety through the screw-locking system and plastic locking piece
Prevents cross loading
Easy to use and lock
Cons:
Plastic security pops off too easily, defeating the purpose
---
METOLIUS F.S. MINI II CARABINER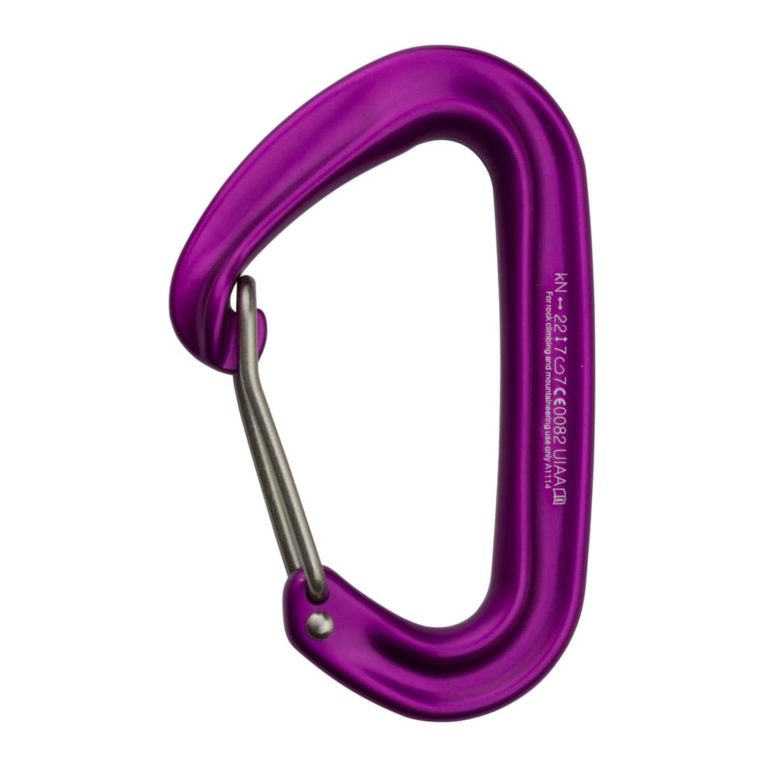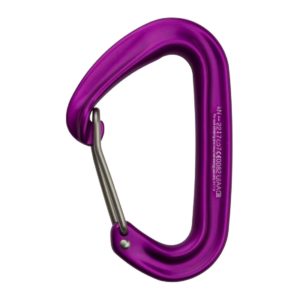 The Metolius F.S. Mini II Carabiner is a lightweight Asymmetrical D Shaped carabiner that uses a wire gate. This carabiner is small and great for holding a lot of weight, despite its smaller size. Its strength is 22 kN, and it weighs just .81 ounces.
This specific carabiner design features a flared nose profile that was created to prevent accidental gate openings. This makes this carabiner much safer than previous versions or other wire gates. They're also available in various colors and are less expensive than bigger, heavier carabiners.
Pros:
Lightweight design
Strong and small
Available in several colors for personal preferences
Affordable price point
Flared nose feature adds extra security
Popularly used for keys
Good for clipping on accessories
Cons:
The small size makes use difficult with gloves
Reported to be too small for climbs, as ropes are too thick
---
BLACK DIAMOND GRIDLOCK BELAY SCREWGATE CARABINER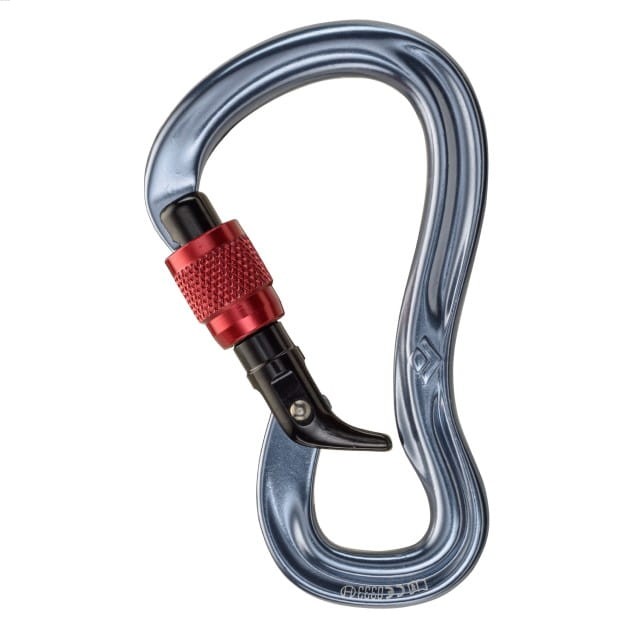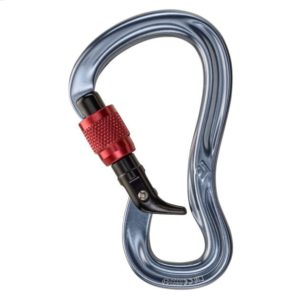 The Black Diamond GridLock Belay Screwgate Carabiner is an innovative carabiner that uses magnetic technology for extra convenience for climbers. This automatic, secure system stays in place in snowy, sandy, and any other kind of setting. While staying secure, it easily opens with either hand.
The unique shape of this carabiner works to prevent cross-loading. Its keylock nose is designed to prevent snagging. It's made to be lightweight and easy to use. The axis strength is listed at 22kN and is safe for climbing.
Pros:
The magnetic gate is great for locking
Smooth use and quick unlocking
Strong and reliable; good for climbing
Snag-free use
Visually appealing
Cons:
Higher price point
Freezes up in cold weather
Complicated belay loop use
---
CARABINER BUYERS GUIDE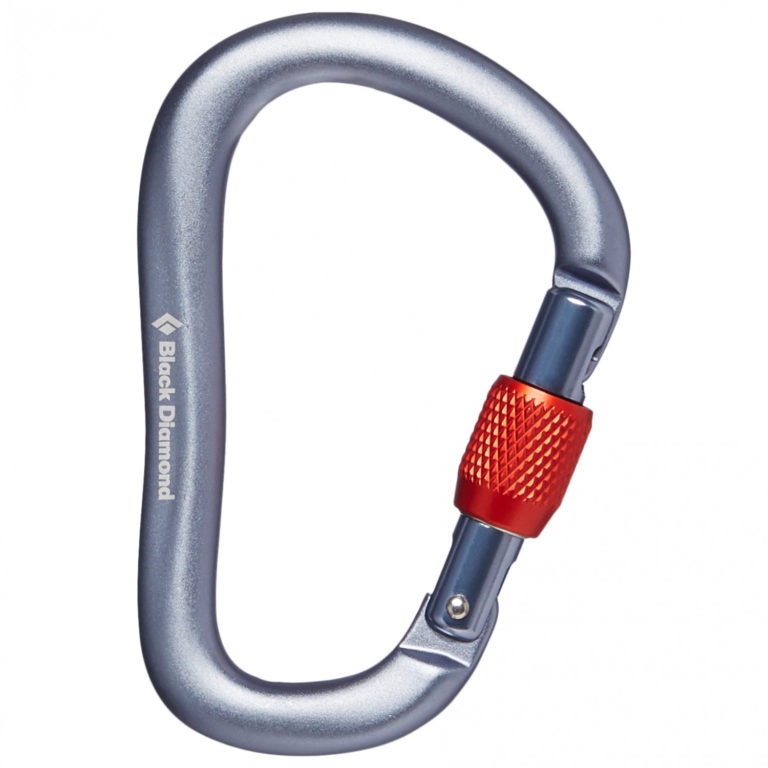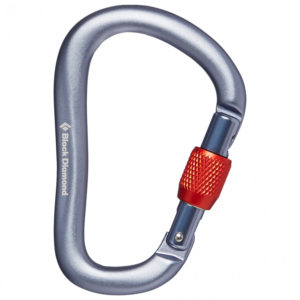 Though they may be small and lightweight, it is very important that you're choosing the right carabiners for your situation. Even though we mentioned it earlier, we're not talking about keyrings here. In fact, those types of carabiners will often time be labeled "not for climbing." So, if that's not what we want, then what do we want in a reliable carabiner?
CARABINER SHAPE
Carabiners come in different shapes. The different shapes are used for different activities and will have different levels of strengths, gates, costs, and weights.
The Asymmetric D
The most popular shape you'll see is the Asymmetric D Shape. These carabiners are slightly smaller at the bottom so as to further reduce weight. They have a larger gate opening but do not have as much room on the inside as some other designs.
This shape is both strong and light and is used by most climbers. It has a large gate opening, but unfortunately, it tends to be more expensive. It's also not quite as strong as other shapes.
Pear Shape
The Pear Shape often called the HMS, carabiners are usually used for belaying and rappelling, although it came additionally be used at anchor points. This carabiner, like the Asymmetric D, features a large gate opening so that it can allow easy clipping onto ropes, knots, and other gear.
The large gate opening is convenient, but the Pear Shape is not as strong as the Asymmetric D Shape or the D Shape. Even though it's not as strong, this design typically runs more expensive. It's also heavier.
D Shape
Coming in as the strongest shape, the D Shape carabiners are great for most kinds of climbing because it holds their loads off-center and towards the non-gated side. Even the smaller ones may be strong; they can be just as strong as any other shape.
Its gate opening is small, but it's still larger than the oval shape. Unfortunately, this shape tends to be more expensive than to oval shape, and its small opening makes it difficult to use with various ropes and hiking equipment. It's also heavier than the Asymmetric D Shape.
Oval
Finally, we have the original carabiner shape. The oval shape tends to be the most affordable and versatile, even though they're not as strong as the other three shapes. The curves in their shape help to keep loads from shifting, and they're good for holding gear.
The downside, aside from not being as strong, is that the oval shape has a smaller gate opening. It also runs heavier than the other shapers.
CARABINER GATE TYPES
There are three different gate types that you can find on a carabiner. Each of these gates has its pluses and minuses. Their differences make them better for different activities and use.
Straight Gate
The straight gate is the most common of all the gates. This is the kind of gate you're likely to see on the carabiner holding your car keys. This spring-loaded gate is durable and easy to use. Its keylock nose is good to avoid snags. This feature makes a straight gate a bit more expensive, but usually worth it.
The straight gate tends to be heavier than a wire gate, but its ease of use and keylock are good features to combat that.
Bent Gate
The bent gate is just what it sounds like. It's like a straight gate but bent inwards in the middle. This design makes it quick and easy to clip onto ropes. It also features a keylock nose that makes it easier to avoid snags.
Like the straight gate, bent gate carabiners are heavier than wire gates.
Wiregate
Unlike straight gates and bent gates, which are solid, the wire gate carabiners use a loop of stainless steel wire for their gate. The wire gate is a good choice because it lessens the weight of the carabiners while also providing a larger opening. They are also not prone to freezing up like the others when in cold and wet environments.
Most of these wire gates are just as strong as the other types of gates. They're also less likely to vibrate open. While just as strong, they may be less durable.
OTHER FEATURES
Some carabiners use locking gates for extra security. These locks are either auto-lock—meaning they lock every time the gate is closed—or they're screw-lock—meaning the user has to manually screw a sleeve onto the gate in order to lock it. Locking carabiners tend to be heavier.
Some other things to consider more specifically are the carabiner size, the weight, and the strength. When you're purchasing carabiners, the product details should tell you the strength ratings along with the size and weight. Typically, lighter and smaller carabiners will be weaker than bigger heavier ones, but not always.
WHAT TO USE A CARABINER FOR?
Carabiners have several uses. Of course, the most popular and probably well-known answer to this is rock climbing. It's no secret that carabiners are a major part of this extreme sport. Carabiners are used throughout the climbing process—climbing, rigging, rappelling, and securing.
However, carabiners have lots of other uses. Campers find this item particularly useful. They're very handy for clipping items onto belts or backpacks. They provide an easy way to keep things together and in reach without having to mess with ropes or knots. Carabiners provide easy access to things like a water bottle on a hike. Carabiners are also mainly used to hang your hammock or attach your hammock to hammock straps.
These small tools can be used to do things like rig up a rain shelter or set up a hammock. They're good for hoisting up food and bags to protect from animals. Tree climbers use carabiners too. If you're looking for less conventional uses, carabiners can be used for things like holding keys, gathering wire together, keeping cages and containers closed, securing harnesses for animals, and much more.
WRAPPING UP
After reviewing a few of the top carabiners in the industry, we've narrowed down the best of the best, and our best is the Montem Ultra Sturdy Locking Carabiner. This asymmetric-D-shaped carabiner features a screw-locking gate for security. This is the same as a couple of other carabiners we reviewed but at a more attractive price point.
The Montem carabiner is smooth and easy to use. Its keylock nose lets you freely attach and detach without snagging, and the tool itself is very lightweight. With a lot of strength, the only complaint really found for this item was that the screw-locking system can get a little stuck sometimes.