Whenever you're using a hammock, you can't avoid looking at the hammock straps. These straps are the sole source of suspension, and having a useful set can make a difference in your comfort and whether or not you end up having a relaxing recline or end up on the ground.
Sometimes a hammock won't come with a strap, or it may have rope instead. While ropes can get the job done, it's still best to consider and invest in a proper hammock strap to get the job done. While the concept isn't complicated, there are still core components to ensure that you're getting a quality hammock strap. For your ease, we've compiled together the necessary qualifications, as well as our top choices for the best hammock straps around.
| | | | | |
| --- | --- | --- | --- | --- |
| 1 | Montem Thicc Hammock Straps | 12 | Polyester | 1,200 |
| 2 | MalloMe XL Hammock Straps | 12 | Polyester | 2,000 |
| 3 | Nature's Hangout HangTight Hammock Straps | 10 | Polyester | 1,200 |
| 4 | Ollieroo Hammock Straps | 10 | Polyester | 780 |
| 5 | Wise Owl Outfitters Hammock Straps | 10 | Polyester | 1,000 |
| 6 | Sahara Sailor Hammock Straps | 10 | Polyester | 1,400 |
| 7 | Bear Butt Parachute Kodiak Hammock Straps | 10 | Polyester | 1,200 |
Know what you want? Buy your hammock straps here now!
TOP RATED HAMMOCK STRAPS
EDITOR'S CHOICE – MONTEM THICC HAMMOCK STRAPS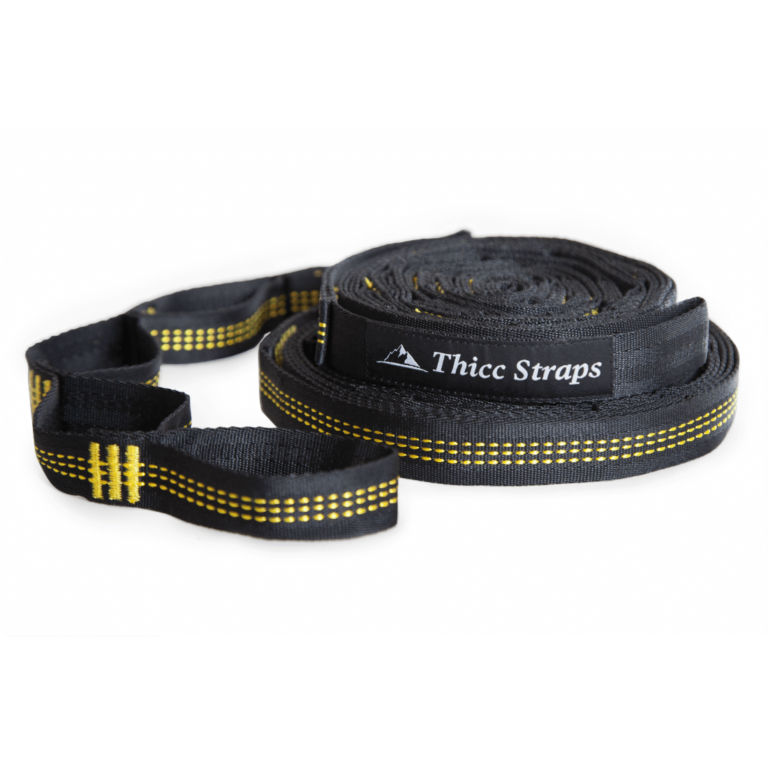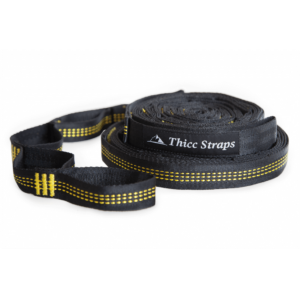 At 10 feet long a piece, a set of Montem Thicc Hammock Straps will support a hammock with anchor points up to 20 feet apart. They come with three attachment loops, and the 40 hammock attachment loops give you the flexibility to find the best angle for your hammock. Besides just connecting to trees, these straps are versatile enough for posts, roof racks, and even large rocks.
Each cord can support an overall weight capacity of approximately 1,200 pounds. They'll hold up to the test of weight, and the triple-stitched polyester webbing resists stretching. Montem built these straps to last.
The set comes with two straps and a carry bag, and the whole collection weighs about 1.2 pounds. They're also one of the cheaper alternatives on the market, making them a bargain without sacrificing quality.
Pros:
Flexible for different hammock positions
Comes with bag
High weight capacity
Affordable price
Cons:
Some other models include carabiners
---
MALLOME XL HAMMOCK STRAPS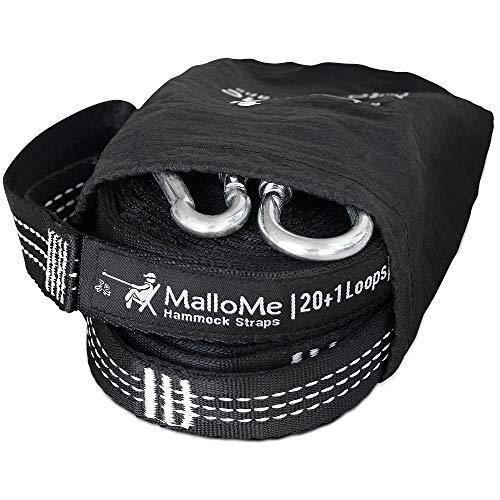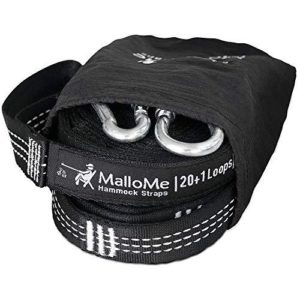 The MalloMe XL Hammock Straps are 12 feet apiece, making them the longest product on our list. If you need to cover a broad distance for your hammock support, the length gives you plenty of options. 40 hammock attachment loops also add to the flexibility, and the daisy-chain loop system makes adjusting the hammock simple. The one-inch band is also tree friendly.
The total weight capacity for this set is 1400 pounds. With polyester webbing, you don't have to worry about your straps stretching and making your hammock sink.
Weighing 1.2 pounds with the included bag and carabiners, this set makes for easy packing. It also comes with an instruction card to help you set up your hammock with ease.
Pros:
The longest strap of our picks
High weight capacity
Comes with an instruction card
Tree-friendly
Cons:
The included bag is not very large
Might be too heavy for hiking and backpacking
---
NATURE'S HANGOUT'S HANGTIGHT HAMMOCK STRAPS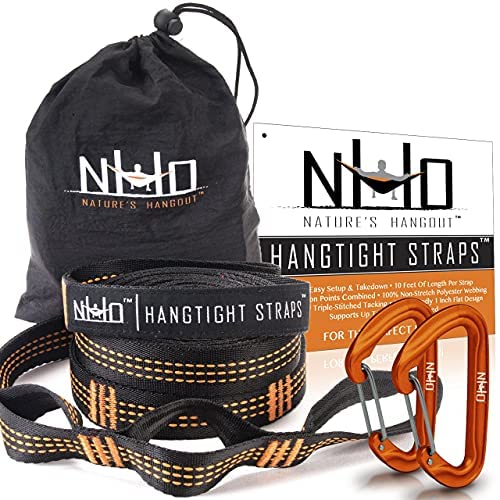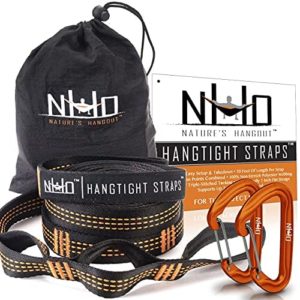 With a combined length of 20 feet, Nature's Hangout's HangTight Hammock Straps can put up your hammock across a wide variety of anchor points, and the width of the band makes for tree-friendly hammocking. The smaller-sized daisy-chain loops give you more adjustment options, and the straps have a combined total of 32 rings.
These straps have been strength tested to up to 2200 pounds, and their combined weight limit goes up to 500 pounds. The reinforced bar tack stitching along the loops gives extra support for your hammock.
The included bag with these is made to be lightweight, and it even has a connector to hook on the outside of your backpack if you need extra space on the inside. The included carabiners were built to prevent snagging along the strap. The whole set weighs a little over 0.8 pounds, making it an excellent contender for backpackers.
Pros:
Carabiners made not to snag the strap
Tree-friendly
The bag attaches to packs easily and is lightweight
Cons:
Some unclear product descriptions of weight capacity
---
OLLIEROO HAMMOCK STRAPS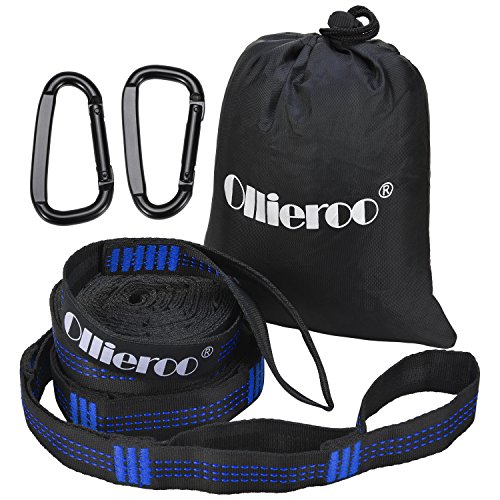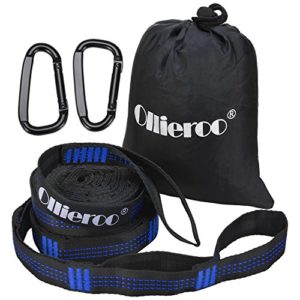 The Ollieroo Hammock Straps set comes with two 10 feet straps, for a total distance of 20 feet. Each strap has a total of 15 connection points, so it has a few fewer adjustment options than others on our list.
Though not as flexible, these straps are sturdy enough to support up to 580 pounds, making them a set suitable for double hammocks that need to support two people. The 100% polyester material works to resist stretching and to keep your hammock stable.
The lightest of our picks, the whole set with bag and carabiners weighs exactly 0.8 pounds. If weight is the most significant qualifier for a strap to you, these are the way to go.
Pros:
Can support double hammocks
Lightest of our picks
Sag-resistant
Cons:
Fewer adjustment options than others on our list
The material is a bit rough
It May has not come with carabiners
---
WISE OWL OUTFITTERS HAMMOCK STRAPS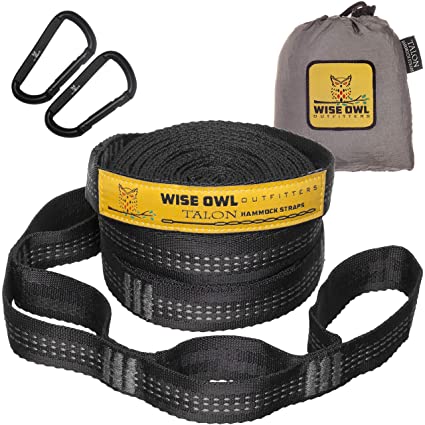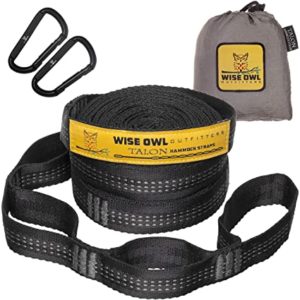 With 38 total adjustment loops, Wise Owl Outfitters Hammock Straps give a lot of adjustment options for their 20 combined feet. They're also wide enough to be tree-friendly, so you don't need tree mesh. The weight capacity pulls together to hold up to 1,000 pounds, so you can get some solid stability and support even at the lowest weight capacity on our list. The reinforced stitching helps give extra durability.
The whole set of bag and carabiners adds up to 1.3 pounds, so they take the spot of the heaviest straps on our list. These are best suited for hammock users that won't be backpacking or intend to keep their hammock up in one place. These straps also have nine different color options, so if you want to match your hammock, you have more choices than with any other set of straps on our list.
Though they are the highest-priced item on our list, Wise Owl does offer discounts when you buy several of their products, so if you're purchasing a set, their deals may be worth checking out.
Pros:
Variety of color options
Tree-friendly
Hold up against hammock swinging
Cons:
Most expensive of our picks
Lowest weight capacity of our picks
---
HAMMOCK STRAPS BUYERS GUIDE
For such a small piece of equipment, the hammock strap has a big job: supporting the weight of your hammock and keeping you above ground. Since it takes on a lot of stress, it's important to keep in mind the durability, length, and versatility of the product. Campers will also want to consider the weight of the strap, as well as how well it works when used with trees.
DURABILITY
As we're looking at a piece of equipment that takes on a lot of weight, you'll want your hammock strap to stand up over time. Beyond just supporting your weight, a good hammock strap will be able to withstand the elements without taking on too much wear and tear. Since you most likely want to hammock outdoors, durability against the weather will be a must.
LENGTH
While you can use poles to tie your hammock to, there's a chance you'll want to set it up in between a couple of trees. If you already have a spot in mind, you can make sure that your straps will be long enough to reach your support points before you purchase. For campers, where you're going to be set up will often change, so you'll want to have a longer strap that can cover more space, so you don't miss out on the perfect camping spot.
VERSATILITY
If you're planning on using your hammock in different places or for various purposes, making sure your strap is versatile enough to handle a variety of environments is essential. You may use your hammock in the backyard one time, then on a camping trip the next, and what you'll be attaching your straps to will vary. You want to make sure your support will work just as well wherever you hang it.
WEIGHT
For any camping supply, weight is often a concern since you don't want to overload yourself when hiking or carrying your supplies around. It's best to aim for a lightweight, thin strap that won't take up too much space in your pack or add too much weight to your load. Thankfully, most high-quality straps meet both requirements and still can support a large weight capacity.
WEBBING AND TREE STRAPS
If you're going to be camping and plan to use trees as your supports, either webbing or tree straps is essential. These will spread out the weight of the hammock over a wider area, reducing the chance of scarring the tree with the concentrated force of a thin strap or rope.
Beyond just being good for the trees you use, tree straps tend to have easy-to-use clips. If you're not familiar with ropework or don't want to stress about your knots coming undone at the wrong time, a tree strap will give you a simple and secure alternative.
WRAPPING UP
Though all these straps will give you a secure and straightforward experience when settling into your hammock, our choice for the number one slot is the Montem Thicc Straps.
The lightweight design and convenient transport options already make for a strong case in any hiker or backpacking camper's book. When you combine that with the sturdy build, adjustability options, and tree-friendly width, you get a set of hammock straps that's hard to beat, especially at under 25 dollars. Whichever straps you go with, you can't go wrong with any of our choices to keep you hanging in comfort