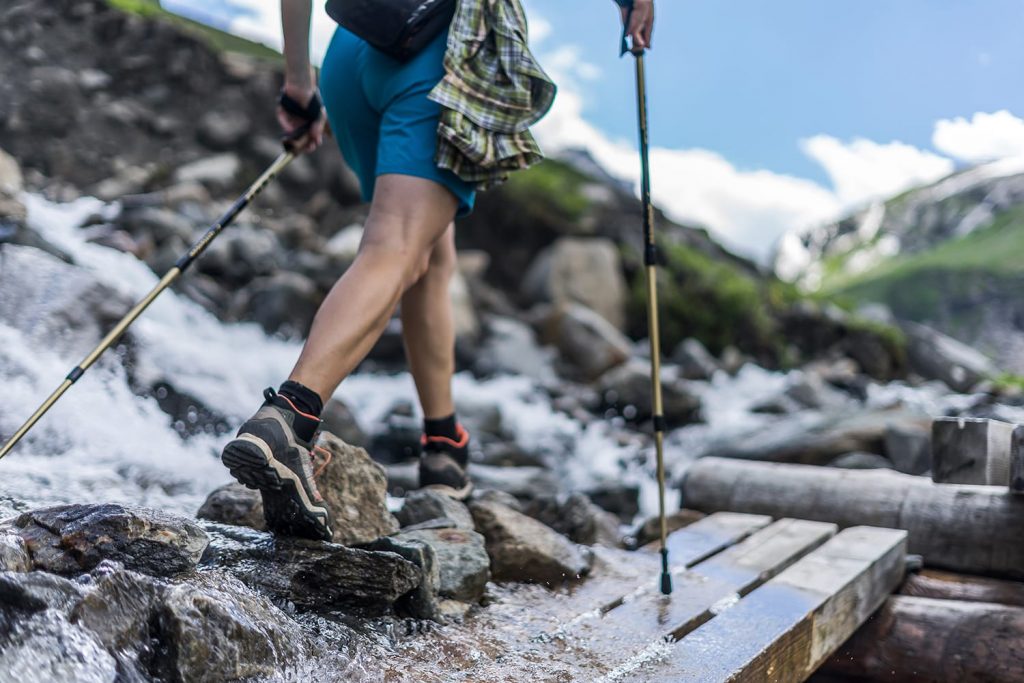 Ever been in the midst of a long-haul hike, back aching, wishing that you'd have picked up a walking stick five miles downhill when you had the chance? We've all been in the same position, but luckily there's an easy solution: a set of trekking poles.
If you're wondering which trekking pole offers an excellent panorama of great features, you've come to the right place. In this article, we'll give you a Montem Ultra Strong Cork Trekking Pole review and explain which features you want in a trekking pole and which you don't.
Not all trekking poles are created equal, and many trekking poles have niche uses that aren't suitable for everyone. In this section, we'll discuss what you can expect from a good trekking pole and what things even the best trekking poles won't be able to do for you.
WHAT A TREKKING POLE CAN DO FOR YOU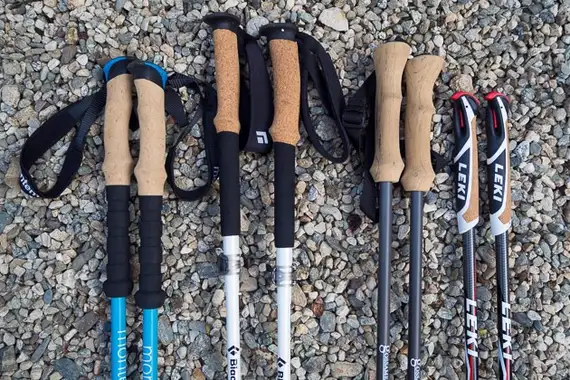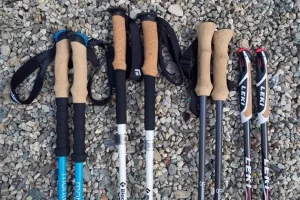 Trekking poles make your movement more efficient and give you an extra measure of steadiness when climbing or descending on uneven terrain. If you're interested in camping, some trekking poles can also double as tent poles, which can save you some weight in your kit. Trekking poles can also help you to ford rivers and streams by letting you test the ground before stepping.
Fundamentally, the role of the trekking pole is to make your life easier by giving you the balance that a four-legged animal would have without the trouble of being one.
WHAT A TREKKING POLE CAN'T-DO FOR YOU
Trekking poles can't help you climb sheer vertical surfaces, and should not be confused with climbing picks. Likewise, trekking poles can't help you fend off wild animals that you may encounter on your hikes, nor can they make up for fundamental weaknesses in your physical fitness.
WHAT FEATURES SHOULD A TREKKING POLE HAVE?
A good trekking pole should be lightweight, have an extremely comfortable and non-slip grip regardless of whether the user is wearing a glove or not, and be extremely sturdy.
The diameter of the trekking pole's tip is a matter of preference, but most trekkers will find that a wider diameter tip provides for an easier hike because it allows for more force to be applied through the pole without the danger of slipping like would be the case with a narrower or pointier tip.
WHO SHOULD BUY A TREKKING POLE?
If you plan on going on long-haul hikes, you should buy a trekking pole. Trekking poles aren't aids for the infirm; they're critical parts of your hiking kit that allow you to traverse far greater distances with less exhaustion and more safety via their increased stability.
Hikers who primarily plan on walking across flat fields probably don't need trekking poles, as they don't offer much of an advantage on flat terrain.
OUR TAKE ON THE POLE
The Montem Ultra Strong Cork Trekking Poles are a prototypical example of a great trekking pole. These poles are affordable, lightweight, adjustable, and have a comfortable cork handle. The Montem pole also has a wide point, which means that it will confer a maximum amount of stability and efficiency to your hike.
Know what you want? Buy your trekking poles here now!
If you're a hardcore hiker who needs a multi-utility pole that's the lightest and strongest in the coldest weather, this isn't the pole for you—but for most other poke seekers, this pole will be an excellent choice because of its comfort and stability.
Pros:
Cork handles feel great to use and mold to your hand over time
A wide diameter tip means that you can climb up or down with a lot of stability
A secondary grip beneath the cork grip can sometimes be useful for length adjustments on the fly
Cons:
Cork handles tend to slip in heavily gloved hands
Poles don't collapse
FEATURES AND BENEFITS
The handle of the Montem pole is extremely ergonomic, which will help to reduce hand fatigue that can sometimes occur while trekking using poles. The cork handle will mold to your grip in time, which is another great feature that improves the stability that the pole can provide. If you don't want a cork handle, you can try the EVA foam Montem Ultra Strong trekking poles.
The pole is also adjustable, so you'll be able to configure its length to your liking and get the most efficiency out of every stride. These poles are lightweight but compared to other hiking poles have a bit of heft to them, which may be a pro or a con depending on your individual preference for poles. The pole's added heft means that it's more durable than other poles might be, which means you can hang on to it for many miles.
ALTERNATIVE POLES
HIKER HUNGER CARBON TREKKING POLES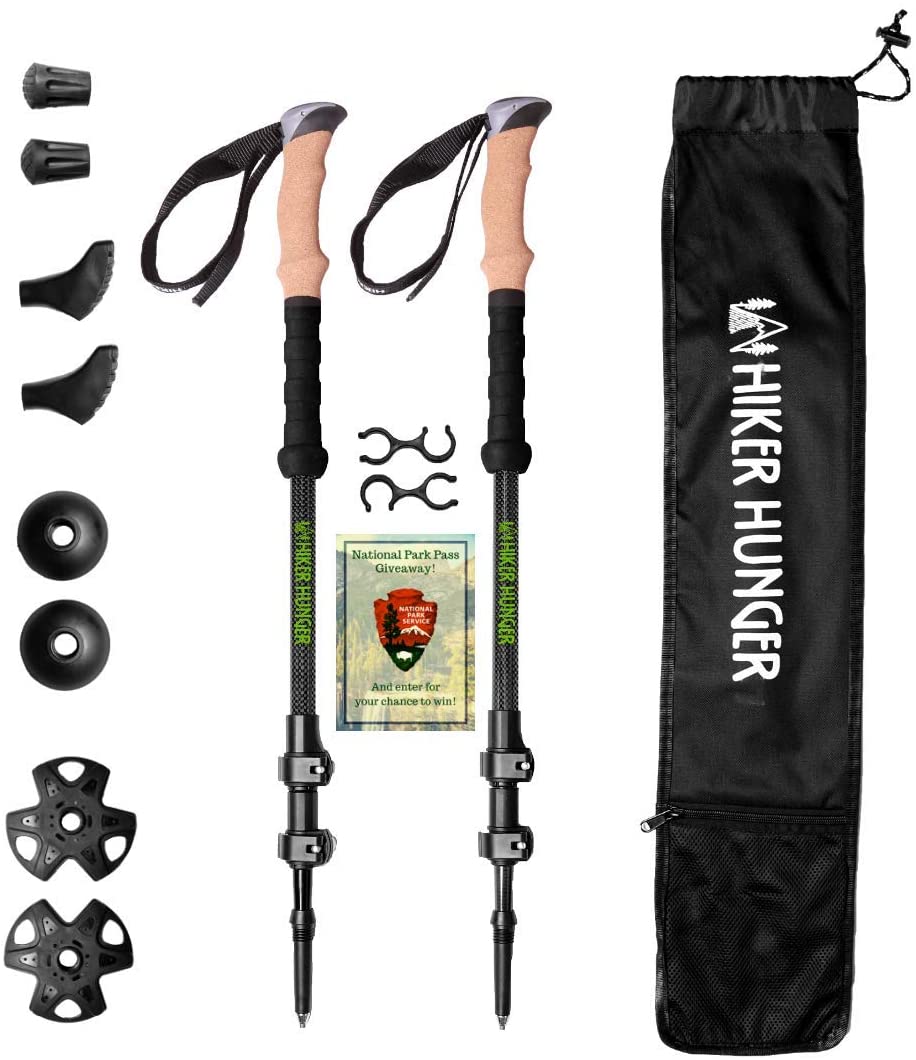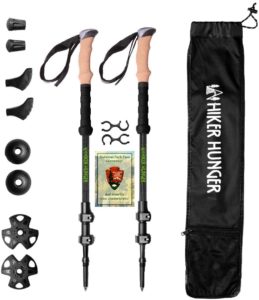 The Hiker Hunger Carbon Trekking Poles are a more serious pair of poles that come with fancy attachments and a much pointier tip while sharing the comfortable cork grip. These poles are ideal for hikers who need less stability on the longest parts of the hike, but more stability on the most precarious parts like climbing on rocks. We wrote about them here.
More useful secondary handle
Heavier duty all around
Not as easy to use for amateur trekkers
Doesn't offer as efficient as a stride
If you're an intermediate-level trekker, the Hiker Hunger poles are worth checking out.
BLACK DIAMOND TRAIL PRO SHOCK TREKKING POLES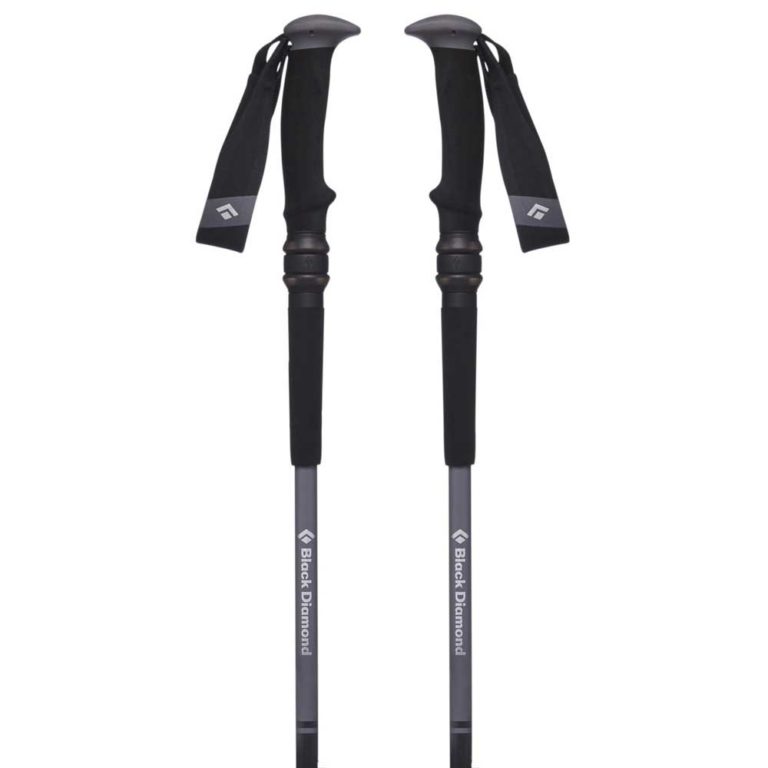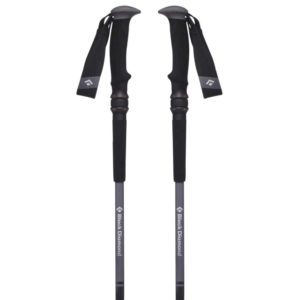 The Black Diamond Trail Pro Shock Trekking Poles are notable in that they can double as ski poles and are made with foam grips rather than cork grips. These poles have very sharp tips and are extremely lightweight, and are more expensive as a result.
Can double as ski poles
Not very durable
The grip is not comfortable
Harder to adjust the length
Stronger hand straps
If you see yourself skiing through portions of your hike, check out these trekking poles and see if they're right for you.
CASCADE MOUNTAIN TECH CARBON FIBER TREKKING POLES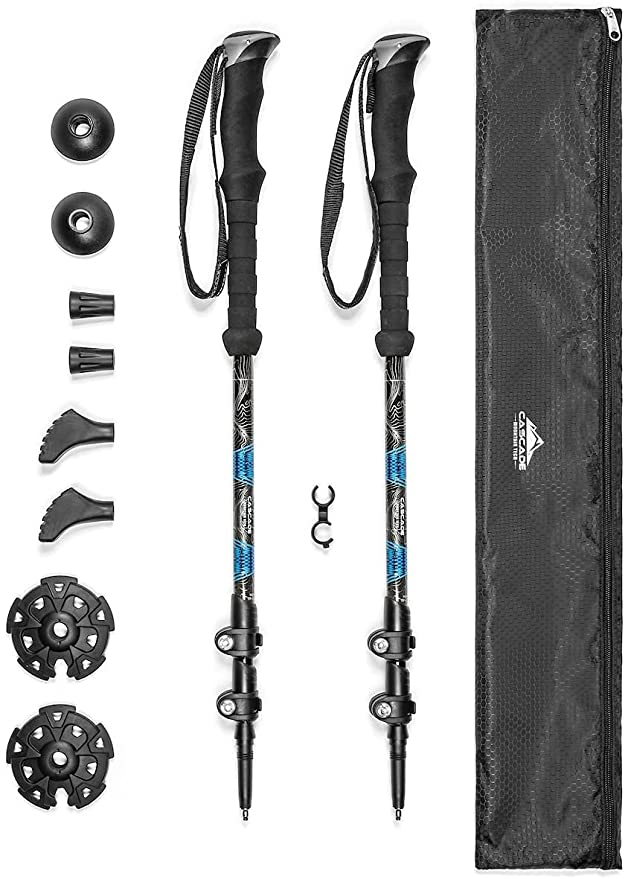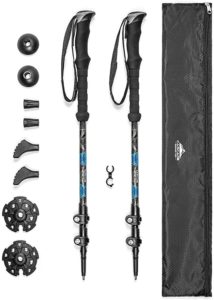 The Cascade Mountain Tech Carbon Fiber Trekking Poles are complicated but highly configurable poles that are extremely sturdy, affordable, and customizable to your liking. If you're willing to put some time into tuning these poles, they can address any challenge that you throw at them.
Modular pole design offers unparalleled flexibility of use
Durably built and easily telescoping
Heavy, but can be made lighter via configuration
Requires knowledge of trekking preferences to customize properly
If you're an expert trekker or hiker with strong preferences about your hiking pole, the Cascade Mountain poles can be configured exactly to your liking and are worth checking out—especially the configuration kits.
WRAPPING UP
Improving your endurance on a long hike with a trekking pole is a great decision. The Montem Ultra Strong Cork Hiking Poles are an excellent choice of poles because of their durability, comfortable grip, broad tip, and affordable price.
If you think that you're going to be doing a lot of hiking, the Montem poles are worth your time to look into because their comfort and efficiency only improve with the amount of time that you use them.