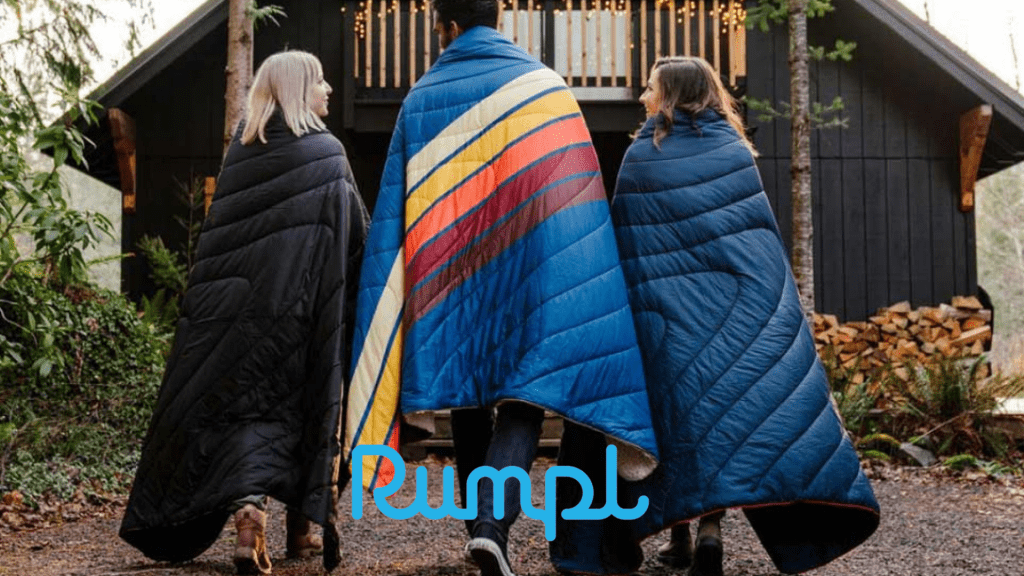 Finding the perfect blanket is no small task. There are so many to choose from, and it's hard to know what the best option is based on price, fabric, warmth, and various other factors.
I've been on the hunt for a versatile blanket that I can use every day on my bed, for snuggling by campfires, and to keep warm while camping. The Rumpl Puffy Blanket seems to hit those marks, so let's examine it further in this review.
CONSIDERATIONS FOR BUYING A PERFORMANCE BLANKET
When looking for a versatile performance blanket, there are a few important things to consider. Your purpose for the blanket is a big concern, as many blankets are warm but not suitable for freezing temperatures. If you're looking for a winter camping blanket, you may need to look for a blanket with a lower temperature rating.
When researching performance blankets, consider the following:
What climates do you need the blanket for? Do you need a blanket for 50-degree nights, or are you camping in freezing temperatures?
Do you need to carry the blanket for a distance? How lightweight is it and does it fold up compactly?
What special features are you looking for, such as waterproof or stain-resistant?
What price range are you comfortable with?
Are you looking for a blanket to be your sole bedding accessory while camping or something to layer over your sleeping bag?
Know what you want? Buy your puffy blanket here now!
There are several blanket options out there, each with a unique set of features and benefits, so it's important to know your priorities when you start researching.
PRODUCT DESCRIPTION
The Rumpl Puffy Blanket combines the comfort of an indoor comforter with the durability of an outdoor blanket. You might describe it as an open sleeping bag without zippers, with a ripstop nylon shell and synthetic insulation.
Pros:
Multiple size options, including throw blanket, twin, and queen
Very warm for a variety of environments, great at retaining heat
Waterproof, odor and stain resistant
Lightweight, with stuff sack included
Machine washable and dryable
Cons:
Slippery and often slides off if not tucked in (however there are loops to tie it down)
Fabric isn't breathable, so can get too hot depending on the temperature
Not suitable for freezing temperatures
FEATURES & BENEFITS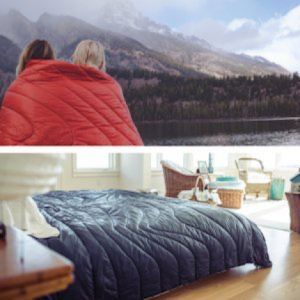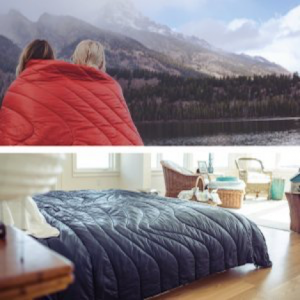 This blanket is extremely versatile, with multiple size options and fabric suitable for indoors or outdoors. It's a great blanket to keep on the couch and then take outside for cool nights or to keep in your car for outdoor adventures from ball games to campfires.
The materials and construction make it very durable to hold up for all those various environments. The ripstop nylon and DWR shield outer layer makes the entire blanket waterproof, plus it is stain and odor resistant, which is so important for a multi-use blanket like this. Plus, I love that you can toss it in the washer and dryer if needed, without worrying about damage or loss of functionality.
The Rumpl Puffy Blanket is made to be your "go everywhere" blanket, with a convenient stuff sack included. It balances warmth and heat retention with a lightweight feel, making it easy to transport yet highly functional.
ALTERNATIVES
The Rumpl puffy blanket has many alternatives, with the most comparable being the Montem Sneaky Snuggler Blanket. It comes with the same features at a more affordable price. Below are some other alternatives.
KELTY BESTIE BLANKET
The Kelty Bestie Blanket is another durable, versatile blanket. It doesn't have as many features as the Rumpl Puffy Blanket but is at a lower price point than many would prefer. The significant downside here is the size, which is about the size of a throw blanket but not as wide. Many adults find it hard to wrap this blanket around them or use it as a head-to-toe blanket. However, if you're looking for a warm blanket for lounging on the couch or in front of the campfire, the size could be perfect for you. We wrote about it here.
Only available in one size (75.5"x42.5")
Nylon outside for durability, with cozy fleece-like inside fabric
Lightweight and includes a stuff sack
Outside is water resistant but not waterproof
If the price of the Rumpl Puffy Blanket is too high—or you don't need all the extra functionality—the Kelty Bestie Blanket might be a great option for you.
KAMMOK FIREBELLY
The Kammok Firebelly was designed specifically for the cold-weather adventurer. It has two options depending on temperature rating: synthetic (40 degrees) or down (30 degrees). It includes many of the features of the Rumpl Puffy Blanket but seems to be a warmer option, using proprietary Atmos fabric that amplifies body heat retention and ensures even heat distribution (no cold spots!). We wrote about it here.
A cool added feature is the ability to Velcro the sides together and creates a quick sleeping bag, including a drawstring at the bottom to create a cozy foot pouch. The price tag does reflect those added features, so this isn't for everyone.
Only available in one size (75"x52") – about the size of the smallest Rumpl Puffy Blanket and wider than the Kelty Bestie Blanket
Easily fold into a sleeping bag
Proprietary ripstop nylon fabric to keep you warmer and distribute warmth evenly
Stuff sack for travel and bigger sack for storing
If you're an avid camper or are looking for a blanket suitable for cooler nights—and don't mind a pricier option—this could be the perfect blanket for you.
GENUINE US MILITARY ALL-WEATHER PONCHO LINER BLANKET
If you've been shopping around for blankets, you probably have heard of this popular option, also known as a "woobie." This US Military liner blanket originated in the US Military and has proven durable and effective for thousands of soldiers and veterans. It is lightweight, warm, packs to a small size, and is larger than the alternatives discussed above.
82"x62"
Lightweight and easy to transport, rolls up very small
Made in the US
Can find it on various sites for $20-$50
Frequent campers and outdoors people will find this blanket useful, particularly at a lower price point that is accessible to anyone.
CONCLUSION
The Rumpl Puffy Blanket is a perfect all-purpose blanket, whether you want it for everyday use in the house, for your camping adventures, or for your kids' outdoor sporting events. The price is a little higher but still reasonable for durability, including the features of being waterproof, odor, and stain resistant. And unlike other down comforters, if it does get dirty, throw it in the washer and dryer without worry. Check out the Rumpl Puffy Blanket now and decide if it is the right fit for you.